When it comes to mom fashion, specifically plus size mom fashion, Maddy Guiterrez is my Instagram girl-crush! The way she rocks her mom jeans with confidence and style inspires me to think beyond my leggings.
Maddy joins the Plus Mommy Podcast for episode 53 to share her passion for plus size fashion and how access to plus size clothing impacts body image. We also talk about raising our boys to be body positive and our love for the TV show Shrill!
3 Plus Size Mom Fashion Tips
1. When wanting to step outside of your comfort zone, try on a new clothing item in your comfort zone!
As Maddy shares, if you want to try something new like shorts during warm summer months, then start by wearing shorts around your house. Once you feel confident, then venture out of the house.
2. Love every single thing you put on your body!
If you're like Maddy and me, then you grew up with such limited options when it came to plus size clothes. Now that we have a lot more options, we can be selective and support brands that support us! We can spend our hard-earned money on items that make us feel great about ourselves.
3. You don't have to buy anything when trying on clothes if you're not feeling confident.
Even if you try on 50 clothing items, if nothing sings to you then walk away. Just be sure to put everything back on the hanger first!
Get more mom fashion tips, hear two plus size moms talk about how we're raising our sons to have positive body image, and pop culture (like the show This Is Us) during this week's episode of the Plus Mommy Podcast!
Recording & Show Notes: Plus Mommy Podcast Episode 53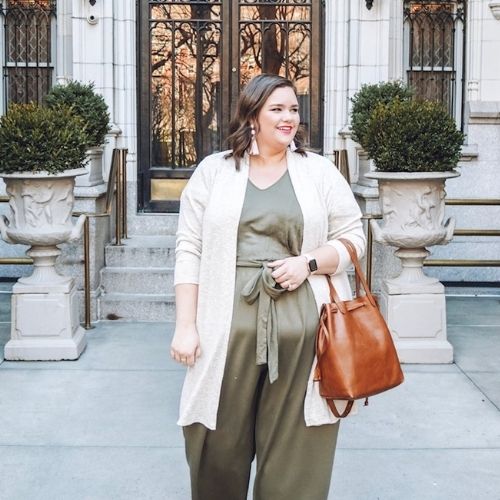 Maddy Gutierrez is a 30 something mom living in New York. After finding her passion for clothes, she is working hard to encourage other women to live their best life and love their body as it is. You can find Maddy sharing all things motherhood, marriage, and Manhattan on her blog, maddygutierrez.com and on Instagram @maddy_gutierrez_
---
Thank You To Our Sponsors:
Modibodi is modern, protective, leak-proof apparel, underwear and swimwear, for periods and incontinence that work! Use coupon code PlusMomLoves to get 15% off your first order (excludes packs, sales items, and gift cards).
This episode is also brought to you by Plus Size Birth! Use coupon code PlusMommy to receive 20% off the My Plus Size Pregnancy Guide that covers everything you could want to know about having a plus size pregnancy.