Recovery advocate, Emily McAllister, opens up about her journey to sobriety. She shares how her addiction intertwined with an eating disorder that nearly broke her.
This is a courageous story of what it takes to change the trajectory of your life.
Journey To Sobriety
Content Warning: This article, and episode 113 of the Plus Mommy Podcast featuring Emily McAllister, talk about disordered eating, addiction with drugs and alcohol, and suicidal ideology. If you are in immediate crisis call the National Suicide Prevention Lifeline at 1-800-273-8255.
"Nothing tastes as good as skinny feels!" That's the sign Emily found on her family's fridge one day.
She grew up in a time when being on a diet was celebrated. And by the age of fifteen, she developed an eating disorder. Around the same time, she started dabbling with drugs and alcohol.
Emily switched schools, things got even worse, so she switched back, all while her parent's marriage was crumbling.
Following high school, she received compliments for her shrinking body, which only encouraged her disordered eating.
After a short stint in Southern California, she came home to Boston and told her mom that she needed help.
Emily saw a therapist and, for the first time, admitted that she had an eating disorder.
The therapists responded by saying, "Well, you're not that skinny!"
After being told this, Emily believed she wasn't "sick enough." So she landed in Arizona, where her addictions went to even darker and far more dangerous places.
As Emily shared, it's common for addicts to move around a lot. It's called "Geographic Relocation."
Geographic Relocation is the idea that you'll be a different person if you move somewhere else. Things often start off great, but ultimately you can't run away from who you are.
Emily's alcoholism and eating disorder where dangerously intertwined!
By her mid-twenties, she knew she needed help after hitting many bottoms, including considering ending her life.
She landed in rehab.
This redirection in her life's path saved her, but as Emily shares, she will always be an addict in recovery.
After 47 days, Emily was done with rehab but was encouraged to go to a sober home. So she moved to Southern California and found a wonderful sober community and 12 step program.
Though sober, her eating disorder was still there.
One day she remembers thinking, "I didn't get sober to get fat." And before she knew it, she was no longer sober.
During this time, she met her now-husband as they were both struggling on a path to sobriety.
Emily had an ah-ha moment and realized how much of her life she had spent struggling. She tuned into herself and her spirituality to claw her way back to her sobriety!
Emily is now a wife, mother of two amazing girls, accomplished writer, photographer, and public speaker. She has been sober for over a decade.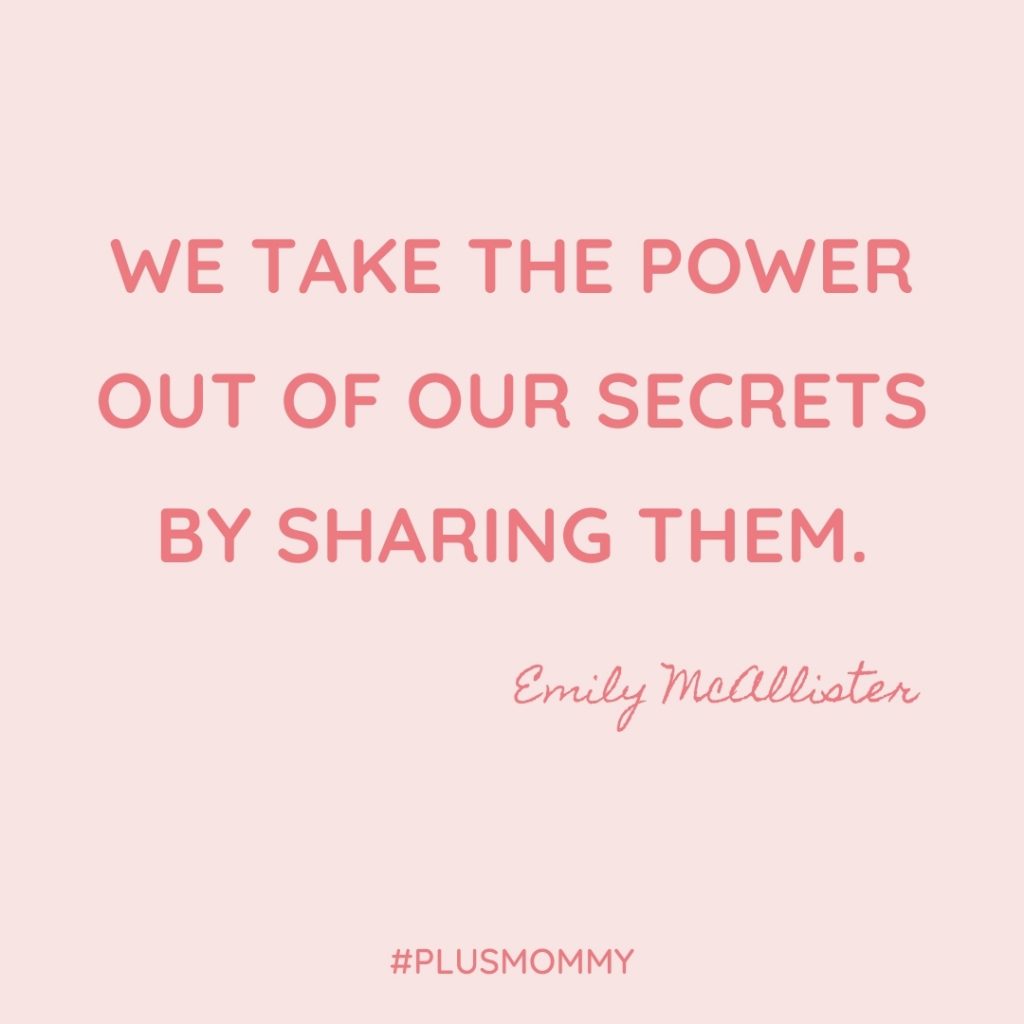 5 Things That Have Helped Emily McAllister To Remain Sober:
1. Play The Whole Tape Out
We often play the tape, of our life, to the good part. But if you play it out, you see where you might end up.
2. Practice Gratitude
Write or say things you're thankful for – it might feel cheesy, but it works!
3. Call A Friend Or Do A Call For Service
Reach out for help if you want to do something self-destructive. Or be there for someone else because helping others also helps you to feel better about yourself.
4. Meditate/Mindfulness
Tuning into yourself can be powerful. Ground yourself by asking, "where are my feet" then pay attention to your feet on the ground and your surroundings.
5. 12-Step Program
If you're struggling, this isn't the end of your story, and there's help available!
Listen below as Emily shares her full story, and a special message to anyone currently struggling with addiction.
Recording & Show Notes: Plus Mommy Podcast Episode 113
Resources Mentioned On The Show:
Get help with addiction from a local 12 Step Program and via organizations like Addiction Center.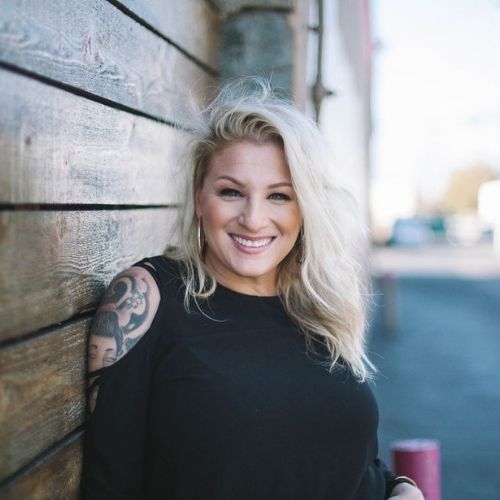 Emily McAllister is a recovery advocate, writer, speaker and professional photographer. She writes and shares about the raw truths of motherhood and her personal recovery from addiction. She has been featured on Scary Mommy, CNN Health, MSN, The Bump, Love What Matters and more.
Thank You To Our Sponsor:
This episode is also brought to you by Plus Size Birth! Use coupon code PlusMommy to receive 20% off the My Plus Size Pregnancy Guide. This guide covers everything you could want to know about having a plus size pregnancy.