Bippity Boppity Boo, your perfect plus size Disney Bounding outfit awaits you! Together we'll discover tips and tricks for Disney Bounding, also spelled DisneyBounding, when you're plus size and see some adorable plus size Disney outfit ideas.
Disney Bounding is a fun and creative trend overtaking the Disney community. It's a great way to show love for your favorite Disney characters without wearing a full-blown costume.
Disney Bounding is for everybody (and every body size). But, finding larger sizes can be challenging, so this resource is for our plus size friends.
Disclosure: This post includes affiliate links, and I'm a participant in the Amazon Services LLC Associates Program, an affiliate advertising program. As an Amazon Associate, I earn from qualifying purchases. Read more about these links in my disclosure policy.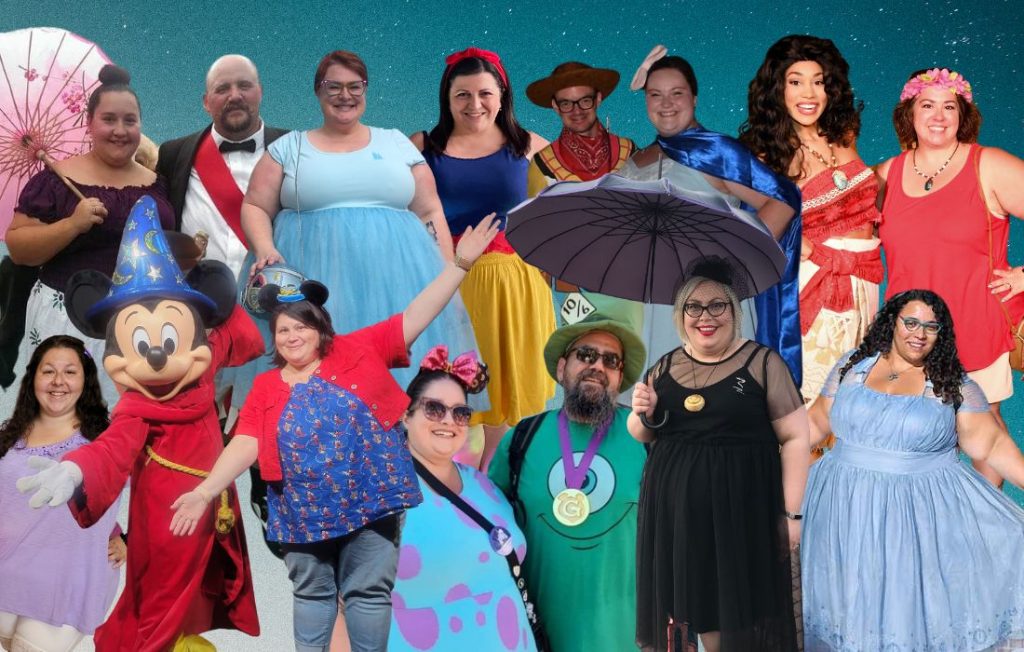 All About Plus Size Disney Bounding
When you're plus size and planning a trip to the magical parks, there are a few extra things to keep in mind beyond just what to wear. But don't fret because we have you covered with complete Disneyland and Disney World guides for plus size guests that cover size-friendly rides and tips to enjoy your Disney vacation.
Now let's get back to focusing on all the fun of selecting what to wear!
What is Disney Bounding?
So, what exactly is Disney Bounding? It's the art of creating an outfit inspired by a Disney character using everyday clothes and accessories.
This can be anything from a pair of yellow shorts and a red t-shirt to evoke Winnie the Pooh. Or you could wear a teal skirt, purple tank top, and red headband to channel Ariel from The Little Mermaid.
The idea is to capture the essence of the character without wearing a costume, making it an exciting and creative way to show your Disney fandom.
Have fun with it, and let your personality shine through!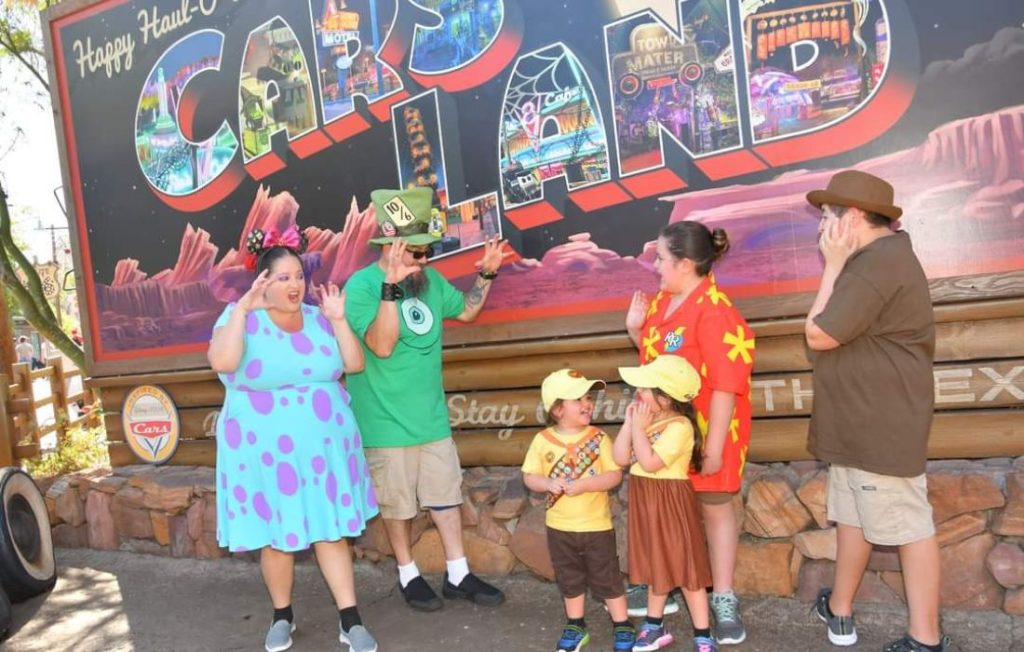 Who started DisneyBounding?
In 2011, Leslie Kay started a Tumblr blog called "Disneybound" to showcase her DisneyBounding outfits and share them with other Disney fans.
The trend quickly caught on and became popular among Disney fans of all ages who wanted to show their love for Disney subtly and stylishly.
Since then, Disney Bounding has become a widely recognized and accepted trend. Disneyland and Walt Disney World have even started hosting official DisneyBounding meet-ups and events.
Are there Disney Bounding rules?
Whether you want to dress up as a Disney princess or a Pixar character, there's no right or wrong way to Disney Bound. However, Disney has rules for what you can and cannot wear to the parks.
Disney's dress code ensures a safe and enjoyable experience for all visitors but also allows people to be creative with Disney Bounding. The following are some of the general rules for what you can wear to Disney Parks:
Clothing
Guests are required to wear appropriate clothing. Think family-friendly, so no clothing with offensive language or graphics. This also goes for exposed tattoos. Any bulky clothing can be subject to additional searches.
Costumes
Costumes are not allowed for guests ages 14 and older.
Accessories
Accessories such as hats, belts, and jewelry are allowed if they do not contain sharp or pointed objects that could pose a safety risk.
It's important to note that these rules are subject to change, and guests should check Disney's official website for the most up-to-date information on dress code policies before visiting the parks.
Can adults ever wear a costume to Disney World or Disneyland?
Guests can push the blurred line between Disney Bounding and costumes for special holiday events like Mickey's Not-So-Scary Halloween Party.
But there are still rules, including all costumes must be family-friendly and may not reach or drag on the ground. Plus, posing for pictures with guests or signing autographs is a big no-no!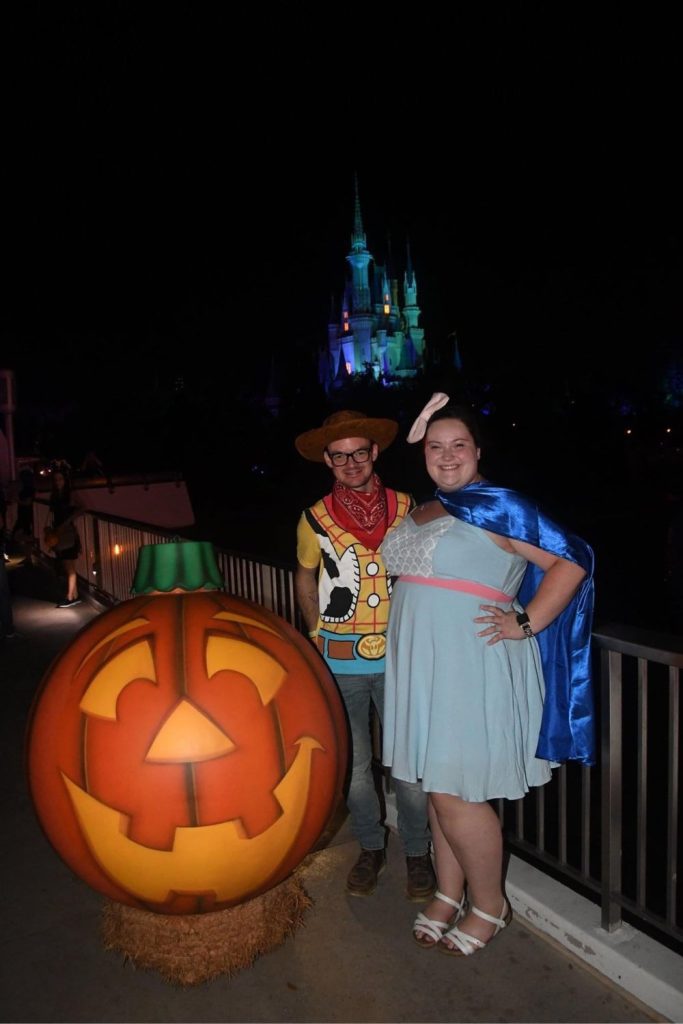 Plus Size Disney Bounding Outfits
How to get started with plus size Disney Bounding?
By embracing your body, playing with colors and proportions, accessorizing with confidence, and choosing characters you love, you can create a unique and stylish Disney Bounding outfit you'll love!
Embrace Your Body
The first step to feeling confident in any outfit is to embrace your body. Disney Bounding should be a fun and empowering experience, so don't let your size hold you back!
Choose Characters You Love
Whether you relate to their personality, story, or fashion sense, pick characters that speak to you and make you feel confident. This will ensure you have a blast Disney Bounding and that your outfit truly reflects your unique style.
Accessorize
Accessories are a great way to add extra flair to your Disney Bounding outfit, and below are a few favorites.
Mouse Ears
Mouse ears are a classic accessory for any Disney fan; Mickey Mouse ears are a must-have when Disneybounding. Best of all, they pair with many looks, from dresses to comfy athletic clothes.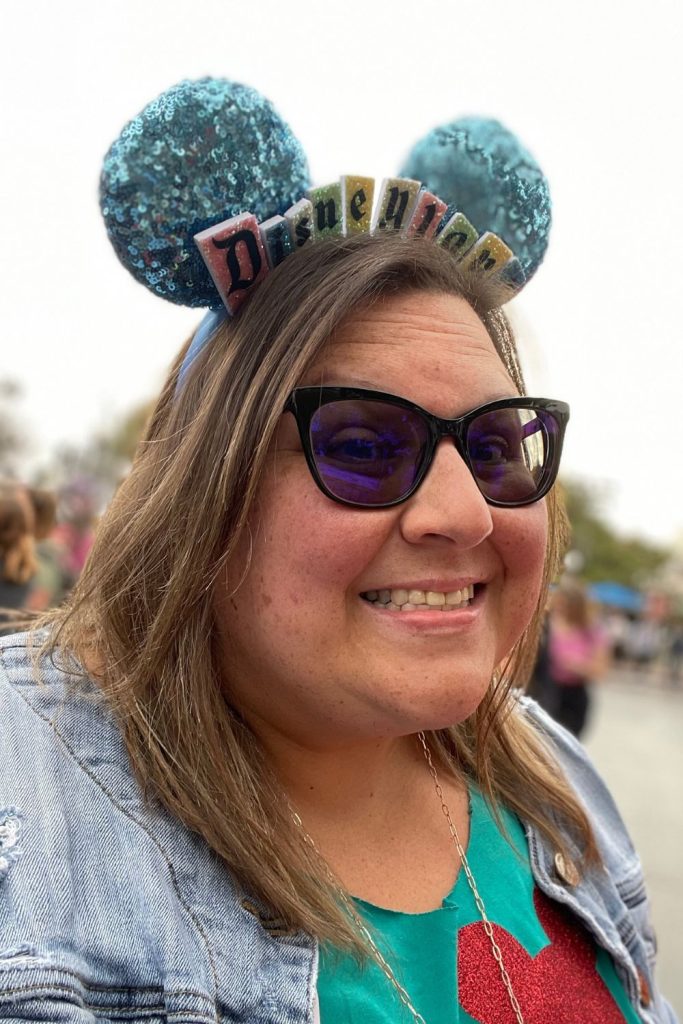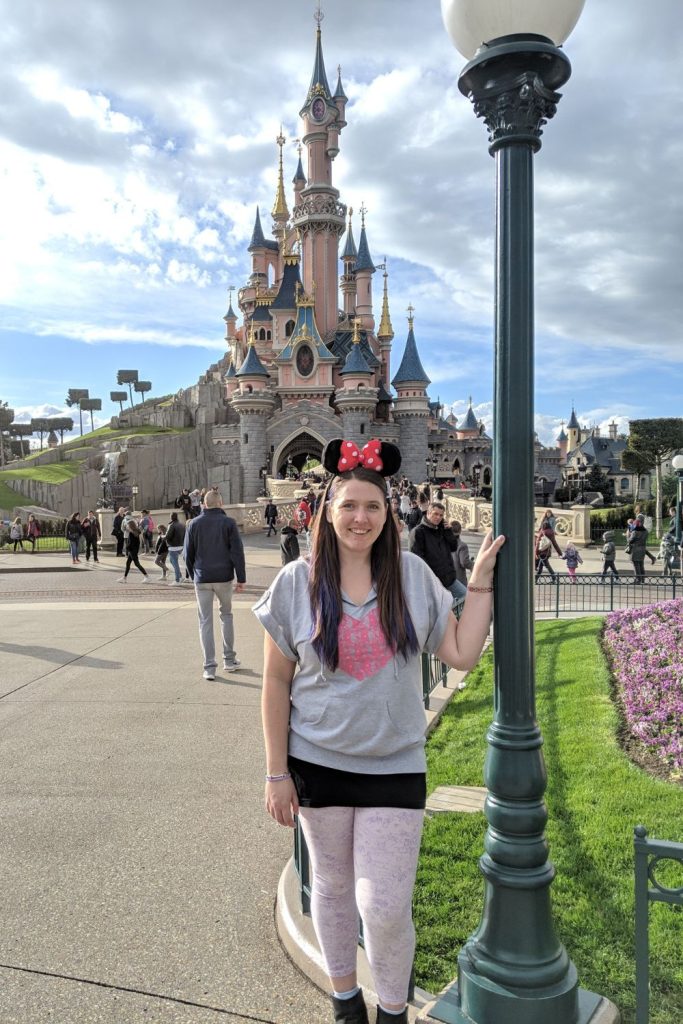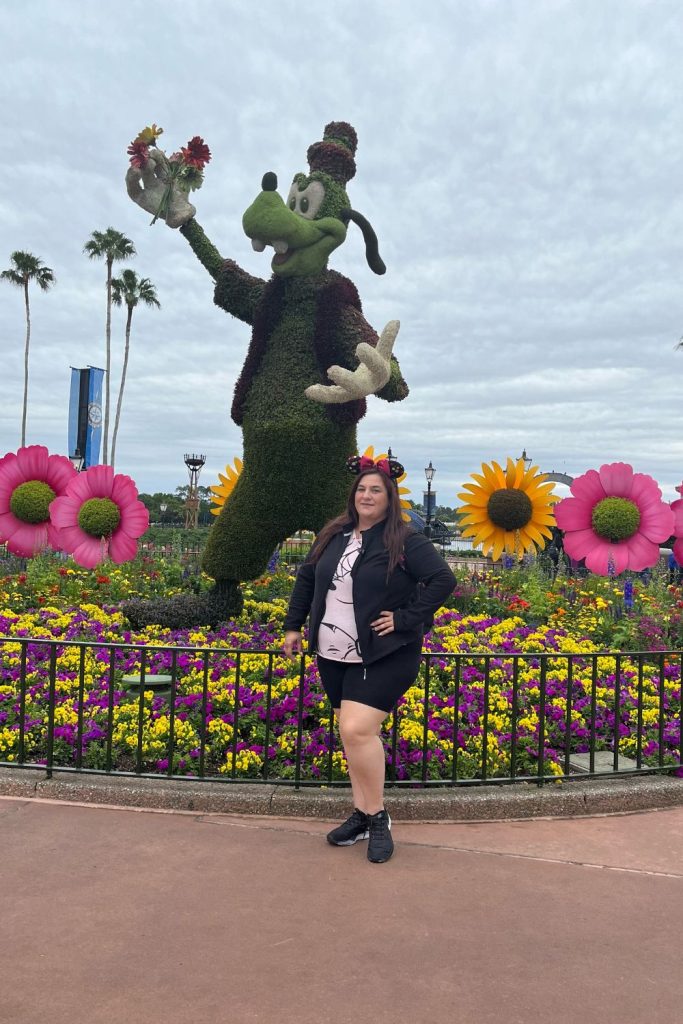 Character-themed Hats
From Mickey Mouse baseball caps to princess-inspired headbands, plenty of character-themed hats are available to help you complete your Disneybounding outfit.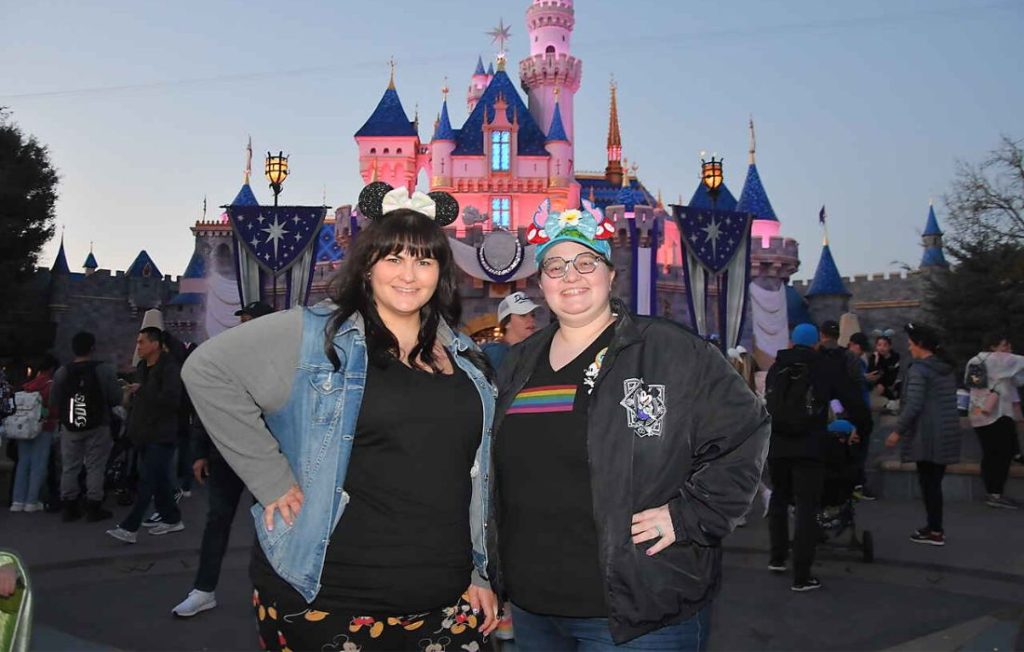 Character-Inspired Jewelry
Whether it's a necklace inspired by Ariel's seashell or a pair of earrings that resemble Mickey's iconic gloves, character-inspired jewelry is a fun way to add some Disney magic to your outfit.
Character-themed Bags
From the eve-popular Loungefly backpacks to Dooney & Bourke handbags, plenty of character-themed bags are available to help you complete your Disneybounding look.
Disney-themed Scarves
A simple scarf can add a lot of character to your outfit. So whether you choose a classic Disney pattern or a scarf inspired by your favorite character, this accessory is fun and often quite affordable.
Character-Themed Shoes
Okay, hear us out; swap out the Cinderella-inspired glass slippers for some gray or sparkling tennies because comfortable shoes are a must during your Disney day. But, with that said, many comfy shoe options can work well for Disney Bounding.
Disney-Themed Pins
Collecting Disney pins is a popular hobby, but they can also be a great accessory for Disneybounding. You can choose a pin that matches your outfit or wear a few to show off your Disney fandom.
Character-Themed Sunglasses
From Mickey Mouse-shaped frames to sunglasses inspired by your favorite Disney princess, character-themed sunglasses are a fabulous and functional accessory for Disneybounding.
Be Comfortable
Once you have a Disney Bounding character in mind and your accessories selected, pause and ask yourself, "Can I walk comfortably for miles in this outfit?"
Trust us, regardless of your adorable appearance, you'll want to avoid tight-fitting clothing that may cause chafing or shoes that may pinch or rub.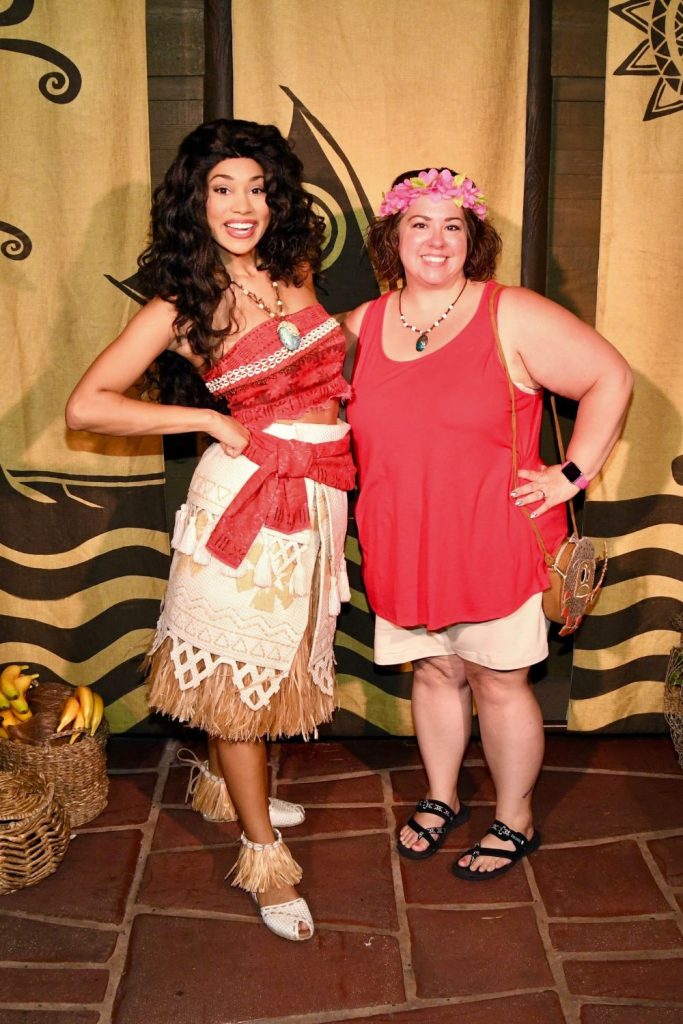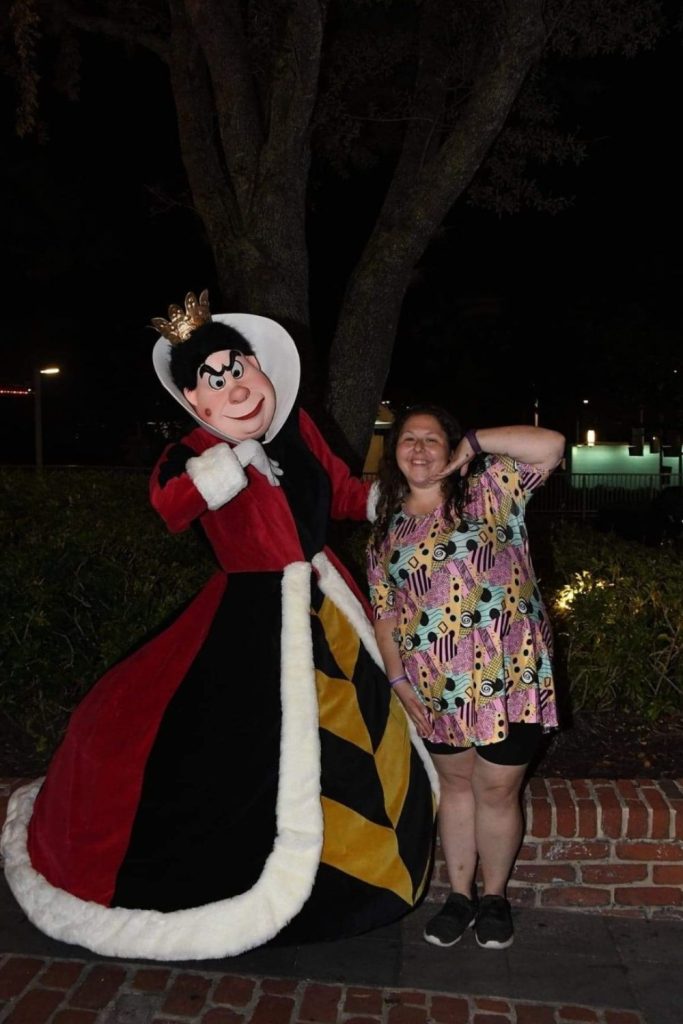 Where can I find plus size Disney Bounding clothing and accessories?
Whatever your size, many options are available to help you show off your Disney fandom with style and confidence!
Your Closet
One of the great things about Disney Bounding is that you can use items you already have in your closet to create a look inspired by your favorite character.
Take a closer look at your wardrobe and see if you have any items matching your chosen character's color palette or style.
For example, if you're Disney Bounding as Minnie Mouse, you might look for a red skirt or dress, a black top, and some white polka dot accessories.
With creativity and imagination, you can create a fun and unique Disney Bounding outfit without breaking the bank.
DIY Plus Size Disney Bounding
If you feel creative, consider making your Disney Bounding outfits or accessories. You can find inspiration and tutorials online, and it's a great way to create a truly unique look.
As you'll see below, this plus size DisneyBounder had fun picking out fabric from Joannes to make her top for her magical day!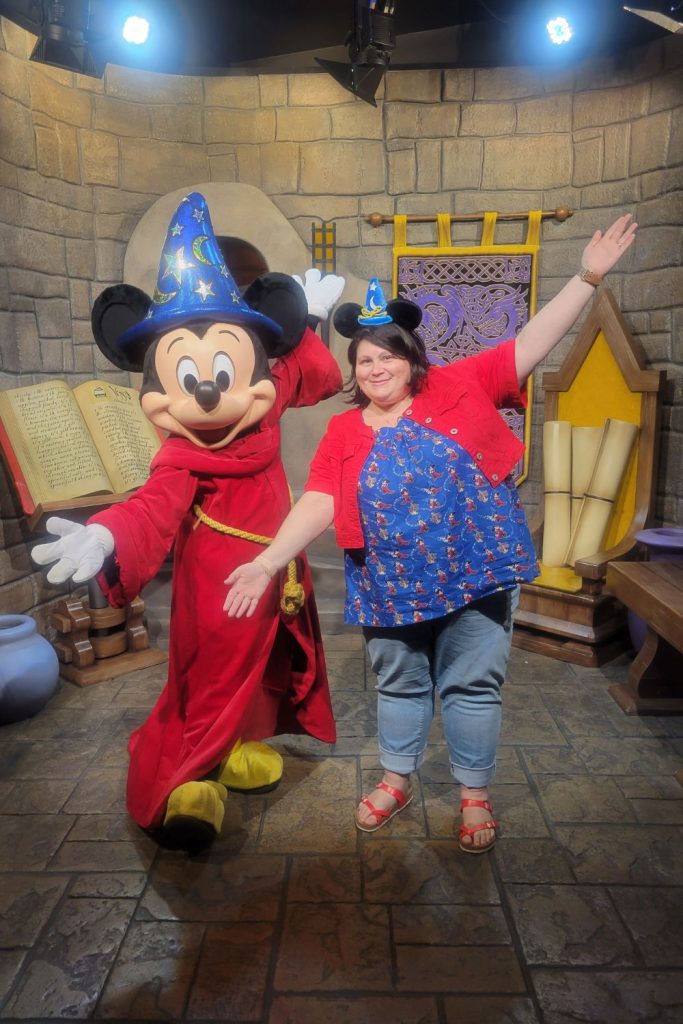 Online Retailers
Whether you're looking for a fun Disney Bounding outfit or want to show off your love for Disney in your everyday wardrobe, these retailers have you covered. The links below will take you directly to the retailer's plus size Disney clothing items.
Amazon is a great place to find plus size Disney clothes and accessories, with a wide range of options and sizes. Plus, with the convenience of Amazon Prime, you can have your new Disney clothes delivered right to your doorstep in just a few days.
Etsy is a fantastic place to find handmade and one-of-a-kind Disney Bounding accessories, such as custom-made mouse ears or themed jewelry. Best of all, you can find various sizes of t-shirts and custom dresses made to your measurements.
Hot Topic is another retailer that offers various plus-size Disney clothes and accessories. They have collections inspired by Disney movies and popular franchises like Star Wars and Marvel. Most of their items go to 3XL.
Kohl's is a department store that offers a selection of plus size Disney clothing and accessories, including t-shirts, sweatshirts, and pajamas that go to size 3XL. They also have a variety of Disney-inspired jewelry and accessories.
ShopDisney is the official online retailer of Disney merchandise, and they offer clothing options that go to size 4XL.
Target offers a wide range of Disney-inspired clothing for adults and kids, including t-shirts, dresses, leggings, and more. Many items go to 3XL, but a few go beyond. In addition, the retailer also offers a variety of Disney-themed accessories, such as hats, backpacks, and jewelry, to help you complete your look.
Torrid is a popular retailer that offers a wide selection of plus size Disney clothes, including dresses, tops, jackets, and accessories. And they have collections inspired by Disney Princesses, villains, and other beloved characters. Best of all, their sizing is very inclusive, going to 6XL.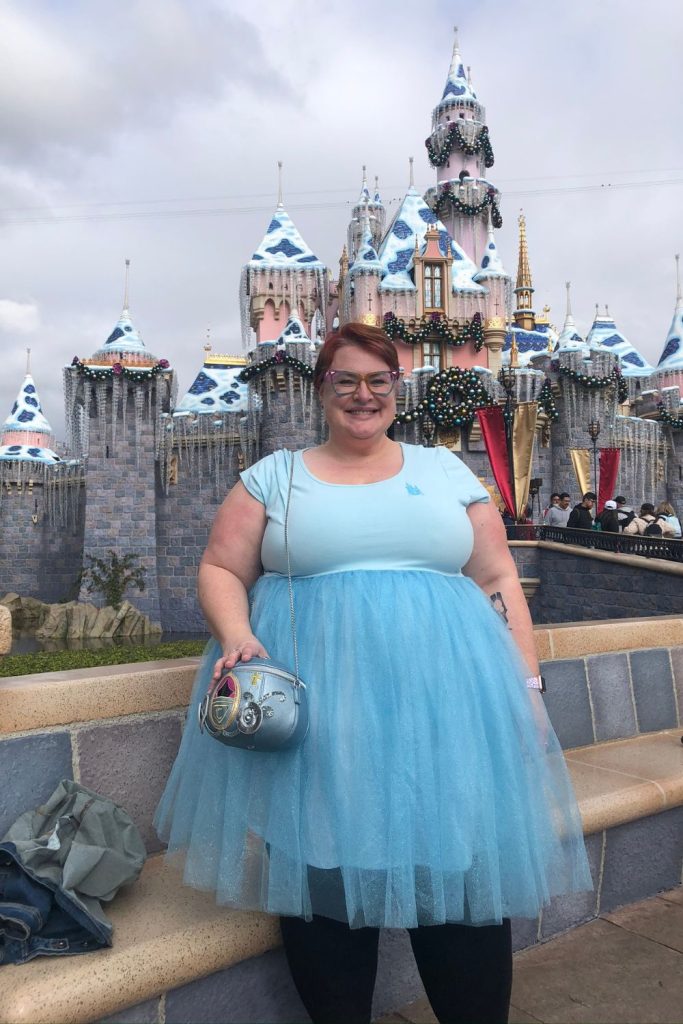 Walmart is a great place to find affordable clothing items for DisneyBounding. So whether you're looking for a yellow dress to transform into Belle, a blue shirt to channel your inner Cinderella or a Mickey shirt, Walmart has you covered with options online going to 5XL.
What are some good plus size Disney Bounding ideas?
Below you'll see a lot of fun, flirty, and fabulous plus size DisneyBounding photos!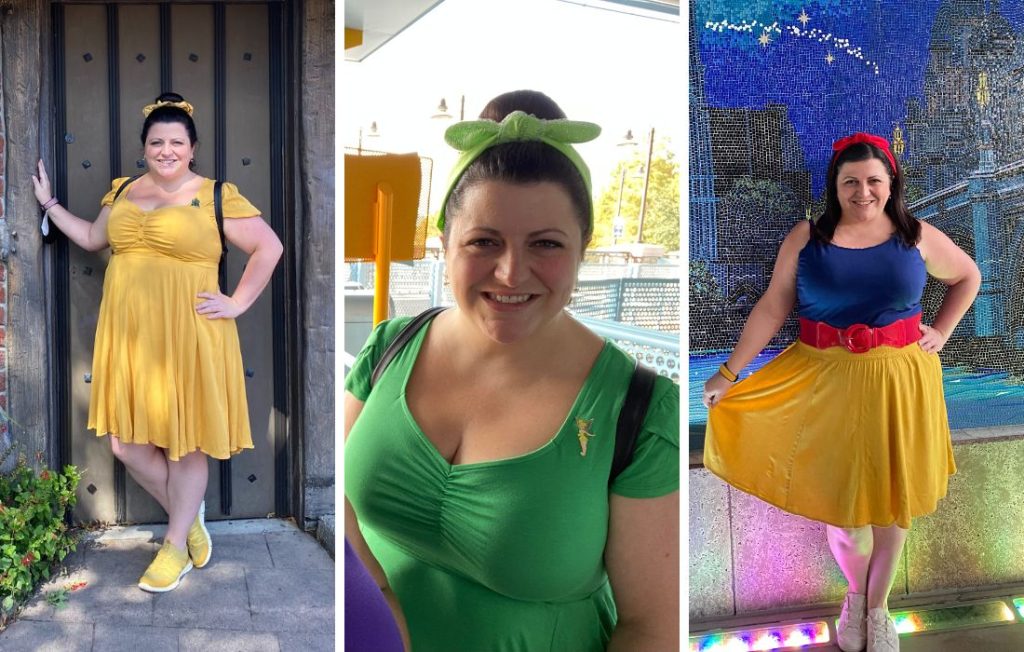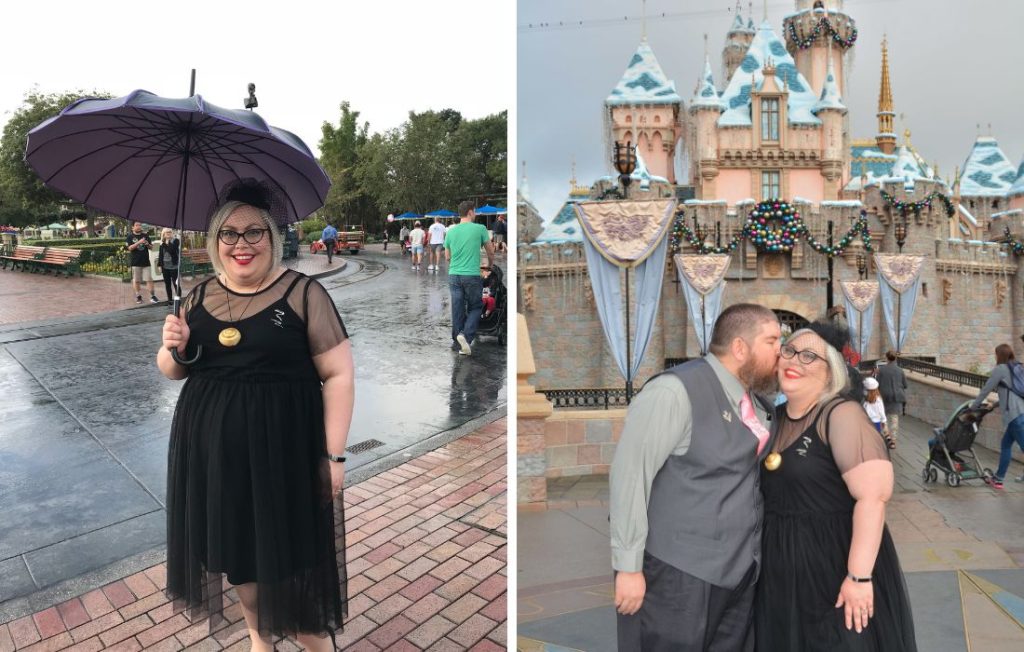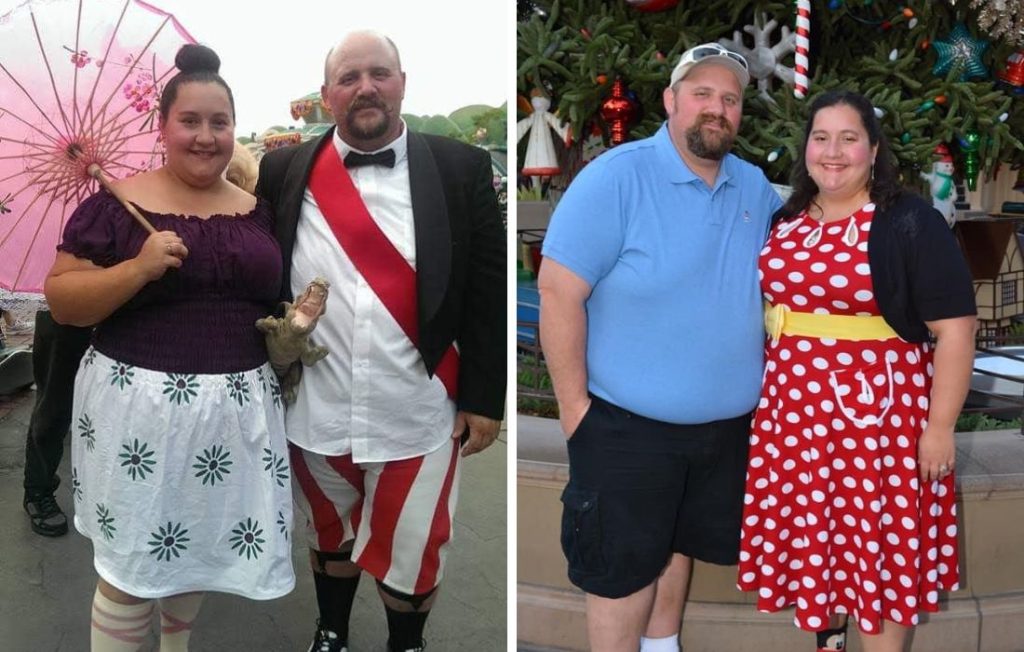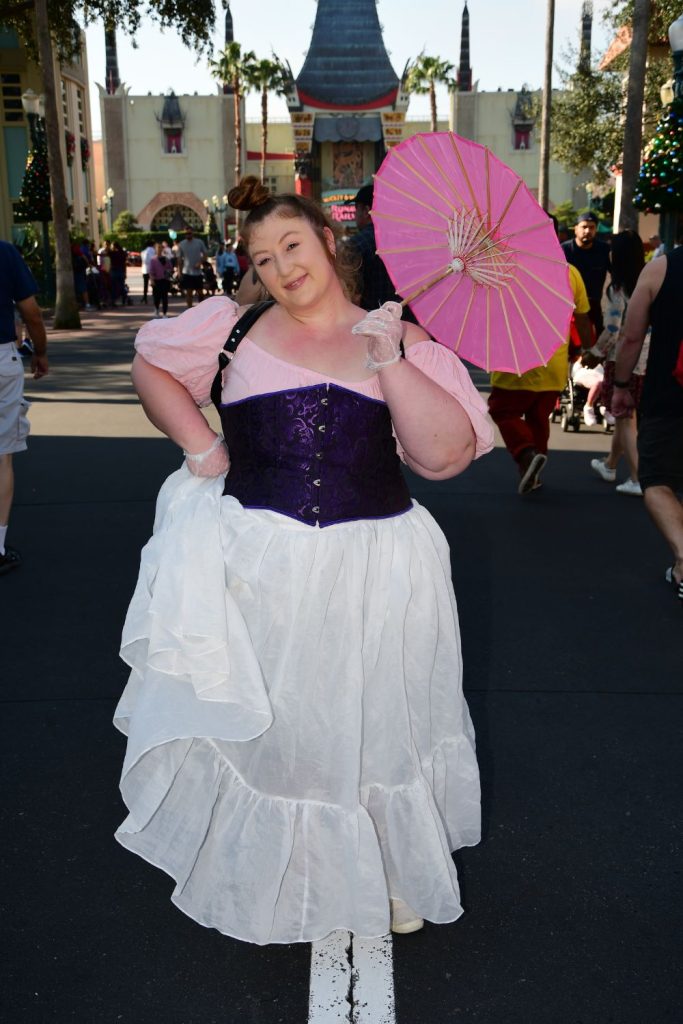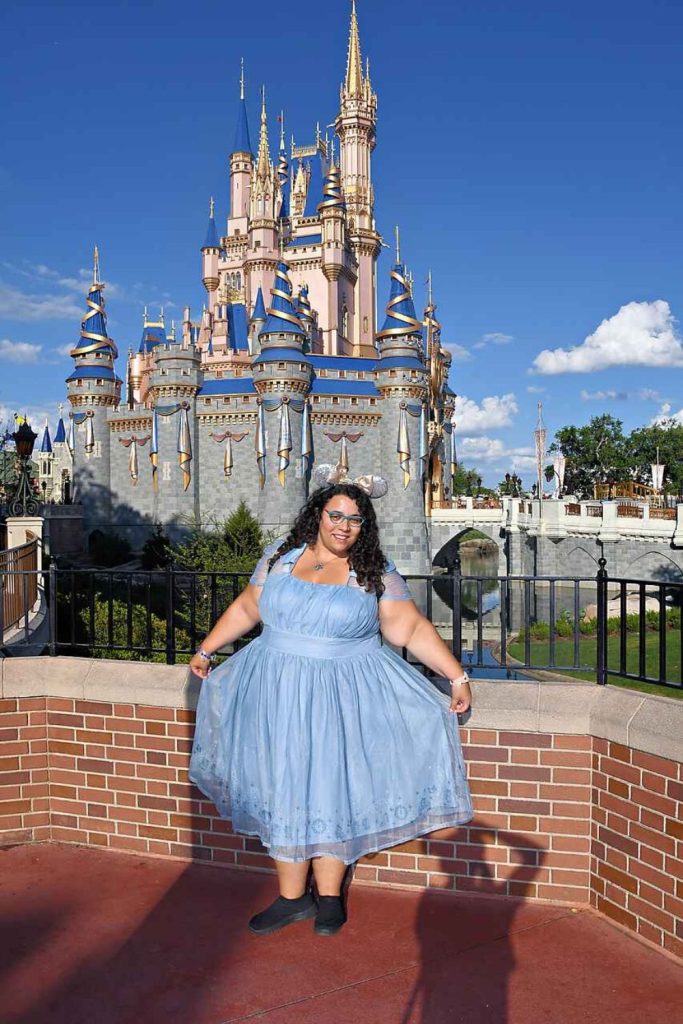 "Dress up! People always compliment cool outfits, and you feel like a supermodel! And don't forget if you Disneybound to try to get a picture with the character you are Disneybounding as. It will be such a fun interaction and make your day and theirs!"
Whether you're a seasoned plus size Disney Bounder or just starting out, the most important thing is to be true to yourself and let your creativity shine. So channel your favorite Disney character – the magic is waiting for you!