Welcome to the ultimate guide to being plus size at Disney World! Are you ready for a magical adventure? As a plus size Disney World guest, you might wonder how to maximize your time at the most magical place on earth. And what are the plus size accommodations at Disney World?
Don't worry; we're here to help you every step of the way. So get ready to experience the Disney magic like never before – let's go!
Disclosure: This post includes affiliate links, and I'm a participant in the Amazon Services LLC Associates Program, an affiliate advertising program. As an Amazon Associate, I earn from qualifying purchases. Read more about these links in my disclosure policy.
Preparing For Your Plus Size At Disney World Trip
When we talk about Disney World for fat people or plus size, if you prefer that term (we'll use both in this resource), it's thrilling to know that Disney is known for its inclusivity!
Over the years, the theme park has earned a reputation for being "Pooh Size Friendly." Yes, like Winnie-the-Pooh! Meaning that Disney welcomes guests of all sizes.
This welcoming approach has made Disney parks a popular destination, so be sure to also explore our Disneyland Guide for Plus Size Guests.
Within this comprehensive Disney World guide, you'll learn size-friendly tips about the Magic Kingdom, Disney Hollywood Studios, EPCOT, and Animal Kingdom Theme Park.
Whether you're a Disney newbie or a seasoned park-goer, we want to help ensure your visit is as enchanting as possible.
Preparing ahead of time is essential if you're a plus size person planning a trip to Disney World. From finding comfortable outfits to navigating the parks' rides and attractions if you have accessibility needs, there are several things to consider to make your trip as enjoyable as possible.
With some planning and preparation, you can have an unforgettable Disney World experience and make memories that will last a lifetime.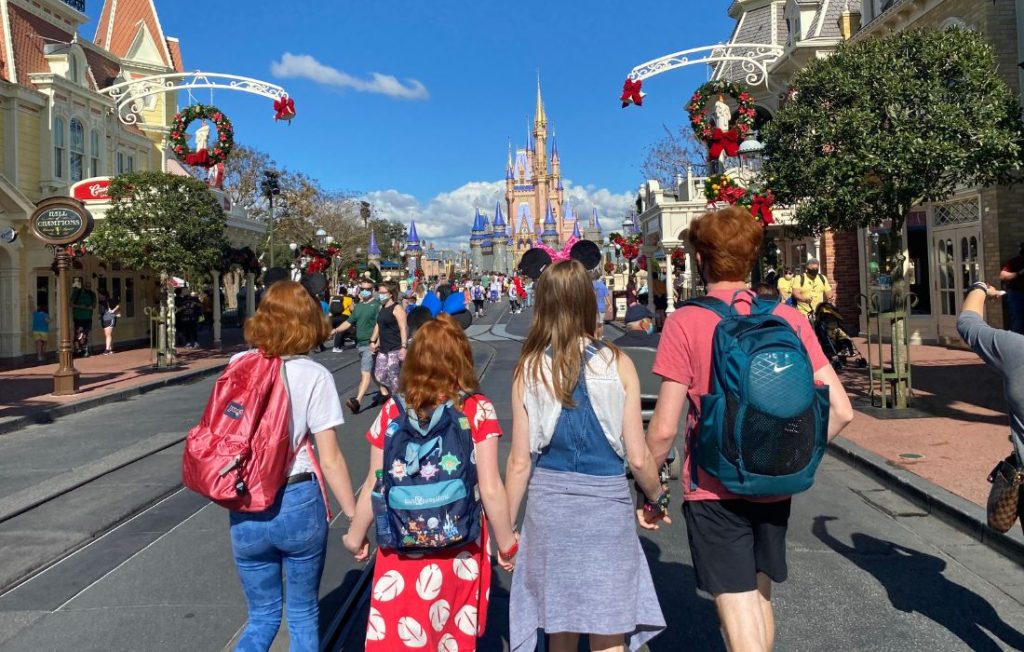 Plus Size Travel Considerations
You're all set if you plan to drive in your own car. However, if you're renting a car, make sure you comfortably fit before driving away.
Consider mentioning any concerns as you're checking in. You might get an upgrade to a larger vehicle without getting up charged (but don't hold us to that).
It's worth speaking up and paying a bit more if the seat feels too snug. You don't want to arrive at your dream vacation with bruises on your hips.
Flying to Disney World can be an exciting part of your trip. But for plus size individuals, it can also be a stressful experience.
We recommend Southwest because they have a Customer of Size Policy. Passengers who are unable to lower both armrests comfortably can request an additional seat at no extra cost.
If Southwest isn't an option in your area, don't stress. You can get plenty of helpful tips from the Facebook group Flying While Fat.
In the words of Winnie-the-Pooh, "You're braver than you believe, stronger than you seem, and smarter than you think." So, never feel ashamed to request any accommodations you may need, including a seatbelt extender!
Regarding finding the perfect place to stay, and deals on tickets, we love family-run and Disney-approved Orlando Vacations.
Disney World Wheelchair Accessibility for Plus Size Guests
Disney World is committed to providing all guests with an inclusive and magical experience. The park offers a range of accessibility options to ensure that everyone can enjoy the attractions, entertainment, and amenities.
For example, many rides and attractions are wheelchair accessible, with designated entrances and spacious ride vehicles that accommodate wheelchairs.
Disney World also provides accessible transportation throughout the park, including buses, boats, and monorails designed to accommodate wheelchairs and scooters.
The Services for Guests with Mobility Disabilities resource is extremely helpful. There's contact information if any of your questions are left unanswered.
How To Get Size-Friendly Wheelchairs or Scooters at Disney World
You can bring your wheelchair or ECV throughout the Walt Disney World resort.
Disney World provides rentals via Guest Services. Please note that Disney World wheelchairs have a weight capacity of 350 pounds. Disney World ECVs have a weight capacity of 450 pounds.
You can rent wheelchairs, ECVs, and strollers from retailers close to the resort who will even deliver! Just be sure to do your research and read reviews.
Also, there's the Disability Access Service (DAS) offered at Walt Disney World theme parks. This is for people who have a difficult time tolerating extended waits.
Disney World is dedicated to making the park accessible and enjoyable for all guests!
Plus Size Disney World Outfits
The perfect plus size Disney World outfit balances what makes you feel comfortable and confident.
Before we share some comfy and fun examples, let's quickly review some Disney World attire policies. You can't wear clothing that drags on the ground, no masks, and costumes are a no-no for anyone over 14.
However, where there's a will, there's a way, and that's where "Disney Bounding" comes in! Disney Bounding is like cosplay without the costume. Instead, you take inspiration from a Disney character and pull a fun outfit together. See our plus size Disney Bounding resource with lots of fun ideas!
Now remember, Disney reserves the right to deny admission or remove any person wearing clothes they deem inappropriate. So no shells for an Ariel costume, but you could totally rock a purple tank top and a teal skirt!
Focus on Comfort
Disney World is a place where you will be walking around a lot. So, it's essential to prioritize comfort when planning your outfit. Wear comfortable, breathable clothes, and don't restrict your movement. Opt for soft fabrics that won't rub or chafe, and choose shoes you can walk in for hours without discomfort.
Embrace Your Style
Disney World is a place where everyone can express themselves! So embrace your unique style, and showcase your personality through your outfit. And here's where Disney Bounding comes into play!
Layer Up
Florida weather can be unpredictable, so it's essential to layer up. Bring a lightweight jacket or cardigan that you can easily remove if it gets too hot. Layering also allows you to create different looks by mixing and matching different pieces.
If you're planning on going on water rides, bring a change of clothes or wear quick-drying fabrics. And thanks to humidity, quick-drying fabrics are a great idea in general.
Accessorize
Accessories are an excellent way to elevate any plus size Disney World outfit. Hello, adorable Minnie ears! A fun sunhat, statement necklace, or a bold pair of earrings can add that extra touch to your outfit and make it stand out.
One of the best accessories you can bring is a backpack! Be it something cute like the popular Loungefly Disney bags or your favorite bag from home, you'll be thankful at least one person in your group has a backpack.
You may want to consider packing the following essentials in your backpack;
snacks
refillable water bottle
spare clothes (including extra socks)
sunscreen
deodorant
anti-chafe stick
bandaids for blisters
fan (personal misting fan or handheld fan – there are even cute Disney fans)
any necessary medication
tissues, handkerchief, or baby wipes (for sniffles or sweat)
extra clothes and items for your children
Shoes
Choosing the right shoes to wear at Disney World is crucial to having a comfortable and enjoyable experience. With all the walking and standing in line, wearing shoes that provide ample support and cushioning is essential.
Opt for shoes that are lightweight, breathable, and have good arch support. Sneakers are a great option as they provide both comfort and stability. And yes, you can still look absolutely adorable while rocking comfy shoes on your feet!
If you plan on going on water rides, bring quick-drying shoes to avoid walking around in wet socks or shoes.
Speaking of bringing an extra pair of shoes, that's one tip many plus size Disney World guests recommend. Switching shoes halfway through your day can provide some needed relief for sore feet.
Remember, your feet will be your best friend during your Disney World trip. So take care of them by wearing comfortable and supportive shoes.
Tips to Help Avoid Chafing at Disney World
One issue park visitors of all sizes face is chafing. And chafing occurs when the skin rubs against clothing or skin repeatedly, causing irritation and discomfort.
You can do a few things to help reduce chafing at Disney World.
First, wear comfortable, breathable clothing that fits well. Are you planning to Disney Bound in a dress? We recommend wearing a pair of anti-chafing shorts, plus size bike shorts, or leggings under that adorable dress!
Consider applying a lubricating product, such as anti-chafing balm, to areas prone to chafing before you start your day. And we've already reviewed the best anti-chafing products for you!
Finally, take breaks throughout the day to rest and reapply any necessary products.
Staying Hydrated at Disney
While the cold never bothered Elsa, the Florida heat can take a toll on park guests. So, staying hydrated is critical when visiting Disney World, even during the cooler months!
With the vast expanse of the parks, walking and standing for extended periods in the heat can quickly lead to dehydration. Dehydration can cause fatigue, headaches, and dizziness, spoiling the Disney experience.
Moreover, the Florida heat and humidity can cause sweat to evaporate quickly, leading to unnoticed dehydration.
Try to be hydrated before beginning your magical day. Then drink plenty of water and rest when you're feeling fatigued.
Thankfully, Disney World has numerous water fountains and beverage stations throughout the park, making it easy for visitors to refill their water bottles. You can also get ice water for free at quick-service food locations, where you walk up to a counter to order (but not at kiosks).
Plus Size Accommodations at Disney World
We're about to look at the best Disney World rides for fat people. But first, let's talk about some essential things to note about attractions and plus size accommodations at Disney World.
Weight Limit on Disney Rides
While there are height requirements, Disney World rides do not have weight limits.
We reached out to the Magical Kingdom for confirmation! Disney World assured us that no theme park attractions have weight limits. However, many rides feature restraint devices which may prevent some guests from being able to ride.
However, just because a ride has a seatbelt or lap bar doesn't mean it's not size-friendly. So, rest assured that we'll spotlight attractions that plus size Disney guests are cautious about.
Disney World encourages anyone with doubts or questions to ask the hosts at the attraction's entrance. This way, you'll get reassurance about riding or not before getting in line.
Thankfully, many (but not all) rides you find at Disney parks in the United States are size-friendly. And overall, Disney World is even more size-friendly than Disneyland.
Seatbelts
Some attractions don't have any restraint devices, while others have a lap bar, body harness, or seatbelt.
We have some helpful information about seatbelts for guests plus size at Disney World.
Overall, attraction seatbelts are long and accommodating, especially on newer rides. And a few rides offer seatbelt extenders, though this information is ever-changing, so inquire with a cast member if, on a rare occurrence, you need one.
What stands out is that reaching and seeing where to buckle can be tricky. So one hot tip is to stand and buckle your seatbelt, which will tighten once you sit.
Turnstiles
Thankfully, you will encounter only a few turnstiles during your Disney day.
If it looks like it might be a tight fit, you have some options. For example, you can choose to stand sideways while walking through.
Another option is asking to go through the gate for strollers, wheelchairs, and ECVs. And sometimes, you'll find your party guided through the gate without you even needing to inquire.
Extra Time
Need extra time getting on and off rides? That's okay! Just be sure to alert a cast member. And if you don't already know, Disney calls their staff "cast members."
If you're concerned about mobility limitations, Disney World has helpful resources, so be sure to review them and reach out with questions.
Ride Alone / Side Preference
When traveling with children and thin friends and family, you likely won't be able to sit next to them at every attraction.
For example, some rides only have one lap bar. Therefore, a small child may not be able to get fully secure if they sit next to a larger person.
Remember, this is nothing for you to feel ashamed about – it's just safer to ride alone.
Then there are rides that spin. You want to ensure you're not sitting on a side where you could easily smoosh into your kiddo.
Disney cast members are always on the lookout for the safety of all guests. Therefore, try not to feel embarrassed if they recommend you switch sides or ride alone.
Test Seats
Many rides that are not as size-accommodating offer a test seat you can try before waiting in a line that can be hours long.
You can ask a cast member for assistance if you don't see a test seat. For example, the test seat might be in an area you can't see, though most are in public spaces.
If there isn't a test seat, and you have concerns, ask the cast member if they can help you to know if you'll fit before getting in line. They might make their best guess or take you to the front to check.
Restaurants
Most restaurants throughout Walt Disney World have seating areas with armless chairs.
However, if you find yourself seated in an area that only has chairs with arms, be sure to ask for an armless chair. Never feel like you're an inconvenience; everyone at Disney wants you to feel comfortable!
One thing to note is that the Sci-Fi Dine-In Theater car seating is not very size-friendly. Yes, car seating, as in you're dining in a car. But unfortunately, the table area is not adjustable, like many restaurant booths. Thankfully, a few tables are available, so be sure to inquire.
Parking Lot Trams
The parking lot trams at Disney World are a convenient transportation mode for visitors driving to the theme parks. The trams run from the parking lots to the park entrances, providing a quick and easy way for guests to get to the parks without walking long distances.
For plus size Disney World guests, look for the seating area with two benches facing one another. The door to that area is wider than other areas on the tram.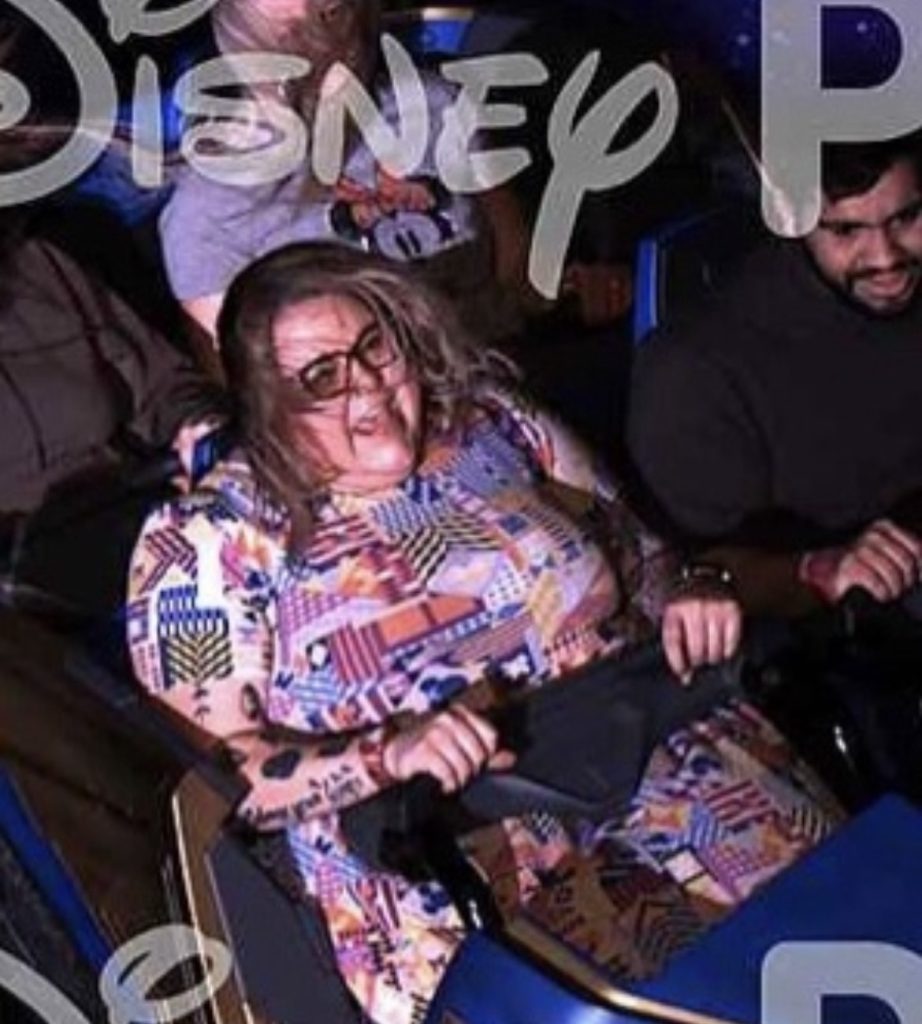 Talk About Your Size-Inclusive Needs
As Lilo says, "Ohana means family, and family means nobody gets left behind or forgotten."
When planning a trip to Disney World with family and friends, consider communicating with them about any size-friendly accommodations you may need in the parks.
As we shared above, let them know you might need extra time and a hand getting on and off rides.
When traveling with children, you likely won't be able to sit next to them on every ride. And it can be helpful to prepare them for that in advance.
Unfortunately, some test seats are in very public areas. For some, having loved ones stand in front of the test seat area and provide encouragement can make the experience less anxiety-inducing. For others, trying out the test seat is a fun experience and a photo opp.
Throughout your Disney day, you want to be mindful of your physical and mental health. So, if doing a test seat in front of a bunch of strangers is just too much, that's okay. Head over to another ride or take this opportunity to hydrate on a nearby bench while the rest of your party rides.
As long as you've communicated your wishes to your party, you're not getting left behind – you're doing what you need at that moment. And you sure don't need to make up excuses if you need time to rest and nourish your body.
So, be open and honest with your loved ones to ensure everyone is ready to support you, and you will all have a great time.
And lastly, never be afraid to go to Guest Services or ask a cast member for assistance with any concerns about being a plus size Disney guest.
Plus Size Friendly Rides at Disney World
The fantastic news is that most of the attractions at Walt Disney World are size-friendly.
Below we're spending the most time focused on visiting the Magic Kingdom. Then, we'll highlight unique things you should know as a plus size Disney World guest visiting Disney Hollywood Studios, EPCOT, and Animal Kingdom Theme Park.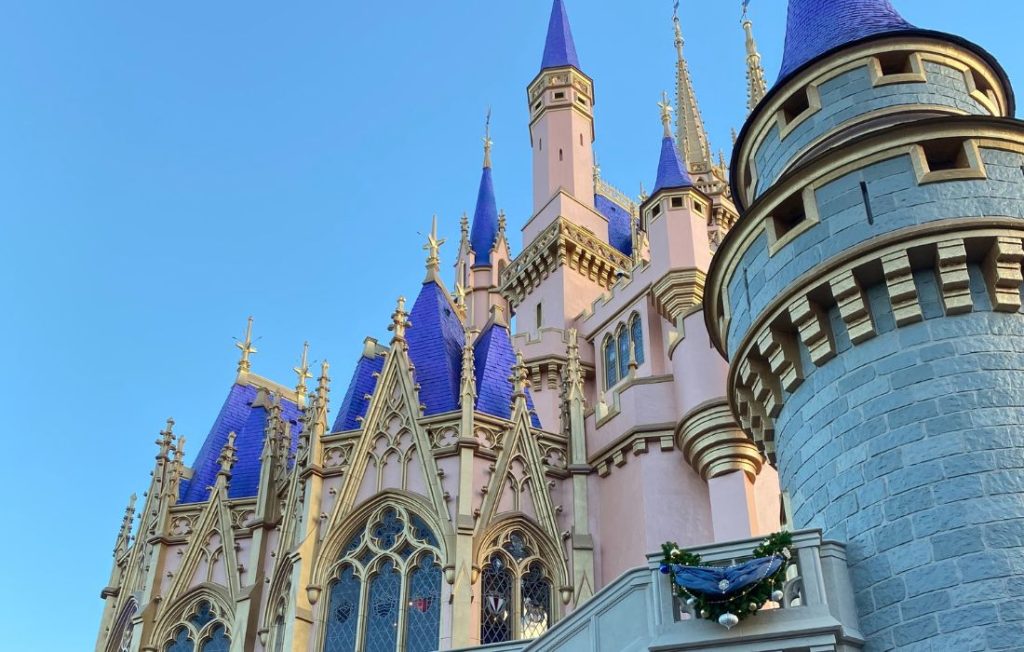 Magic Kingdom
Before we walk through the entire park, you'll see a list of rides that Walt Disney World has noted might not be accommodating for plus size guests.
Magic Kingdom Rides That May Not Be Size-Friendly
Astro Orbiter Attraction (seat belt)
The Barnstormer Attraction (lap bar)
Big Thunder Mountain Railroad Attraction (lap bar)
Space Mountain Attraction (lap bar, very confined space)
Tomorrowland Indy Speedway (seat belt)
Dumbo the Flying Elephant® Attraction (seat belt, very confined space)
Magic Carpets of Aladdin (seat belt, very confined space)
Seven Dwarfs Mine Train (lap bar)
TRON Lightcycle (there is a bucket-style seat that's more accommodating)
As we learned from the movie Up, adventure is out there! So, if you're ready, let's explore the Magic Kingdom park, and we'll provide additional details for the rides listed above.
Park Entrance
As you're entering the Magic Kingdom, you'll see wide turnstiles. However, if you prefer, ask to have the gate designated for wheelchairs, scooters, and strollers opened for your convenience.
We encourage you to advocate for what feels best throughout your Disney day. Cast members are happy to help with accommodations and will do so in a way that doesn't feel stigmatizing.
Main Street U.S.A.
While strolling down Main Street, stay cautious of where you're stepping to avoid tripping or injuring your ankle.
Otherwise, enjoy all the sites and shops. And when going into shops, often you can open two side-by-side doors if going through one feels tight.
Main Street Vehicle
If you can catch a ride on a Main Street Vehicle, a cast member will help you climb up where you'll see bench seating that's pretty accommodating. You'll need to judge your comfort level attempting to get on and off the vehicle.
Walt Disney World Railroad
The Walt Disney World Railroad is generally size-friendly for plus size guests.
The trains accommodate a wide range of body types and sizes. However, some train cars have slightly narrower seats than others.
Additionally, the train has no seat belts or restraints, so guests have more flexibility. If you have concerns about your ability to fit comfortably on the train, please speak with a Cast Member at the attraction for assistance.
Many of the train stops in different lands require you to walk up a set of stairs. However, there are ramps available for wheelchair users. And unless you're boarding the train with a wheelchair, be prepared to step up approimently 12 inches to board the train. Once onboard, the seats are wooden benches with backs.
Families should note that strollers must be folded up to be carried on. Unfortunately, Disney's rental strollers don't fold up, so you can't take those strollers onboard.
Adventureland
The attractions in Adventure Land are very accommodating, and most are bench seats. And with bench seats, if you feel like you need more room, you can always choose to ride alone.
Enchanted Tiki Room
The Enchanted Tiki Room attraction is a great spot to rest, recuperate, and take in a fun show. And with bench seating, it's very size-accommodating.
Jungle Cruise
While the bench seating inside the boat is very accommodating, it's quite a step down to get into the boat. With that said, cast members offer a helping hand, and you can get assistance from your loved ones.
Once onboard, sit back and enjoy a fun and entertaining boat ride!
The Magic Carpets of Aladdin
To board the carpet vehicle, you must step up and over a decorative feature on the vehicle's side, approximately 6 inches tall, before accessing the bench seat designed for two adults.
Once in, it's a great fit for those plus size at Disney World, but you might want to ride alone. And remember, there's nothing wrong with that!
Pirates of the Caribbean
You may feel pressured to move fast as you get ready to board the boat for the Pirates of the Caribbean ride. But remember, telling a cast member you need more time is okay. And the step into the boat can be wet, so be sure to take your time for your safety.
Once seated, you'll notice there isn't a lap restraint for the bench seating, so it's size-friendly. Also, aside from the front row, you should have plenty of legroom.
Swiss Family Treehouse
If you're up for climbing 128 steps (6 stories), you'll see a fantastic view from the top of the Swiss Family Treehouse. The walkways and stairways are accommodating for people of most sizes.
Fantasyland
Fantasyland is known for its enchanting rides that transport guests into beloved fairy tales. But it's also an area of a park with some less size-accommodating attractions that you'll want to consider riding alone. And one you might want to avoid completely.
The Barnstormer
The Barnstormer is one of those tighter-fitting rides designed for younger guests. But don't feel like you need to skip it completely; just consider riding alone or with a smaller seatmate.
Tall and plus size riders should consider avoiding cars with an overhead wing, making getting in and out a bit more difficult.
Once you step over the side of the car, you'll pull down a lap bar. So a bit of mobility is required, and you'll find that is the case for many of these rides in Fantasyland.
Dumbo the Flying Elephant
Like the Barnstormer, Dumbo the Flying Elephant is a ride with a bench seat that can be a tight squeeze for two larger adults. So, consider riding with a kiddo or enjoy a few precious moments of "me-time" by yourself.
You'll be relieved to know the seatbelt is extra long once you climb into your seat.
If you ride with a child, put them on the inside of the elephant so they are on the opposite side of where you're going to lean.
Enchanted Tales with Belle
If you're a Beauty and the Beast fan, you'll love this walkthrough attraction featuring an interactive storytelling experience where guests volunteer and participate.
It may sometimes feel crowded while walking during the first two parts of the attraction. But then you'll arrive at padded bench seats for the final part of the show.
The Enchanted Tales with Belle attraction is about 20 minutes long.
"It's a small world"
While lacking in legroom, especially in the front row, the bench seats for this iconic Disney boat ride accommodate plus size guests.
Taking your time while getting in and out of the boat is always a good idea. And having someone from your group offer a helping hand can make the experience even better.
Mad Tea Party
These spinning teacups are a Disney classic. And while this attraction has no restraints, it can still be a tight squeeze depending on your size. This is due to a wheel spinner in the middle of the teacup, allowing riders to control how quickly the attraction can spin.
Also, the narrow opening of the teacup, where people often step sideways to get in, can be a tight fit.
Some plus size riders share it's okay if their stomach touches the wheel in the middle, as it doesn't impact their ability to spin. And others feel like sitting near the entrance to the teacup provides a little extra wiggle room.
Be mindful if you ride with kids. Spinning may cause you to smoosh into your teacup seatmates. But, of course, you can choose to ride alone.
And remember to address any concerns with a cast member; they'll gladly assist.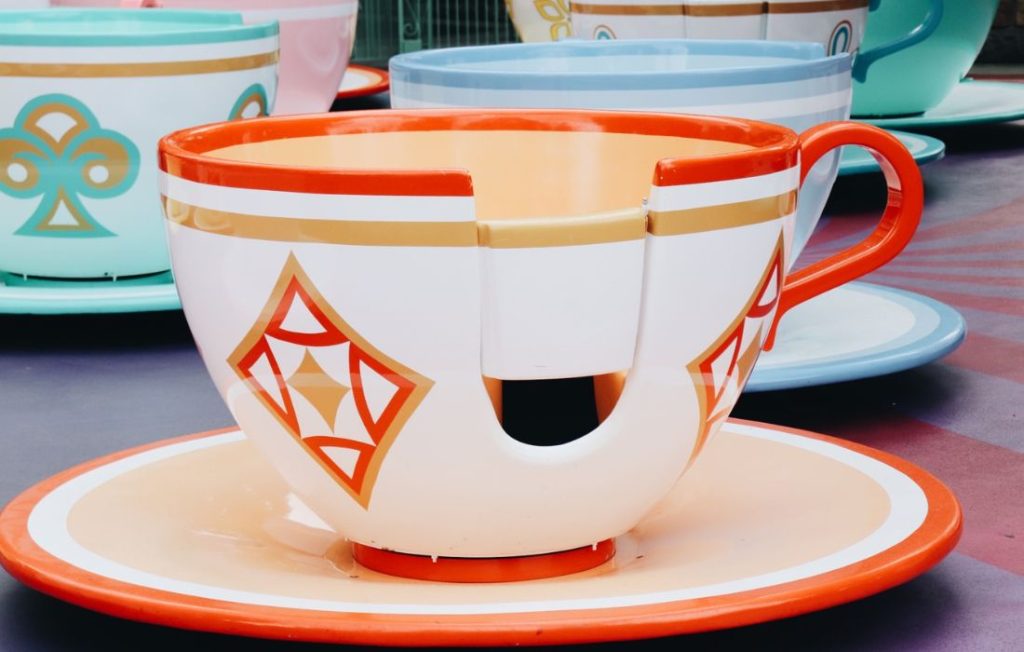 Mickey's Philharmagic
Walking into a theater and seeing chairs with arms can be distressing when you're plus size. And that's what you'll happen upon when experiencing Mickey's Philharmagic, a 3-D movie starring Mickey and Donald that runs about ten minutes.
Numerous Disney guests who are plus sized have expressed that the theater seats are indeed comfortable. And they suggest sitting on the seat's edge and sliding back rather than sitting directly between the armrests.
Rest assured that you can still enjoy the show from an armless chair if the seat doesn't work for you. You'll just need to ask a cast member.
The Many Adventures of Winnie the Pooh
With bench seats, the Many Adventures of Winnie the Pooh is a Pooh Size friendly ride! A bar comes down but is not restrictive. And for extra legroom, ask to sit up front.
Peter Pan's Flight
Away we go, on Peter Pan's Flight!
As you step upon a moving walkway, you'll board a pirate sailboat with bench seating. A lap bar comes down only as far as the largest guest in the party, and you can choose to sit alone.
It can be a little snug for some plus-size guests as the bar comes down. A tip from Jess, who calls Disney World her second home, is to sit up straight as the bar comes down so it's not as tight on your stomach. She feels that helps a lot.
Prince Charming Regal Carousel
As you step on the carousel, you can choose to ride a horse if you're comfortable climbing up and swinging your leg over. Larger horses are on the outer ring, and the horses get smaller as you move toward the center.
Remember, if you ride a horse, it will go up and down. So, if you stared low, you might end higher. Or you can choose to sit on the stationary chariot with bench seats.
Princess Fairytale Hall
This is a meet-and-greet area where you can take pictures with your favorite Disney princesses.
Seven Dwarfs Mine Train
The Seven Dwarfs Mine Train is an attraction many plus size Disney World guests choose to bypass as it's a tight squeeze, as shown in the video below.
The confined seat and lap bar positioning push the rider's knees close to their stomach. And this can cause discomfort for some.
If you want to ride but are worried about the fit, talk to a Disney cast member before getting in line.
Under the Sea – Journey of the Little Mermaid
Like many attractions in Fantasyland, you'll find an accommodating bench seat with a lap bar.
Frontierland
This land features several popular attractions, with various experiences that visitors of different sizes can enjoy.
Big Thunder Mountain
This popular ride is fun for plus size guests thanks to the bench seating and lap bar!
However, due to that one lap bar, you'll want to ride this one alone if you're concerned about your fellow rider needing to be fully secure. Also, you'll get jostled around a lot on this wild ride.
If you need extra legroom, get in line for the car upfront.
Country Bear Jamboree
This attraction has wooden bench seats, so plus size guests can sit with ease and enjoy the show.
Frontierland Shootin' Arcade
This is a fun interactive park area, but it can get pretty crowded. So at times, it might be a tight squeeze for guests of all sizes.
Tom Sawyer Island
Tom Sawyer Island features activities, including caves, forts, and walking trails. To get to the island, you'll take a standing raft.
It's important to note that certain island areas, such as narrow walkways or steep stairs, could challenge guests with mobility issues or larger body types. With that said, there are many benches for you to sit and relax while your kids get out their wiggles.
Liberty Square
Overall the attractions in Liberty Square are size-friendly or offer accommodations if needed.
The Hall of Presidents
For this theatre seating attraction, many plus size guests prefer sitting between empty seats. And Like with Mickey's Philharmagic, if the chairs with arms aren't comfortable, you can ask a cast member for an armless chair.
Haunted Mansion
You'll board the Haunted Mansion Doom Buggies from a moving walkway, so if you need more time, alert a cast member.
Once seated, a lap bar will come down, but it's not very restrictive. And if you feel more comfortable, you can sure ride alone!
Watch your step as the buggies can shift when it comes time to disembark.
Liberty Square Riverboat
Step back in time and have a lovely ride aboard the Liberty Square Riverboat. Once onboard, you'll notice limited bench seating, so most guests stand. And you can explore three levels of the boat, but note that the steps are steep.
Tomorrowland
While there's a lot of excitement awaiting you in Tomorrowland, there are a few attractions you'll want to be aware of if you're plus size at Disney World.
Astro Orbiter
The Astro Orbiter is a small, low-sitting car without much legroom. So, it can be a tight squeeze for plus size guests and those who are tall. Deifetnly, inquire with a cast member if you are concerned about riding comfortably.
Buzz Lightyear's Space Ranger Spin
You'll board from a moving walkway into a vehicle with bench seating. Once seated, the front of the car closes, and two laser guns are within reach. As always, with these bench seat rides designed for two average size adults, feel free to ride alone.
Monsters, Inc. Laugh Floor
Sit and relax on bench seats and enjoy the Monsters, Inc. show!
Space Mountain
This popular attraction can be a tight fit for plus size guests as the ride is a confined space with a lap bar.
You'll need to step down into a low single seat and be able to pull yourself up once the ride is complete.
Tomorrowland Speedway
The Tomorrowland Speedway cars are small and low to the ground, so getting in and out can be difficult, depending on mobility limitations. Once seated on the bench seat, you'll find one seatbelt. Remember, cast members are always happy to assist you.
TRON Lightcycle Run
You've likely heard this exciting new attraction isn't size-friendly. The TRON Lightcycle requires riders to climb on a motorcycle with leg clamps. So if you have larger calves, it might not work.
There is a test seat, but unfortunately, it's in a very public area.
The good news is that a few regular seats are available, so you can still enjoy the ride. However, be aware that you'll likely need to wait longer for one of these more accommodating seats with a lap bar.
Walt Disney's Carousel of Progress
This Carousel of Progress could use a little updating with a turnstile to enter that can be snug and theater seating that has chairs with arms. But as we've shared before, cast members are standing by to assist you and ensure your day is magical!
Disney Hollywood Studios
Now we'll briefly explore other areas of Walt Disney World with lists of rides that may not be size-friendly at Disney Hollywood Studios, EPCOT, and Animal Kingdom Theme Park.
Remember to use all the tips we've shared, including asking cast members if you have any concerns about any of the attractions listed. And best of all, there are so many rides and magical experiences awaiting you that are size-friendly!
Disney Hollywood Studios Rides That May Not Be Size-Friendly
Star Tours -The Adventures Continue Attraction (seat belt)
Rock 'N Roller Coaster Starring Aerosmith (harness and confined space)
The Twilight Zone Tower of Terror (seat belt)
Guardians of the Galaxy Cosmic Rewind is pictured below and size-friendly!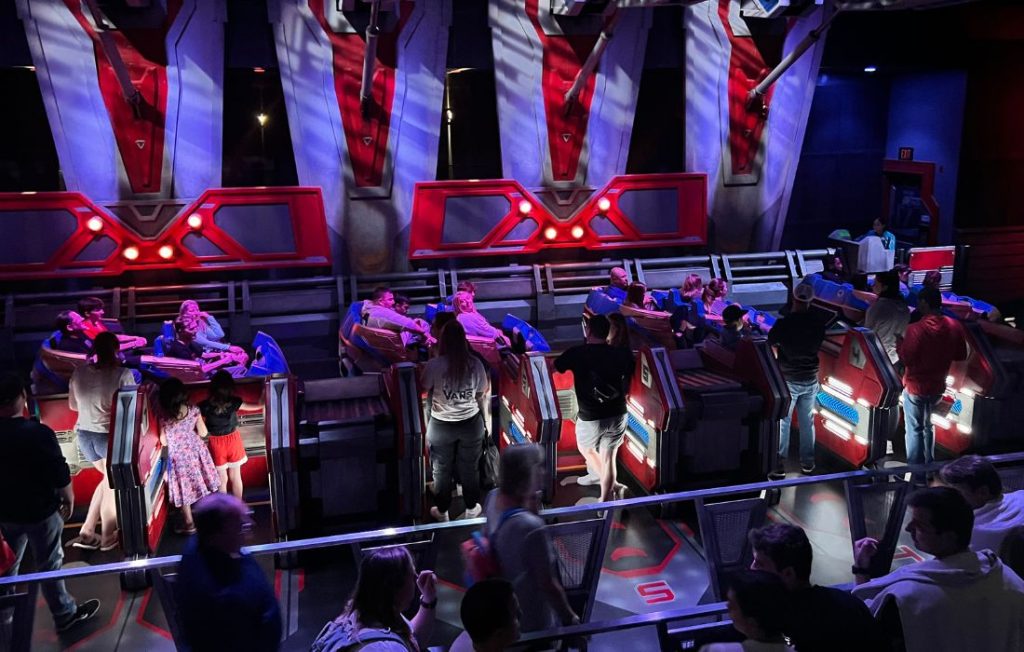 EPCOT
EPCOT Rides That May Not Be Size-Friendly
Mission: SPACE Attraction (upper body harness)
Test Track Attraction (seat belt, very confined space)
Soarin' Around the World Attraction (seatbelt)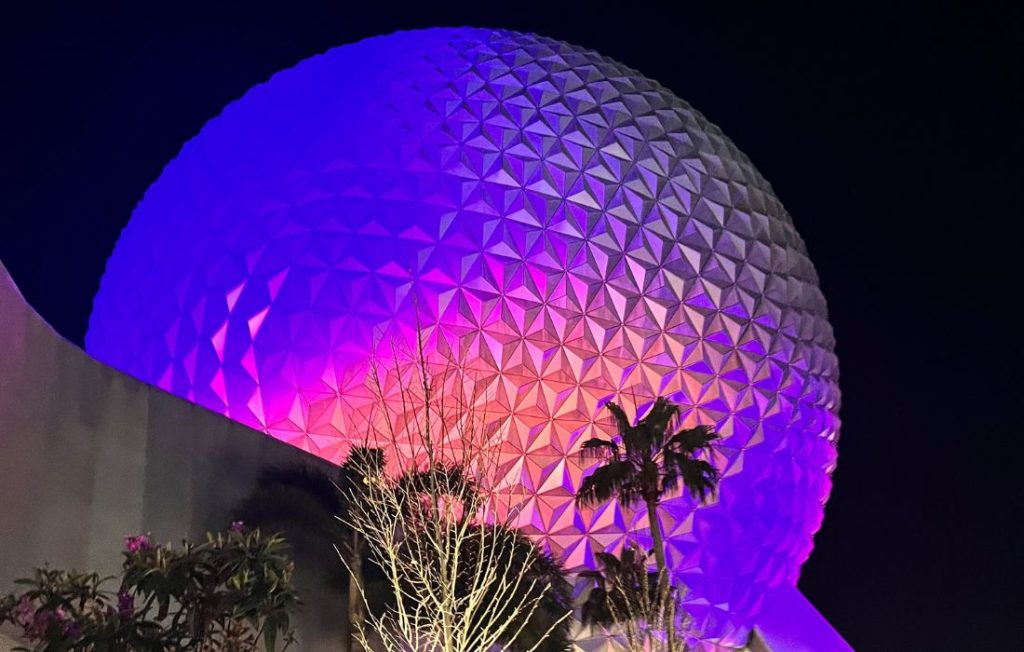 Disney's Animal Kingdom Theme Park
Disney's Animal Kingdom Theme Park Rides That May Not Be Size-Friendly
Dinosaur Attraction (seat belt)
Kali River Rapids Attraction (seat belt)
Expedition Everest – Legend of the Forbidden Mountain (lap bar)
Avatar-The Flight of Passage (lower body restraint and confined space)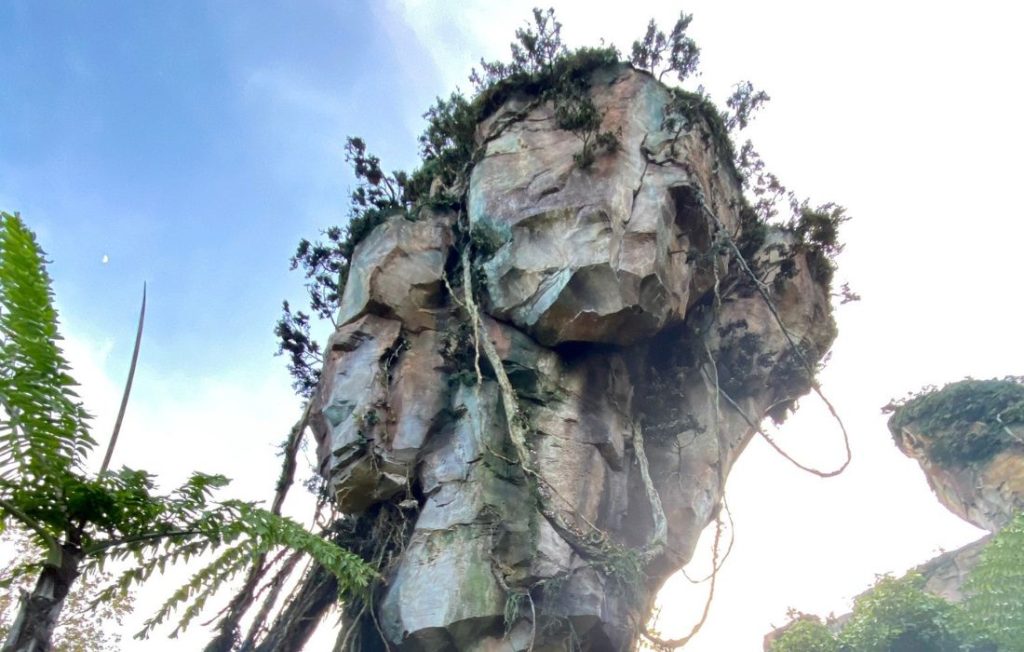 Plus Size Disney World Podcast Episode
Hold onto your mouse ears because we are thrilled to present episode 198 of the Plus Mommy Podcast episode. Our guest, Jess, has over 30 years of experience going to Disney World, and she's sharing her size-friendly tips for the Magic Kingdom, Disney Hollywood Studios, EPCOT, and Animal Kingdom Theme Park.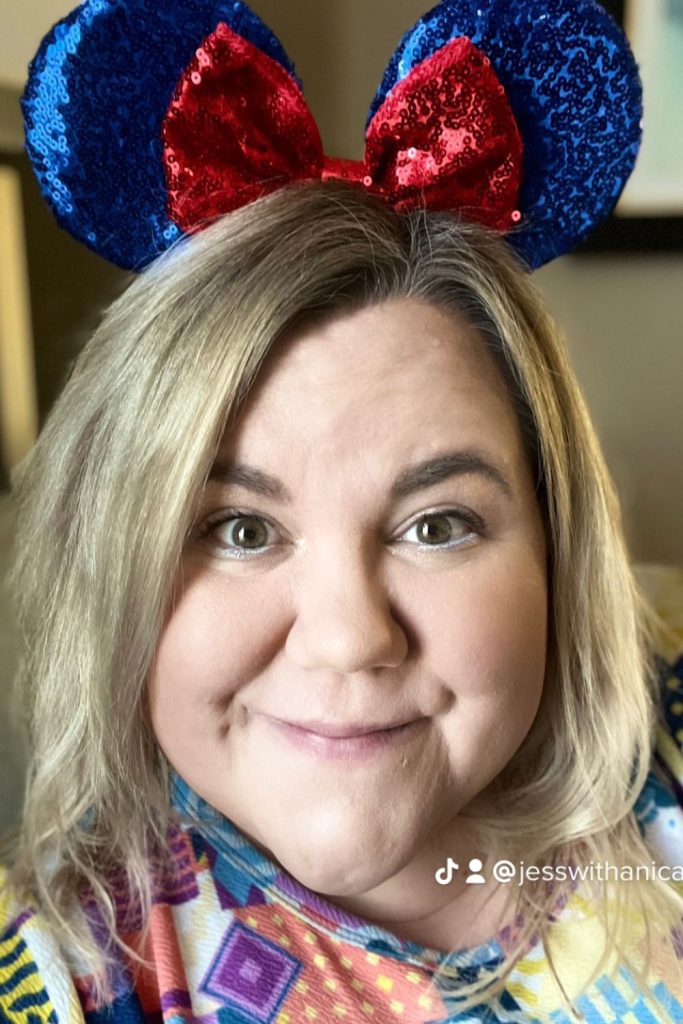 Recording & Show Notes: Plus Mommy Podcast Episode 198
Transcript happily provided upon request.
Resources Mentioned On The Show: