During a recent trip to Disneyland, as a plus size mom, I realized how different it was to experience Disney with a larger body.

Disneyland rides for obese people* can be challenging but no one talks about it.

There are many Disneyland and California Adventure attractions that are not designed with plus size people in mind.
I invited my friend Sam Reyes, a self-proclaimed Disney Dork, to join me in covering all things Disneyland for plus size guests.

*As plus size women who love Disneyland, we don't like the o-word, but we really want people to find this resource. The phrase "Disneyland rides for obese people" matches the words people are searching to find this information. The good news – you won't see the o-word again in this article! Thanks for understanding.
At the bottom of this article, you can get this resource as a free PDF e-book.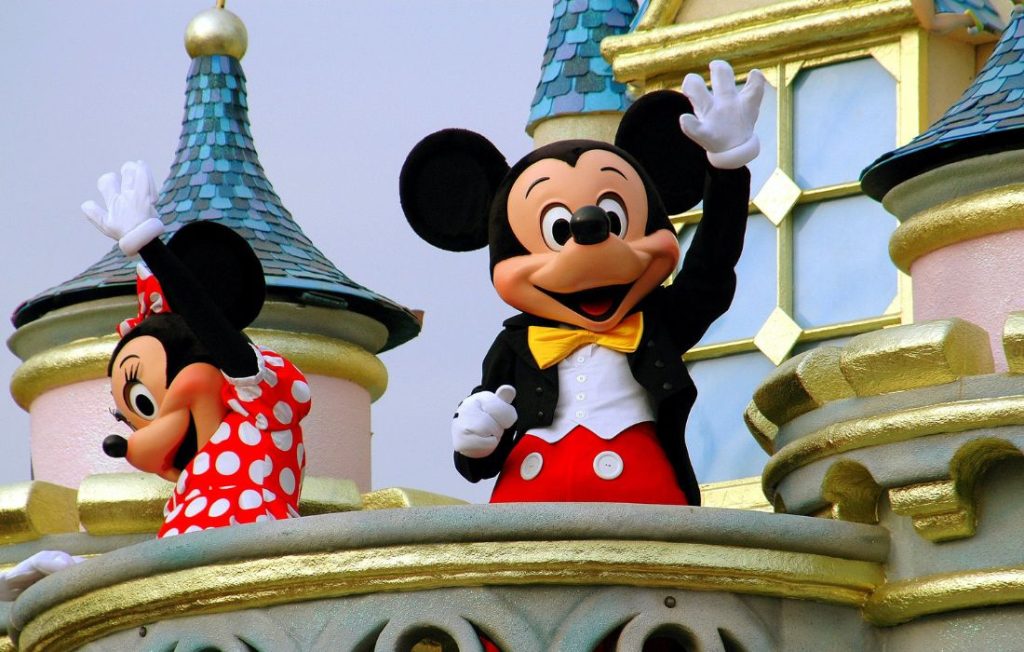 Disney magic is accessible to people of all sizes and ages. You just have to be a little strategic when you're visiting Disneyland, as a person of size.
It's our hope that the insights shared here, from preparing for your day to discussing what rides we absolutely love, will help you to plan your next trip to Disneyland and California Adventure, in Anaheim, California.
Preparing For Your Disney Day As A Plus Size Guest
Planning A Disney Vacation When You're Plus Size
Please note that while we're sharing our experiences (Jen size 26 / Sam size 28) how you experience Disneyland as a plus size person might be different.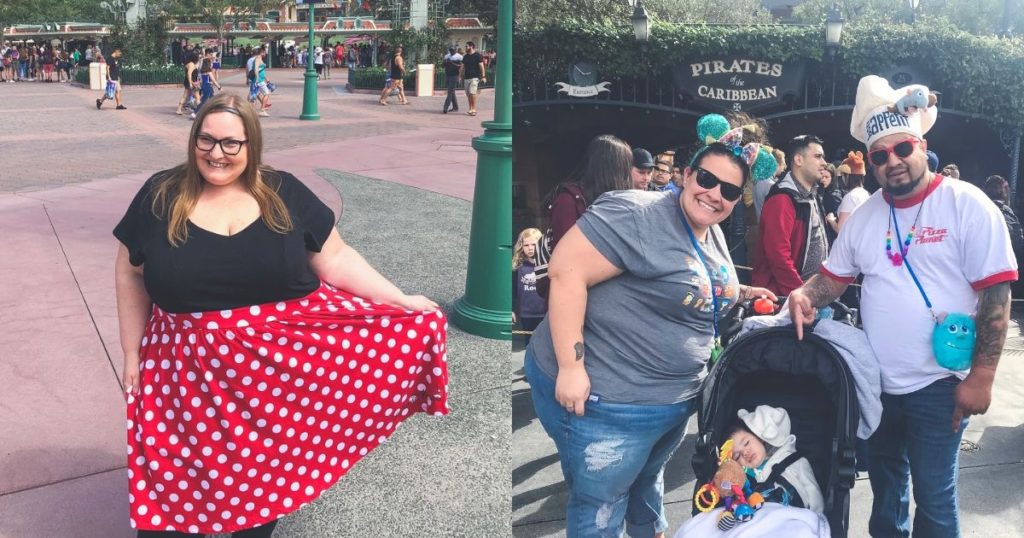 Traveling To Disneyland When You're Plus Size
When you're plus size, travel can put more wear on your body.
Some people experience extreme swelling after travel and that can make walking Disneyland for hours even more difficult. This is something to keep in mind while planning your trip!
Consider building in downtime between travel and your Disney adventures, if you're able, as well as, purchasing plus size compression socks before your trip.
Southwest has great deals for flights, and they offer the Customer of Size policy that you can read all about via Flying While Fat.
Also, if you're searching for a local hotel within walking distance of the park, the Howard Johnson Anaheim Hotel & Water Playground is a fantastic family-friendly location.
Disneyland Plus Sized Guests Parking Recommendations
Rather than going to the Disneyland parking structures, consider the Toy Story Parking Area located at 300 W. Katella Ave, Anaheim, CA 92802.
Once parked you'll be able to walk a short distance to a shuttle bus that will drop you off in front of the entrance to Disneyland and California Adventure.
The shuttle bus allows for easy on and off for people of different sizes and abilities.
If you park in the Mickey & Friends or Pixar Pals Parking Structure (accessible via Disneyland Drive, Magic Way, and West Ball Road), you will take a tram to a drop-off area located close to the parks but not directly in front.
There's wider seating on the ends of each tram, and the doors are also wider to get on and off.
Both parking options cost $25, and you can learn more here.
There's also the Anaheim ART Shuttle for a small fee that drops you off right in front of the entrance of the parks. The ART Shuttle is ADA compliant, allows motorized scooters, onto the bus as well as, wheelchairs and strollers.
Disney Hotel Suggestions
Take a good look at hotel reviews and look for options that offer shuttles to Disneyland or ease access to ART Shuttles.
You can request weight limits for hotel beds, if you're concerned.
Bonus! Look for hotels that offer free breakfast because the food at Disney parks can get pricey!
Speaking of Disneyland food options, if you have a food allergy like a gluten intolerance, both Disneyland and California Adventure are very accommodating.
Disneyland With Motorized Scooters
If you or someone in your group needs a motorized scooter, you can rent one from a local company or from Disneyland directly.
Most independent rental options will cost half as much as renting from Disneyland and they can drop-off and pick-up the scooter to your hotel.
Disneyland will charge your scooter for you, if the battery gets drained, so that's one less thing for you to worry about.
Disneyland and California Adventure are mindful of the needs of people with different abilities and have this helpful resource, Services for Guests with Mobility Disabilities.
Tips To Avoiding Chafing
Lather up! MONISTAT Chafing Gel will be your best friend, as well as, other anti-chafing options for plus size people. You can read about these via Chub Rub Solutions.
Don't forget to pack a stick of deodorant to refresh yourself with mid-day and apply lots of sunscreen throughout the day!
Shoes To Wear to Disneyland
Bring multiple pairs of shoes from comfortable tennis shoes to walking sandals!
By changing out your shoes throughout the day, you'll be able to walk longer and further.
Plus, if you go on one of the water rides, you can wear sandals and protect your shoes from getting soaked.
Plus Size Disney Clothes
When it comes to picking out what you're going to wear to Disneyland, there are some really cute plus size Disney clothes available!
Torrid has many adorable Disney options that go up to a size 30 like this plus size Minnie Mouse dress.
You can also find Disney plus size shirts on Amazon!
Here's a fun Disney fact, Disneyland shirts that have a date on them, "65th Celebration," for example, go all the way up to 6XL inside of the park. You just need to ask a Cast Member for the larger sizes!
What To Wear To Disneyland As A Plus Size Guest
What's most important is that you're comfortable, so wearing Disney branding clothing sure isn't a requirement.
From yoga pants, shorts, dresses with leggings, to jeans and a tank top — just wear whatever you think you'll be comfy in walking for miles and getting on and off rides.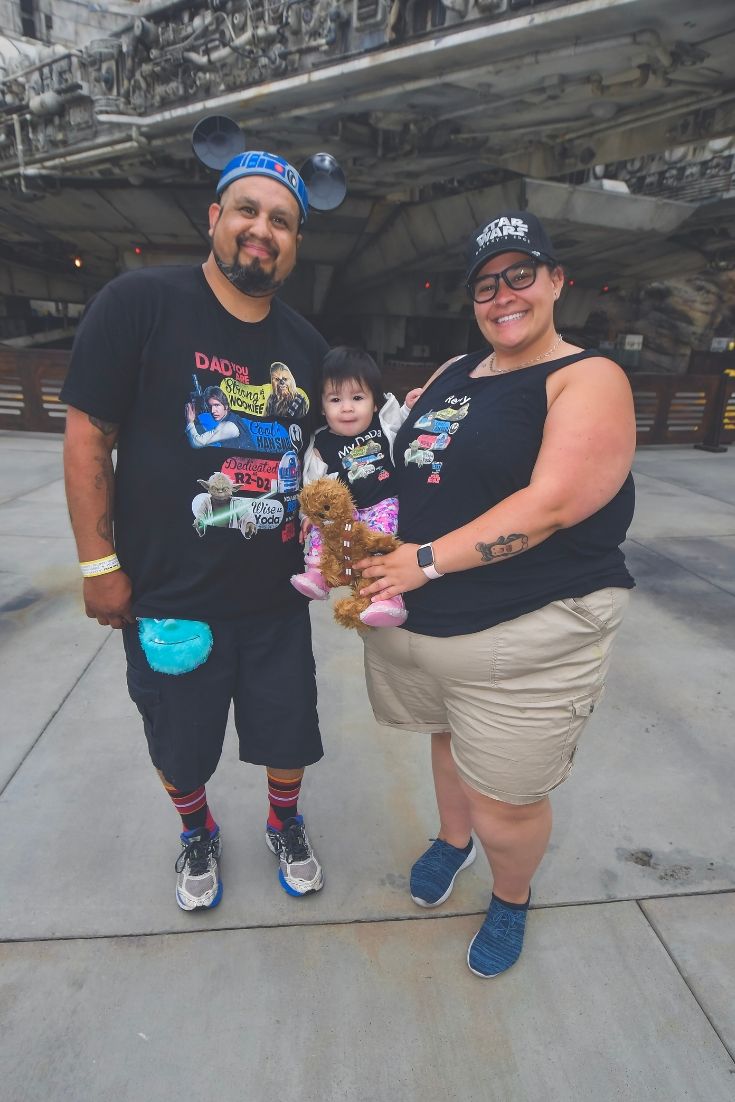 Be sure to bring layers as depending upon what time of year you go, the weather can fluctuate.
Consider packing backup clothes because you'll likely get hot and sweaty throughout your Disney day. If nothing else pack an extra pair of underwear and consider wearing a plus size leak-proof pair.
Bring A Backpack
Suggestions of items to pack in your backpack for your day at Disneyland – snacks, water bottle, backup clothes (including an extra pair of socks and underwear), sunscreen, deodorant, any medication you might need, as well as, backup clothes and items for your kids.
Before Entering Disneyland or California Adventure As A Plus Sized Guest
Hydrate And Medicate
Bring a refillable water bottle, and be sure to drink plenty of water not just throughout the day but well before you arrive.
At every Disney concession area that offers fountain drinks, you can ask for free ice water. Note that Disneyland is cutting down on plastic so drinks don't come with lids (you'll need to ask for one).
Disneyland also has paper straws so if you prefer your own reusable straw don't forget to put one in your backpack!
If you're concerned about pain and inflammation, you can take something like ibuprofen (unless your doctor says otherwise).
You can also bring your own over-the-counter or prescription medicine into the park. Tylenol is available to purchase in the parks but it's pricey compared to your local drug store.
While cannabis is legal for recreational and medical purchase in California, Disneyland does not allow it in any form on their property.
Disneyland App
Be sure to download the free Disneyland App before you enter the park. This way you'll know how long the wait is for rides, see pathways throughout the park to help you get from land to land quicker, and seating areas.
Disneyland For Plus Sized Guests Guide
Below we'll walk through every land in Disneyland and point out tips for what rides are or aren't size-friendly.

Not every ride will be covered, but most are and you'll learn a ton for planning a trip to Disneyland without having to worry about your size!
When the ADA entrance for attractions is mentioned that's usually the attraction's exit.

Don't be afraid to approach a Disney Cast Member with questions or concerns throughout the day.

They've assisted people of all sizes and abilities. They are there to support you with compassion and help to make your day magical!
Most importantly, listen to your body throughout the day and sit down when you need to rest.

You need to do what's best for you and try not to care what strangers may think. Your Disney day is all about you and your family!
Park Entrance
The turnstiles are wide but you can ask to have the gate, used for wheelchairs, scooters, and strollers, opened for you if you'd prefer.

Advocate for your needs and comfort from the start of your Disney day!
Speaking of turnstiles, if you're unable to get through them anywhere at both parks, just ask a Cast Member for the ADA entrance and they'll be happy to help you.

You'll be able to get on the ride relatively soon if it's not busy. If the ride has a long wait, the Cast Member might scan your ticket and provide you with a time to come back.
There are a few rides at Disneyland that have a turnstile in the middle of the line for the attraction, and we'll point those out throughout this guide to Disneyland while plus size.
When it comes to rides with seat belts, most are extremely size-friendly! A helpful tip is to pull the seat belt all the way out and then sit down and it will tighten.
Main Street, U.S.A.
Main Street has many seating areas so stop and rest whenever you need a break and be sure to hit up City Hall if you have something special to celebrate.
As you're walking along Main Street, be mindful of the tracks, as you don't want to trip or roll your ankle. Disneyland has made great improvements but beware.
Disneyland Railroad
The Disneyland Railroad with stops on Main Street, New Orleans Square, Mickey's Toontown and Tomorrowland, can be a helpful way to get around the park.
There are two different styles of trains. One train has rows of benches facing outward from the train.

This train is fun because you're looking out onto the park throughout your ride. This seating design is also more size accommodating than the other train with the traditional rows of bench seats facing the front of the train.
Be sure to ask the Cast Member loading the train for the wider seating area, at the end of each train, as the train with rows facing the front can be a tight squeeze getting on and off.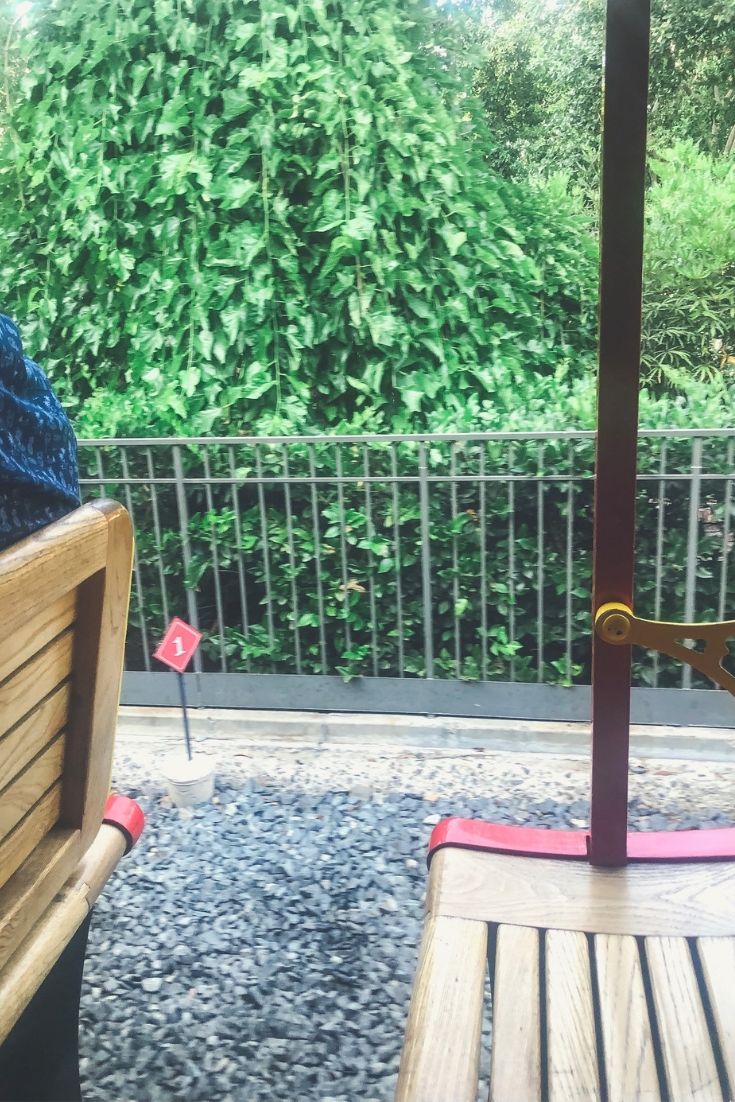 Adventureland
Walt Disney's Enchanted Tiki Room
The Tiki Room is a fantastic place to sit, with size-friendly benches, and air conditioning.

You can also bring food and drinks inside the Tiki Room. There's an ADA ramp if you can't walk up the stairs.
The Tiki Room was originally a restaurant so there's a bathroom not many people know about. You can use it and hopefully there won't be a long line!
Jungle Cruise
This Disney classic ride is great for the whole family and it's size-friendly. The only problem is there's a tight turnstile.

You can go to the ADA entrance if you have any concerns about fitting comfortably and let the Cast Member know you need to enter this way.
Indiana Jones
Indiana Jones is a ride with a tight turnstile in the middle of the very long line and a narrow stairwell.

If you can't go up and down the stairs or have concerns about the turnstile, then just ask a Cast Member for the ADA entrance.
Once you get onto the ride, the seating area can be a bit snug but the seatbelt, like pretty much all seat belts at Disneyland and California Adventure, are very long.
New Orleans Square
Pirates of the Caribbean
This ride is completely size-friendly and family friendly! You can wear your baby on the ride if you like to babywear while plus size.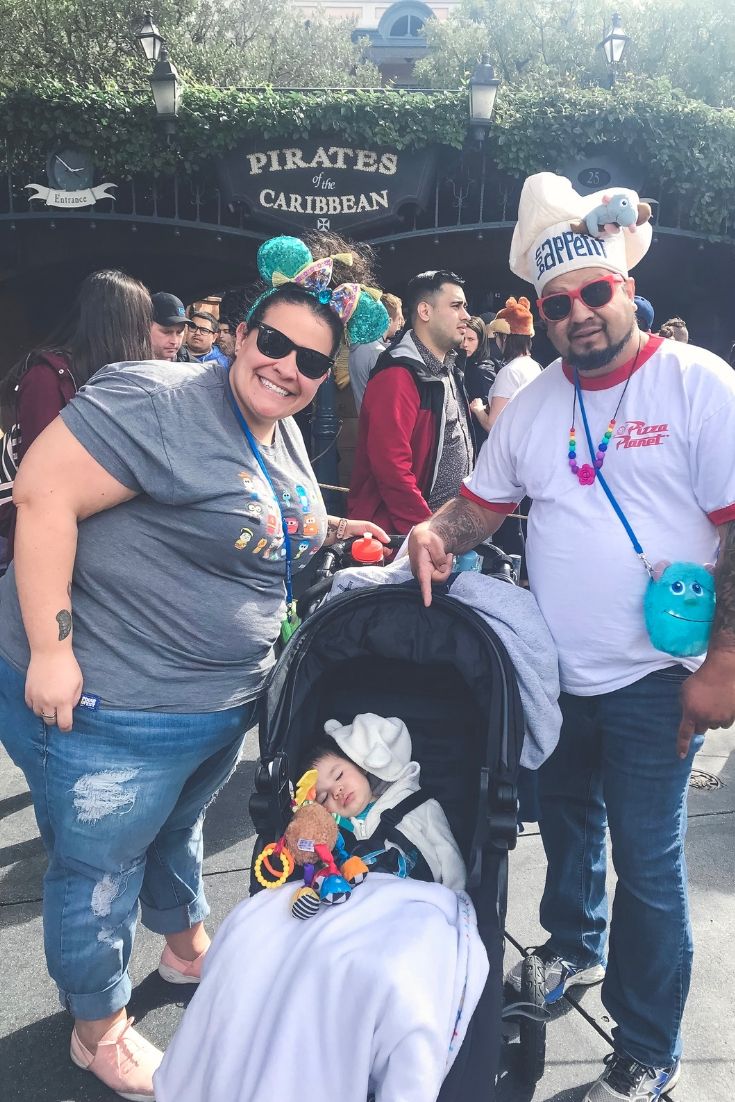 If you're concerned about the slight incline in the line for the ride, you can go to the ADA entrance, as we've talked about before.
The Haunted Mansion
This is a size-friendly and family-friendly ride with an accommodating lap-bar.

You'll need to get on and off a moving track but you can always ask a Cast Member to stop the track for you.
Note that this ride can be a little scary for young kids.
Critter Country
Splash Mountain
Like Indian Jones, Splash Mountain has some tight walkways but the ride itself is super size friendly!

Be prepared that they usually put larger passengers in the back. There's no seat belt, just a log you step down into and sit on a bench.
You will get wet, so this ride is a great time to swap out your shoes to sandals, if you haven't already and you brought an extra pair.
Frontierland
Big Thunder Mountain Railroad
Big Thunder is a fun ride that is size-friendly with a pull-down bar.

Note that if you're riding with a small child, you'll want to put an arm around them as the bar will go down to accommodate you and leave a lot of room for the little one to bounce around.
The line has some tight squeezes including the walkway with stairs. You can go to the exit and get your ticket scanned for a time to come back and avoid waiting in line.
Throughout Frontierland, there are many seating areas.

Be sure to enjoy the Mark Twain Riverboat and Sailing Ship Columbia, as these attractions provide a nice break from the hustle and bustle of Disneyland.
Mickey's Toontown
This is a fun land for kids to meet Mickey, Minnie, and other visiting characters. However, the rides are not size-friendly.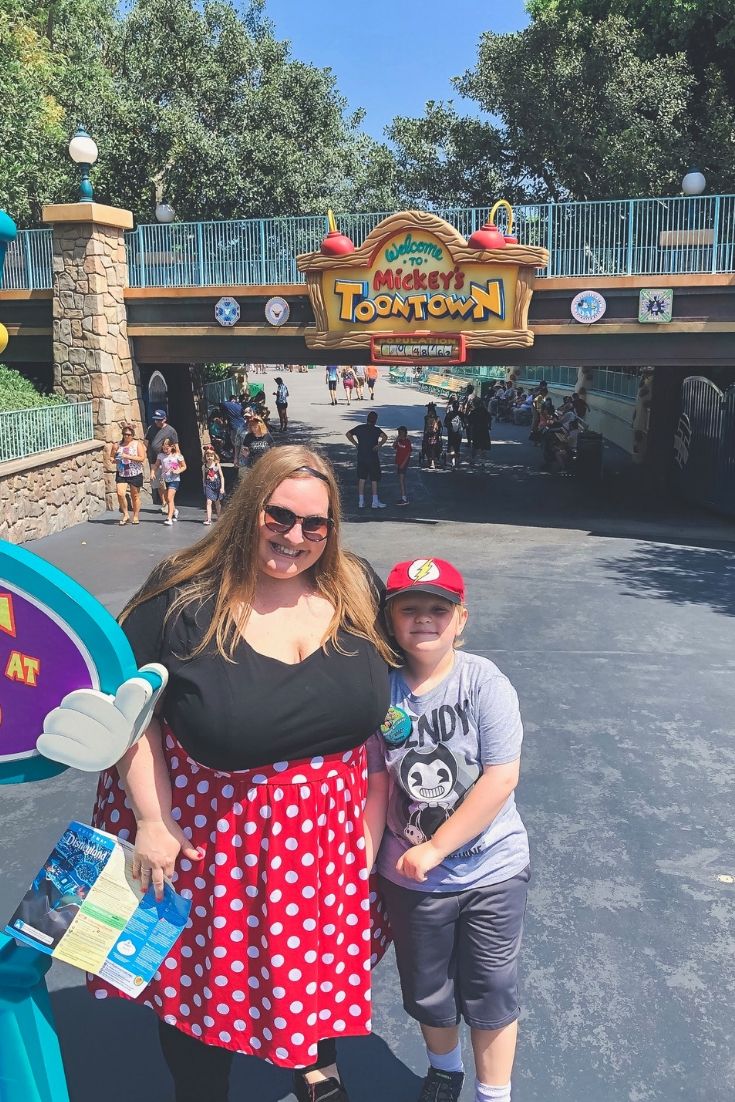 Roger Rabbit's Car Toon Spin
This can be a tight squeeze getting on and off the ride for someone beyond a size 22, depending upon how your weight is distributed. Once you're on the ride it's very roomie.
Gadget's Go Coaster
This is not a size accommodating roller coaster at Disneyland.
Fantasyland
"It's a Small World"
This Disney classic has tight turnstiles!

When you get up to the ride, let the cast member know you don't want to go through the turnstiles. They'll direct you to what side of the boat to get on so you don't need to worry about the stairs and tight turnstile exit.
Storybook Land Canal Boats
While the canal boats might not look size-friendly they are, so give it a go! The boat is on a track so it won't tip or take on water.
Matterhorn Bobsleds
The Matterhorn might be a fun ride, but it's not a ride accessible to everyone.
The seatbelt is super big but getting in and out is the hard part. You have to do a deep squat and there isn't anything to hold onto when you get out.
Character Rides
From Peter Pan's Flight to Snow White's Scary Adventures most of the other rides in Fantasyland are older.
Older Disney rides mean tight turnstiles and narrow paths throughout the lines!

It's best to go to the ADA entrance if you have any concerns about fitting. Often you'll need to wait there awhile to provide time for those who have waited in line to go and then you'll get to go.

If the moving track needs to be stopped for you to get off and on, just ask.
These rides are super fun to go on with your kids so don't feel like you need to skip them because of your size.

Just advocate for what you need during your day at Disney and go to the exit rather than the entrance, if you're worried about the turnstiles.
Sleeping Beauty Castle Walkthrough
If needed, there is an ADA pathway to get into the castle.
Tomorrowland
Star Tours – The Adventures Continue
While the seat belt is very accommodating, the seats have armrests that are not size-friendly.

Before boarding, you can ask a Cast Member for the ADA seat (front left side) with armrests that go up.
Space Mountain
It's a tight squeeze with a pull-down lap bar. This is a ride that's not very size-inclusive.
Buzz Lightyear Astro Blasters
This ride is so much fun for the whole family and size-friendly with an accommodating lap-bar!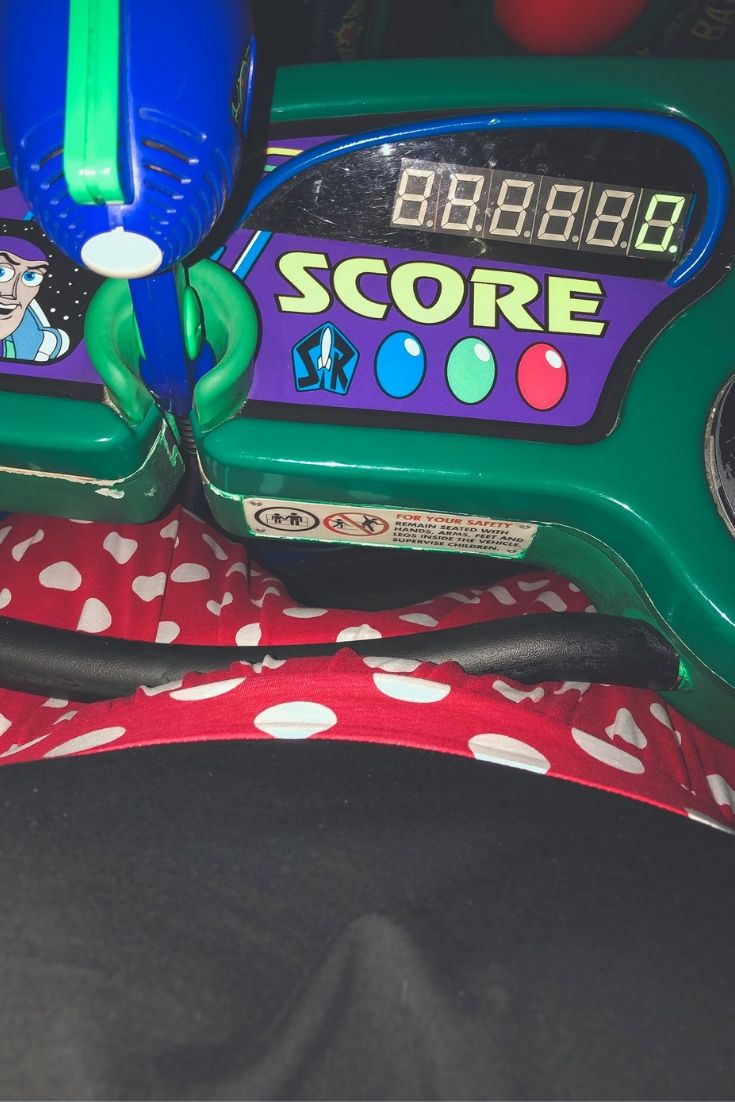 Finding Nemo Submarine Voyage
You have to go downstairs to get into the submarine and it can be a bit narrow for some people.
There is an ADA option where you sit on a bench in an air-conditioned room. This option is also great for anyone who gets claustrophobic.
Autopia
This is another ride where you have to get down really low and then get yourself back up.

While fun for the kids, it might not be right for you depending on your size.
Disneyland Monorail
The Monorail is a great way to get to Downtown Disney or just take a ride around the park. It's accommodating for people of different sizes and abilities.
Star Wars: Galaxy's Edge
While in Galaxy's Edge, there's so much to experience! The popular Star Wars land bar has plenty of size-friendly seating.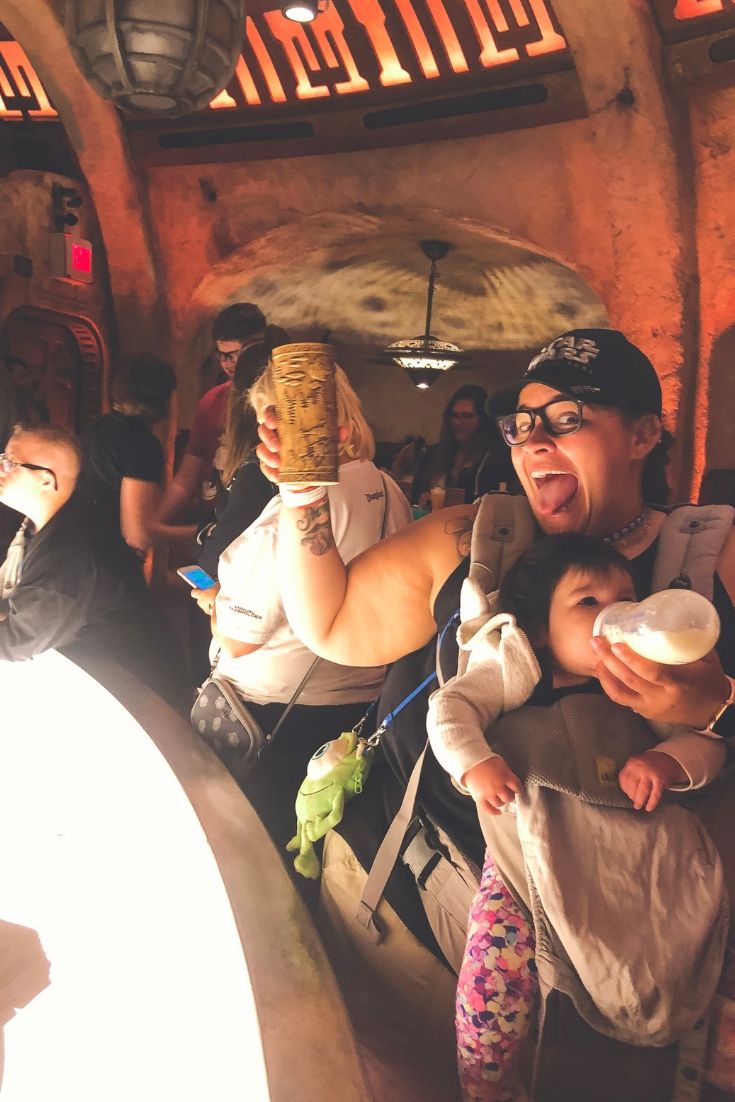 Millennium Falcon: Smuggler's Run
This ride is a blast and unlike Star Tours the chairs are arm-free so very size-friendly and the seatbelt is very size-inclusive. Don't skip this ride during your next trip to Disneyland!
Star Wars: Rise of the Resistance
The turnstiles and the door to get into Rise of the Resistance can be snug. Plus size riders recommend turning to the side for the turnstiles and entering the door but find the ride size-friendly overall.
Disneyland For Plus Sized Guests Guide – California Adventure
California Adventure opened in 2001 so all lines for the attractions are ADA compliant. This means you can get in line like all other guests and not have to worry about narrow paths, stairs or turnstiles in the middle of the line.
Unfortunately, there are quite a few rides in California Adventure that are not accommodating to people of size.
Hollywood Land
Hyperion Theater
This theater does not have any size-friendly seating.

If you're aware of an update to the theater please let us know in the comment section. That also goes for anything else throughout this Disneyland for plus sized guests guide – please leave comments with your Disney while plus size tips!
Guardians of the Galaxy – Mission: Breakout!
The seatbelt is extremely accommodating but the seat can be a bit snug. As you're boarding, ask the Disney Cast Member for the larger seats as there are two on each elevator.
Monsters, Inc. Mike & Sulley to the Rescue!
You might need to step to the side as you enter and exit, due to the door having an odd shape, but it's pretty size accommodating. This ride has a lap bar like the Buzz ride.
Animation Academy
This area of California Adventure is a must-do with or without kids. You can learn how to draw characters and other neat interactive activities. All areas are ADA accessible.
Cars Land
Luigi's Rollickin' Roadsters
This ride is super fun and size inclusive.
Mater's Junkyard Jamboree
A fun ride that spins around a bit so you might smooch into your fellow rider but it's very size-inclusive. View this post on Instagram
A post shared by Jen McLellan (@plusmommy) on Dec 27, 2015 at 4:54pm PST
Radiator Springs Racer
While the racecar is size-inclusive, you do have to get down low to get yourself in and out of the ride.

Unlike the Matterhorn, there's something to hold onto to help pull you out of the ride.
Grizzly Peak
If you're exploring Grizzly Peak with little kids, be sure to enjoy the Redwood Forest Playground with play structures and slides that are size-friendly!
Soarin' Around the World
While the end seats are larger it can be a tight fit for someone over the size of 24 depending upon how they carry their weight.
Grizzly River Run
You'll get soaked but have so much fun on this size-inclusive ride!
Pacific Wharf
The Pacific Wharf is a family-fun area with different things to do.
Paradise Gardens Park
Most of the rides in this area, like Jumpin' Jellyfish and Goofy's Sky School, are not size accommodating for larger guests.
The Little Mermaid: Ariel's Undersea Adventure
This is one ride in Paradise Gardens Park that's a super plus size friendly, easy get easy to get onto, ride. It's on a moving track so just ask if you need it stopped.
Pixar Pier
Unlike Paradise Gardens Park, the rides in Pixar Pier are size-friendly including Incredicoaster!
Incredicoaster
It's hard to find a roller coaster that larger people can go on but the Incredicoaster is size-friendly! There is a chest pull-down bar but it locks at your comfort.
Things To Do After Your Disney Day As A Plus Size Guest
Woohoo! You did it! Hopefully, you had a magical time and listened to your body's needs throughout your day.
Hydrate, Medicate, And Elevate
You're probably going to be pretty sore and tired after clocking in a few miles of walking.

Even though your Disney day is over, continue hydrating, and you might want to take an ibuprofen. Once you get to your hotel or home elevate and ice your feet.
It's a good idea to shower off, but you sure won't be judged if you just crawl into bed after spending a bit of time with your feet elevated.
Be Proud Of Yourself
Before you drift-off give yourself a big pat on the back for not only pushing your body but also any emotional obstacles you had to overcome.
You didn't allow your size to hold you back from having a fun Disney day and that's admirable!
While this is a long list full of tips for doing Disneyland while plus size, I'm sure there are even more suggestions or updates.

Please leave your Disneyland for plus size guests tips in the comments below!
To learn even more tips for experiencing Disneyland while plus size, listen to the podcast episode below with host Jen McLellan and special guest Sam Reyes.
Recording & Show Notes: Plus Mommy Podcast Episode 68
Resources Mentioned On The Show:
Don't forget you can download this guide to Disneyland for plus size guests at the bottom of this article.
The Facebook group Disney Parks for Plus Sized Guests is an outstanding Disney resource for all parks.
Today's special guest Sam Reyes can be found on Instagram, and learn more about her below.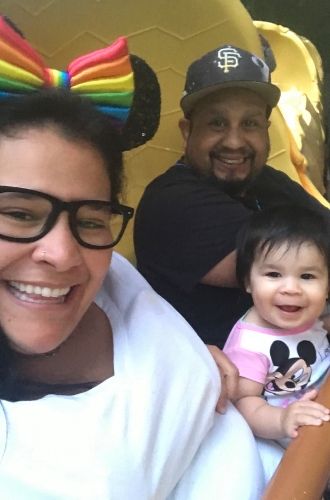 Sam Reyes is a lover of all things plus size, Disney, and babies! She recently quit her job in radio and is on the journey to become a midwife advocating for women of color and plus size mothers. Sam is still trying to find her flow as a new mom and loves all that motherhood has taught her and continues to help her grew into a better person for her daughter! She hopes to help change the stigma around what is beauty so that her daughter can live in a world that doesn't see fat as bad.
Below is a photo of Sam's husband on their wedding day as her Darth Vader Groom (talked about during the podcast episode).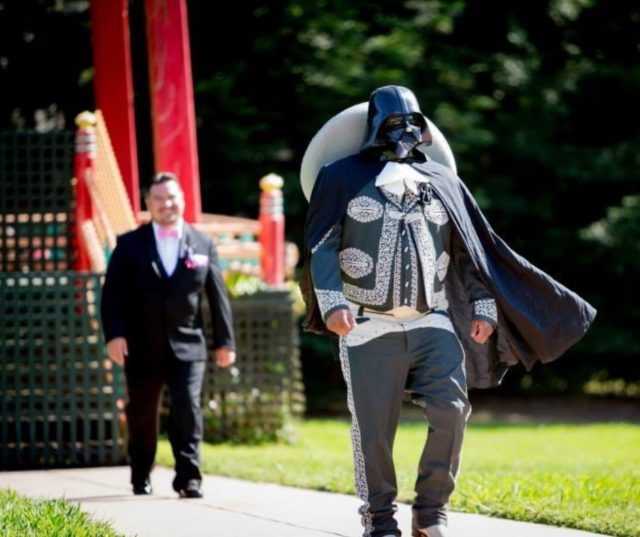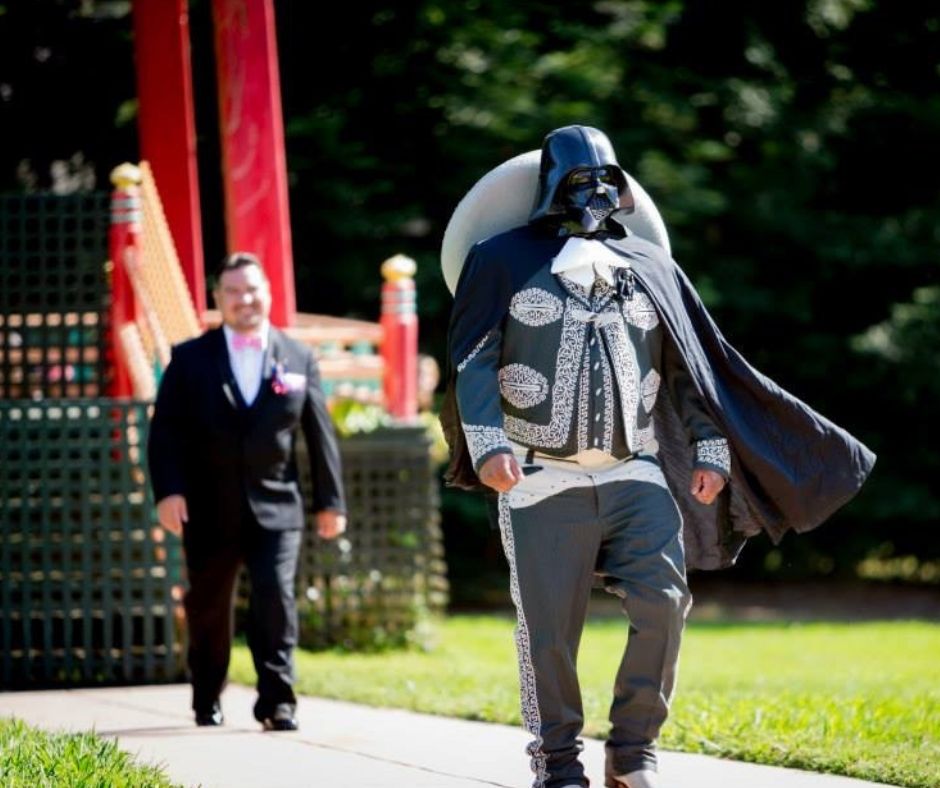 Complete the form below to get this resource as a free PDF e-book.
Disneyland Guide PDF
Subscribe to our weekly newsletter to know when new podcast episodes drop. You'll also immediately be able to download this 27-page guide to Disneyland for plus size guests!