Welcome to a list of my favorite Amazon gifts for plus size moms!
Raindrops on roses and dresses with pockets.
Bright copper egg pans and pretty sunbonnets.
Notebooks for writing down all that life brings.
These are a few of my favorite things!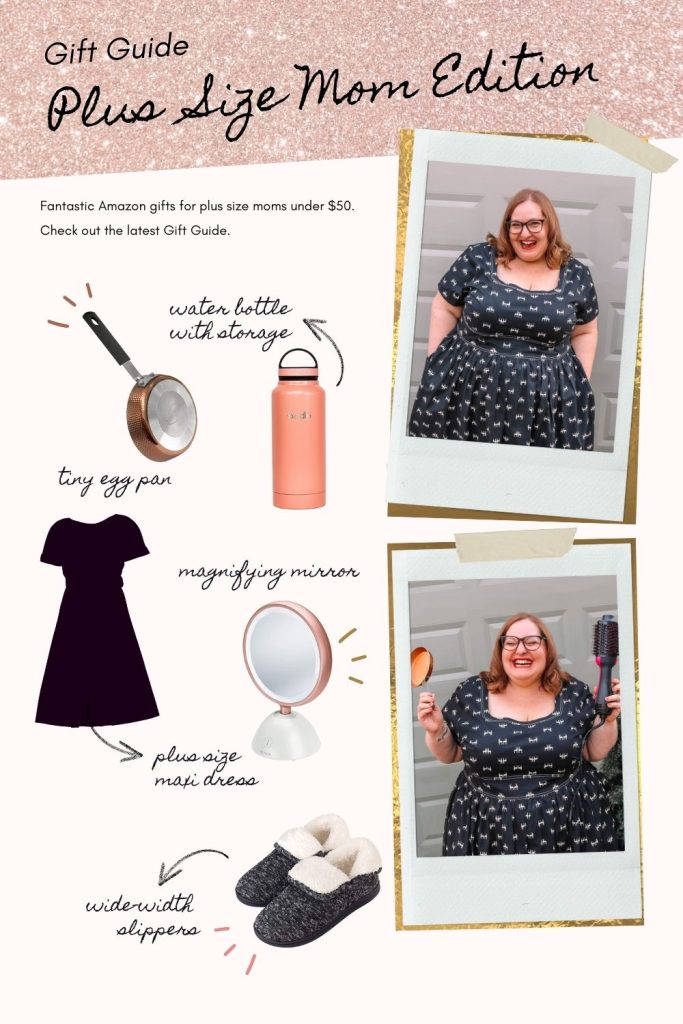 Amazon Gifts For Plus Size Moms
How do I know these gift suggestions are must-haves?
That's easy! I've personally owned and loved every single item below.
I'm a plus size mama who knows what she likes and can't wait to share these gems with you.
While most of these items aren't size-specific, every clothing item listed comes in plus sizes, so I've got you covered!
Gifts Under $10
Not all tweezers are the same, but you don't need to spend a fortune to get a great pair!
These Revlon tweezers work so well, from my bushy brows to the random chin hair.
#noshame
I love a good gloss, and Burt's Bees lip shine is always in my purse!
The color isn't too bold, but it still gives your lips a nice pop.
It's great for daily wear or date night.
I'm a sucker for inspirational quotes!
"She Believed She Could So She Did" is a quote I have hanging on my office wall and the cover of my notebook.
This little egg pan brings me so much joy!
It makes the perfect fried egg and so much more.
Gifts $10 – $30
While I often crave a honey oat milk latte from Starbucks, I'm a mama on a budget!
Once I got this frother, my morning coffee routine was never the same.
Bonus – my son also thinks it's fun to use for his hot cocoa.
My husband was so excited when he gave me this mug warmer; he acted like diamond earrings were in the box.
As someone who was always drinking cold coffee, this mug warmer is priceless!
Maybe not the same as diamond earrings but a close second.
While pecan coffee is my morning drink of choice, hot tea helps me relax in the evening. And these dessert teas are so yummy; I can't help but add them to this list.
Try mixing one bag of the glazed lemon loaf and vanilla bean macaroon – it's divine!
Another way I feel like a barista at home is to add lavender syrup to my tea or coffee.
Almost Famous is one of those movies I can watch again and again!
Since I mentioned a movie I love, and this is a gift guide for plus size moms, I have to share a more appropriate selection for this special list – Magic Mike XXL!
Don't judge me; hear me out.
Magic Mike was the first movie I saw that didn't make fun of plus size women getting attention from hot male dancers.
If you haven't seen it, you'll thank me later!
Body-Positive Books
When it comes to my list of Amazon gifts for plus size moms, I had to include my new favorite body-positive books.
Authors Katie Crenshaw and Ady Meschke shared their journey to writing their first book, Her Body Can, during episode 90 of the Plus Mommy Podcast.
They recently launched His Body Can.
It's a book I wish I would've had for my son since he was young.
As for a body-positive book for plus size moms, Meg Bogg's, Fitness for Every Body: Strong, Confident, and Empowered at Any Size is one I couldn't put down.
Meg is also a former podcast guest, and in her book, she shares her journey to self-love and helpful tips.
One more book available to preorder now is Ain't That A Mother by powerhouse Adiba Nelson.
While her book won't arrive right away, you can support an incredible woman in hopes of becoming a best-selling author.
See even more body love book recommendations on my book club list.
And if you're trying to conceive or pregnant, be sure to check out the My Plus Size Pregnancy Guide I wrote or listen to the audiobook.
A few years ago, I co-authored The Peachie Moms Guide To Body Love For Moms.
My fellow author, and former podcast guest, Amanda Edwards, likes to joke about the Louis Vuitton bags moms carry under our eyes.
And while my bags have sure seen better days, this jade roller helps with puffiness!
Another affordable self-care gadget I'm eager to try is the Ice Roller.
I heard a lot of hype around this lip sleep mask before I decided to give it a try.
While it's not too pricey, it's also not the cheapest way to hydrate your lips.
But, after I bought this once, I understood the buzz and added it to my daily moisturizing routine.
While this isn't actually a sunbonnet, it gives me bonnet vibes – and I'm here for it!
I take sun protection seriously these days but always want to look cute. So, this hat gives me the best of both worlds.
And it goes well with my oversized sunglasses.
Use ample sunscreen, my friends, and be sure to get checked over by a dermatologist. Love, Mama Jen!
My husband and I shared during episode 64 of the podcast that we love pedicure dates.
But for those weeks in between, he got me this callus remover because he knows how much I hate cracked skin.
Speaking of dry skin, I'm obsessed with this lotion for my after-shower moisturizing routine.
While in the shower, I enjoyed listening to music but was constantly worried about keeping my phone in the steamy bathroom.
That was until I got this waterproof speaker!
A portable speaker can also be a mama's best friend, from listening to music at a park playdate to an outdoor BBQ.
This portable charger can power two devices simultaneously.
From long car trips to day trips, it's a must-have for my family.
If you've struggled to find comfy slippers when you have larger ankles, I sure understand.
Moms with kankles unite!
These slippers are ones I've ordered repeatedly over the years because they keep me toasty warm and fit perfectly.
Gifts $30 – $50
We're nearing the end of our list of Amazon gifts for plus size moms. I hope you've seen a few items that speak to you, and here are a few more to peruse.
And if you can't tell by now, yes, rose gold is my favorite color.
This water bottle, with a storage compartment, keeps my keys, ID, and cash safe.
It's great for walks at the park and outdoor playdates.
And if you have a gym membership, this is an item you'll want to add to your list!
If you follow me on Instagram, then you know I love to walk and don't let my size hold me back.
On long walk days, my sore feet are ready for a nice long soak.
Unfortunately, as a plus size mom, I don't fit comfortably in my tiny tub. So, I found a great workaround is a vibrating foot pedicure spa.
I add a few shakes of my go-to Epsom salt, and I pretend like I'm at a day spa.
The first foot spa is mine, and the second is on my current wish list!
This is my favorite dress of all time. Yes, I just wrote that!
I own seven of these dresses, from stripes to solids, and I'm always holding myself back from buying more.
The dress is true-to-size, comfy, has pockets, and makes me feel absolutely adorable!
I always get compliments when I wear it, and other plus size moms agree with my rave reviews when they buy it.
This sweatshirt is another Amazon plus size clothing item of mine that I own more than one.
I have a black, pink, and Good Vibes sweatshirt.
They are perfect for snuggling up on the couch or running errands around town.
Plus, POCKETS!
On the rare occasion I'm putting on a full face of makeup, I'm so thankful for my illuminating beauty mirror.
This double-sided mirror allows me to magnify when needed as I'm long past my 20s.
And I love the sleek look!
I used to love sitting and reading for hours on end – and then I became a mom.
Okay, I'm sure I can find the time to read, but it's no longer part of my routine. So if you love having a book in hand – I'm envious.
These days, I'm an audiobook girl.
And Audible makes it so easy for me to listen to authors I adore while doing the dishes or going for a walk.
Currently, I'm listening to Untamed by Glennon Doyle.
Check out the membership deals as Audible is a great gift to give or add to your wish list.
Last but certainly not least is this busy mom's secret weapon – my Revlon one-step hairdryer.
The rumors are true; this hairdryer and volumizer is AMAZING!
I feel like I'm giving myself a blowout with minimal effort. And as someone with fine hair, I'll take all the help I can get.
I think you'll love it, too!
You've reached the end of my list of Amazon gifts for plus size moms.
I hope you enjoyed reading it as much as I had a great time pulling it together. For other recommendations, be sure to follow me on Instagram.