Thanks to Myriad Women's Health for sponsoring this article.
When I was plus size and pregnant, my care provider talked to me about getting a noninvasive prenatal screen to see if my baby had a chance of having a chromosome condition like Down syndrome.
I didn't want to do the screening.
At the age of 30, I figured whatever will be will be, and I didn't want to face potentially devastating news during my pregnancy.
My husband, Chris, pushed for me to consent to the screening, but he wouldn't tell me why.
Finally, he opened up and shared why it was so important to him.
He said, "If we have a baby with special needs, I want us to start learning now how we can be the best possible parents."
I gladly consented to the screening at our next prenatal visit!
What I was unaware of at the time is that when you're plus size, your test results have a high likelihood of showing up as "no result", or the results of your screen may have reduced accuracy.
So when I heard about the Myriad Prequel Prenatal Screen and how well that it works for plus size moms, I couldn't wait to tell my community all about it!
During episode 120 of the Plus Mommy Podcast, special guest Flynn O'Neill, a family nurse practitioner with over twelve years of experience, joined the show.
Flynn answered questions about noninvasive prenatal testing for plus size moms and introduced us to the Myriad Prequel Prenatal Screen.
Noninvasive Prenatal Screen As A Plus Size Mom
What is a noninvasive prenatal screen (NIPS)?
Around seven to eight weeks of pregnancy, you'll have an ultrasound with your provider for about 30 minutes to confirm the pregnancy, viability, and see the heartbeat.
That's a huge milestone!
Then we bombard you with a lot of information. We talk about noninvasive prenatal testing (NIPT), also called noninvasive prenatal screening (NIPS).
I explain to my patients that we'd like to introduce the topic of genetic testing. I tell them nothing has to be drawn today. They have time to think about it and speak with their partner.
I always share that no matter your age, no matter your size, with noninvasive testing there's no harm to mom, and there's no harm to the baby as well.
It's a simple blood test drawn from the mother after ten weeks of gestation.
The screening looks for chromosomal conditions in the pregnancy, including Down syndrome (an anomaly on chromosome 21), trisomy 13, and trisomy 18. The screening also tells you the sex of the baby.
The turnaround time is about seven days. So that's pretty quick, and it has a very high detection rate.
Ultimately, we hope for normal results. If there is something abnormal, you have time to absorb the information and possibly have invasive testing to confirm your screening results.
Why is the test not as effective for plus size people?
Part of the baby's genetic chromosomal makeup, called fetal fraction, is in the mother's bloodstream during pregnancy. We have to wait till after the ten-week gestational mark so that enough of that baby's DNA, the fetal fraction, is in mom's blood.
Sometimes the fetal fraction is diluted if a person is over a specific weight range, and that gives us the "no result" test outcome.
Myriad is the only lab currently able to do screening with new amplifying technology with high detection rates regardless of weight.
They've tested over 20,000 women, including those at a class three BMI (BMI over 40). They've been able to amplify fetal fraction and get results for all patients, regardless of BMI.
How can people request their care providers use the Myriad Prequel Prenatal Screen?
While you can speak with your care provider about the Myriad Prequel Prenatal screen, you can go directly to myriadwomenshealth.com for a lot more information.
Your provider can get a kit sent to you directly, while Myriad's customer service can help you understand options for getting your blood drawn.
When it comes to cost, Myriad is in-network with most major insurance providers.
You don't have to worry about the cost in advance. After your sample is received, Myriad will e-mail you in about two days with your price estimate after they've checked with your insurance.
They also have financial assistance and payment plans available if you have a high-deductible insurance plan.
What makes Myriad stand out? As a provider, why do you choose to partner with Myriad?
As providers, we always look at the detection rates, and Myriad has some of the highest detection rates. The noninvasive options are excellent and work for twins, IVF pregnancies, and plus size moms. So you've got a lot of variety to really hit any patient. They are even able to determine individual twin fetal sex.
I can order it across the country for my patients that might not be in the DC area with coverage from most insurance providers.
It's a win-win for providers and patients!
Last but not least, it's the human touch component.
Myriad offers Patient Educators who are board certified genetic counselors who have taught me so much. My patients can speak with them about their test regardless of the test result, and its included in the cost of the test. This gives families a lot of peace of mind and support.
If you're plus size and pregnant, be sure to talk to your provider about Myriad Prequel Prenatal Screen and go to myriadwomenshealth.com to learn more.
Sponsored by Myriad Women's Health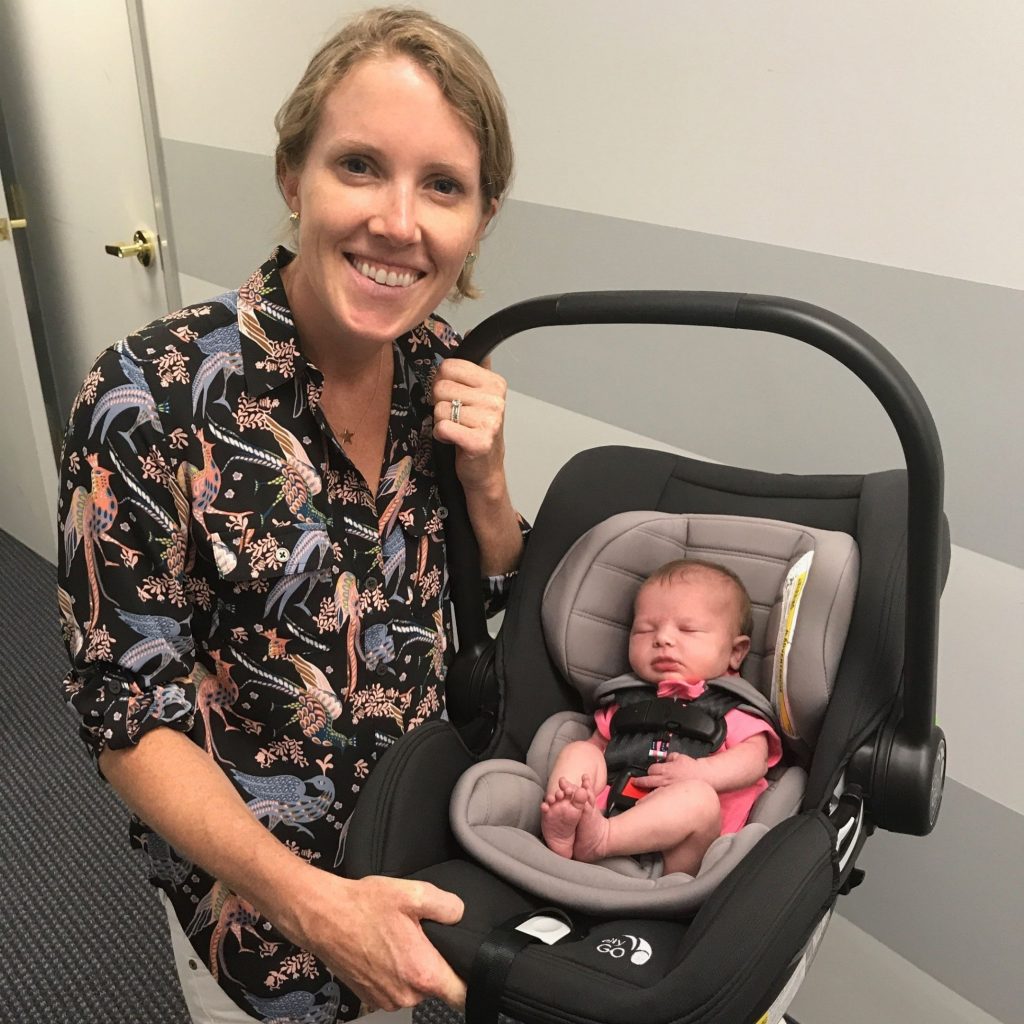 Flynn O'Neill is a family nurse practitioner in Washington, DC. She practices at Bloom OB/GYN and co-founded Stork Childbirth Education. She cares for women of all ages in their Northwest DC office, virtually and in person. O'Neill attended Georgetown University and received her nursing degree at the University of Virginia. She has a four-year-old son, Charlie, and is married to a DC native, Andrew. In her spare time, she can be found cooking, watching Charlie climb, and selling goods on Poshmark. On her days off, Flynn is a practitioner with Maven Clinic, providing telemedicine to patients across the country.