Jill Dillner, a size-friendly doula with over 15 years of experience, joins the podcast to talk about how plus size parents can benefit from working with a doula.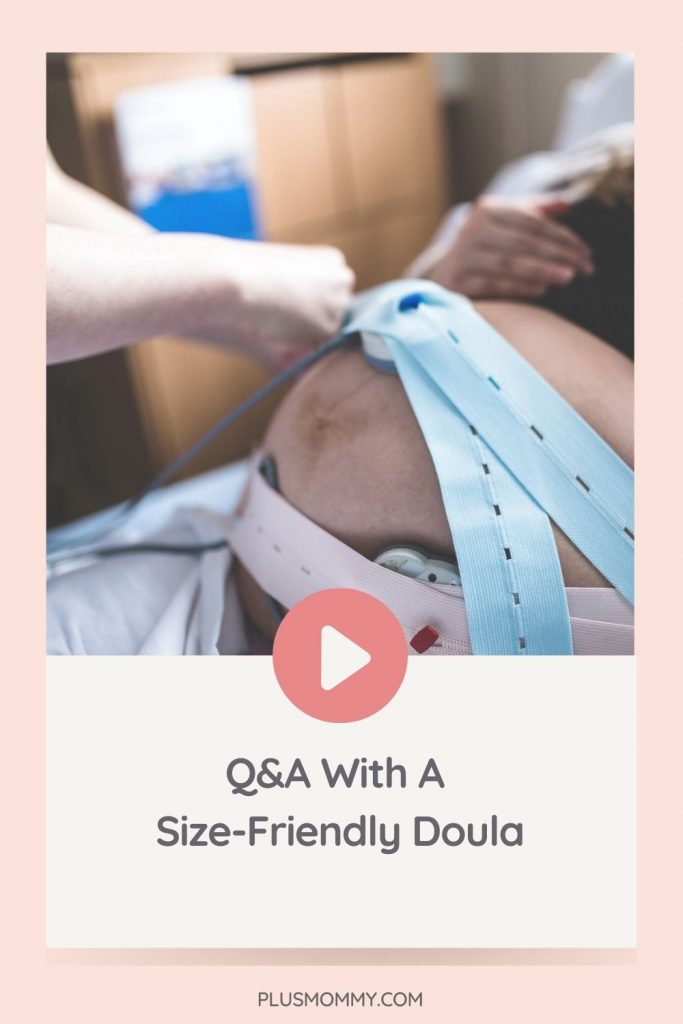 Size-Friendly Doula Answer Questions About Doula Support
What's a doula?
Jill defines a doula as a guardian for moms and their families throughout pregnancy, birth, and postpartum.
"I say, guardian, it's kind of a new thing for me because for years people have viewed us as somebody who is just a support system, etc. But we're really guardians. What we do is we sit down with a family, figure out what their needs are in order to have a positive birth experience. And then we help them to lay the groundwork and the foundation to create that kind of experience."
Doulas also help you to decipher if your care provider and medical facility is the best fit for you and your desire for your birth outcome.
It's critical to connect with a size-friendly care provider, and a doula can help you find the right provider to meet your individualized needs.
How do you support people who struggle with body image and are afraid to invite someone else to attend their birth?
When you connect with the right doula for your family, you'll build a comfort level.
As Jill says, doulas help to provide "security at a time of vulnerability."
Like your labor and delivery nurses and care provider, doulas are used to seeing pregnant bodies of all shapes and sizes. Yet your doula is there to only focus on you and your needs.
Therefore, a doula can help you be covered as much as possible if that's important to you. Or if you have religious practices where modesty is of the utmost importance, they will support you!
When hiring a doula, trust your gut and ask their experience supporting plus size pregnant people, so you know you're working with someone who has seen bodies like yours.
Will a doula replace my partner?
Doulas do not replace partners!
Doulas work to help connect a family! They do a lot during the prenatal education, bringing the couple together during labor, and assisting with setting up the family for success postpartum!
What if I can't afford a doula?
From volunteer and affordable doula programs to low-cost and barter options, you can still access doula support if you are on a tight budget.
Consider asking people to donate to your doula fund for your baby shower!
What is a rebozo, and what are the benefits of using one during labor?
The rebozo is a Mexican shawl. Midwives from Mexico shared their wisdom of the rebozo and how it helps connect partners and support laboring people.
One of the best uses for a rebozo is to help connect the laboring person to the partner. A doula can show different techniques for using the rebozo for comfort measures.
You can wrap a pregnant person's abdomen and tighten up the rebozo so that you're pulling the uterus up and in a way that allows the baby to descend and rotate more effectively.
As Jill shares, not all labor tools are designed plus size people during pregnancy. Rebozos work great for plus size parents with more extensive options, including 12′ and 16′ rebozos.
How do size-friendly doulas support plus size parents?
Jill uses a lot of acupressure to support laboring people of all sizes.
She also works with the labor and delivery bed – these beds can transform in many ways!
Jill uses the bed to help people get into different positions to encourage labor progression even if they can't get out of bed.
Beyond tools and helping moms get into different positions, Jill emphasizes the importance of helping people in labor to get into the right mindset.
Can a doula support you if you're having a c-section?
Yes, absolutely! You're having major surgery – you need support.
Doulas are trained to support people who are having a scheduled or emergency c-section.
If you're planning a vaginal birth, a doula will help you navigate difficult decision-making if unexpected things occur during your labor.
The cesarean birth rate for people of size is astronomical, and we know that doulas help reduce the odds of having a c-section.
What stands out to you when supporting plus size parents?
As a doula, Jill helps to go beyond a care provider focusing on weight and looking at their nutrition and physical activity. She provides people with supportive resources and ideas to focus on overall health during pregnancy.
As well as helping people to reduce their risks and help support their emotional health.
What about during labor for plus-sized moms?
Here's where the months or weeks of working with a size-friendly doula during pregnancy really pays off! You've become educated about your options, hopefully connected with a size-friendly care provider, and feel physically and emotionally supported by your doula.
Doulas also can help to hold the fetal monitors in place and know tricks to help make sure people can have the best outcome possible.
Here's also where the mindset comes in!
As Jill says, "They're not a plus size mom, they're just a mom in labor. And if we can keep that mindset going for a little while, everybody eventually gets bought into it."
What about different labor positions when you're plus size?
Staying upright and using tools like the rebozo can be beneficial.
"I think that for people of size, one of the best things to do is stay upright. We try and stay in a frog seated position like you would if you were on a birth stool. Your knees are a little higher than your hips; your feet are together. We want to avoid completely lying down."
The same goes for giving birth. Whenever possible, like with laboring, getting people upright using gravity.
Using the peanut ball can be very useful during pushing. And breaking down the bed and adding a squat bar is a great tool!
Share your best tips for postpartum care!
People need to have someone dedicated to helping them when they come home from the hospital. You need an extra set up hands!
If you've had a cesarean, you need a lot more support.
Rest as much as possible – if your bleeding increases, you're doing too much. And drink as much water as possible!
Consider hiring a postpartum doula if you're able!
Listen below as Jill expands upon the answers to all of these questions and shares even more about what it's like being a size-friendly doula.
Recording & Show Notes: Plus Mommy Podcast Episode 115
Be sure to subscribe to the show on Apple Podcasts, Google Play, Spotify, Stitcher, or iHeart Radio. I'd be incredibly thankful if you took the time to leave a review. Follow Plus Mommy via your favorite social media outlet (Instagram, Facebook, Pinterest, and Twitter). Thanks for being part of this community!
---
Thank You To Our Sponsor:
This episode is also brought to you by Plus Size Birth! Use coupon code PlusMommy to receive 20% off the My Plus Size Pregnancy Guide that covers everything you could want to know about having a plus size pregnancy.