Jen McLellan is a certified childbirth educator with over nine years of experience supporting plus size people during pregnancy. She answers questions about pregnancy when you are plus size.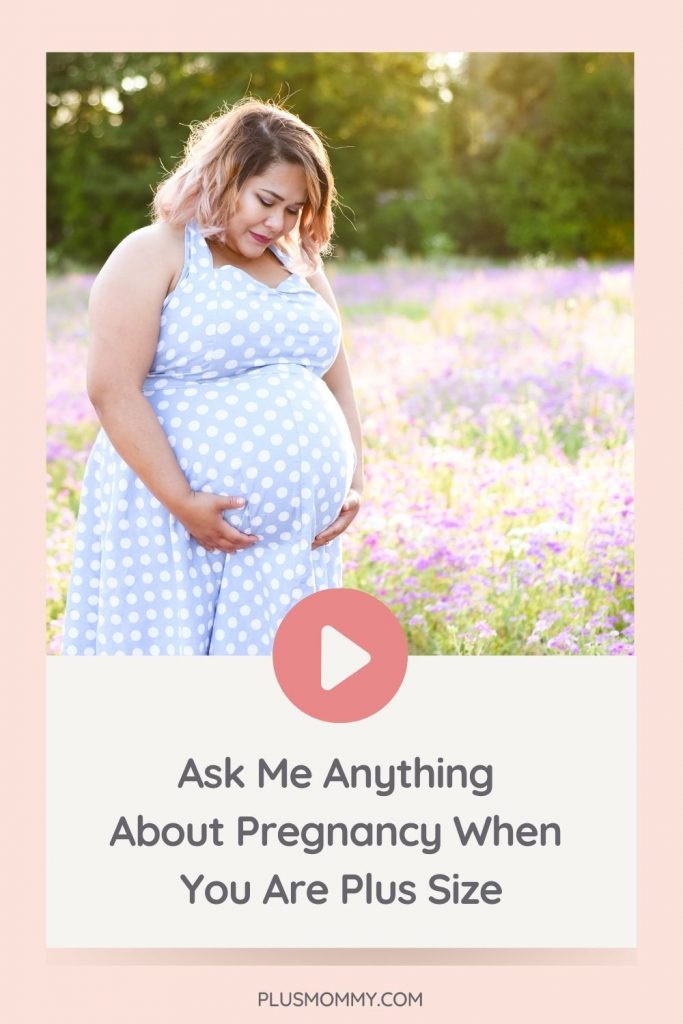 Is being fat actually a risk for pregnancy?
When you're plus size and pregnant, things are a little different and there are some increased risks.
It's essential to be aware of the increased risks so you can learn how to reduce your risks.
The odds of having a healthy outcome, if you go into pregnancy without any preexisting conditions, is in your favor!
When you Google "obesity in pregnancy", you're often only reading about your relative risk.
Relative risk is one rate compared to another rate – that still doesn't tell you your actual risk.
Let's look at the actual risk for some of the main increased risks you can face during pregnancy when you are plus size.
When you have a BMI of over 40, you are 4 to 5 times more likely to develop gestational diabetes than someone with a BMI of 18.5 to <25. That's your relative risk.
Your actual risk, as you can see below, is 17%.
17% is far lower than 4 to 5 times more likely sounds!

See how it's important to know your actual risk and not just to relative risk?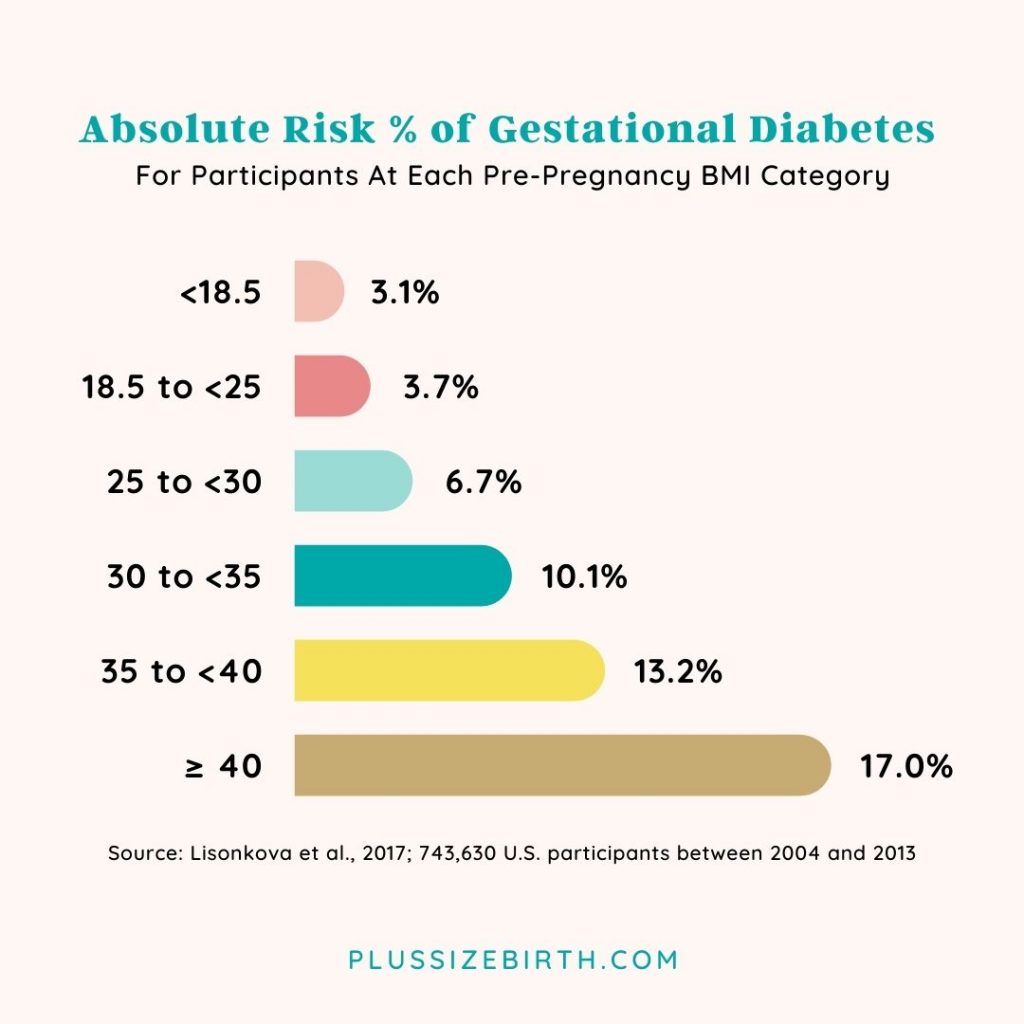 Continuing with gestational hypertension, you're 3.6 times more likely to develop gestational hypertension than those with a BMI of 18.5 to <25.
Your actual risk is 12.7%.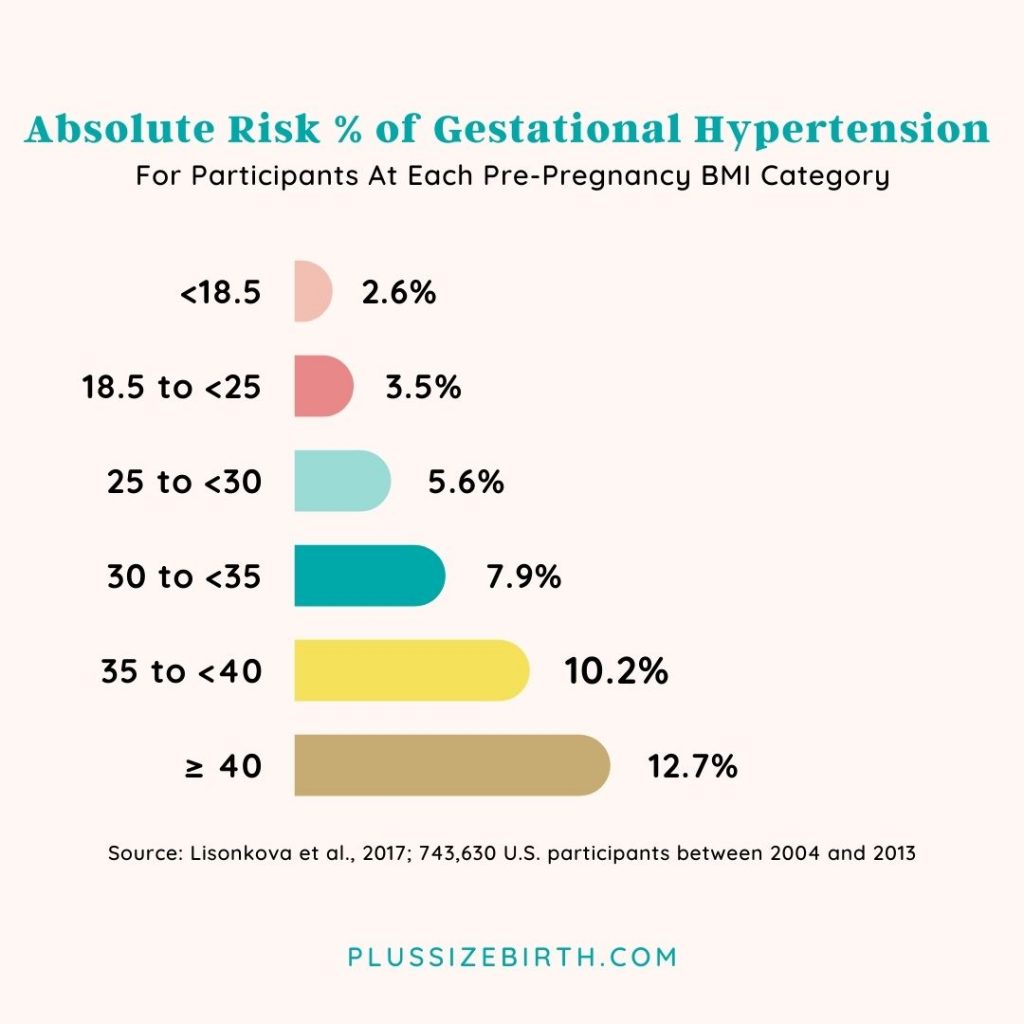 Lastly, with a BMI over 40, you're 4.8 times more likely to develop preeclampsia compared to those with a BMI of 18.5 to <25.
Your actual risk is 16.3%.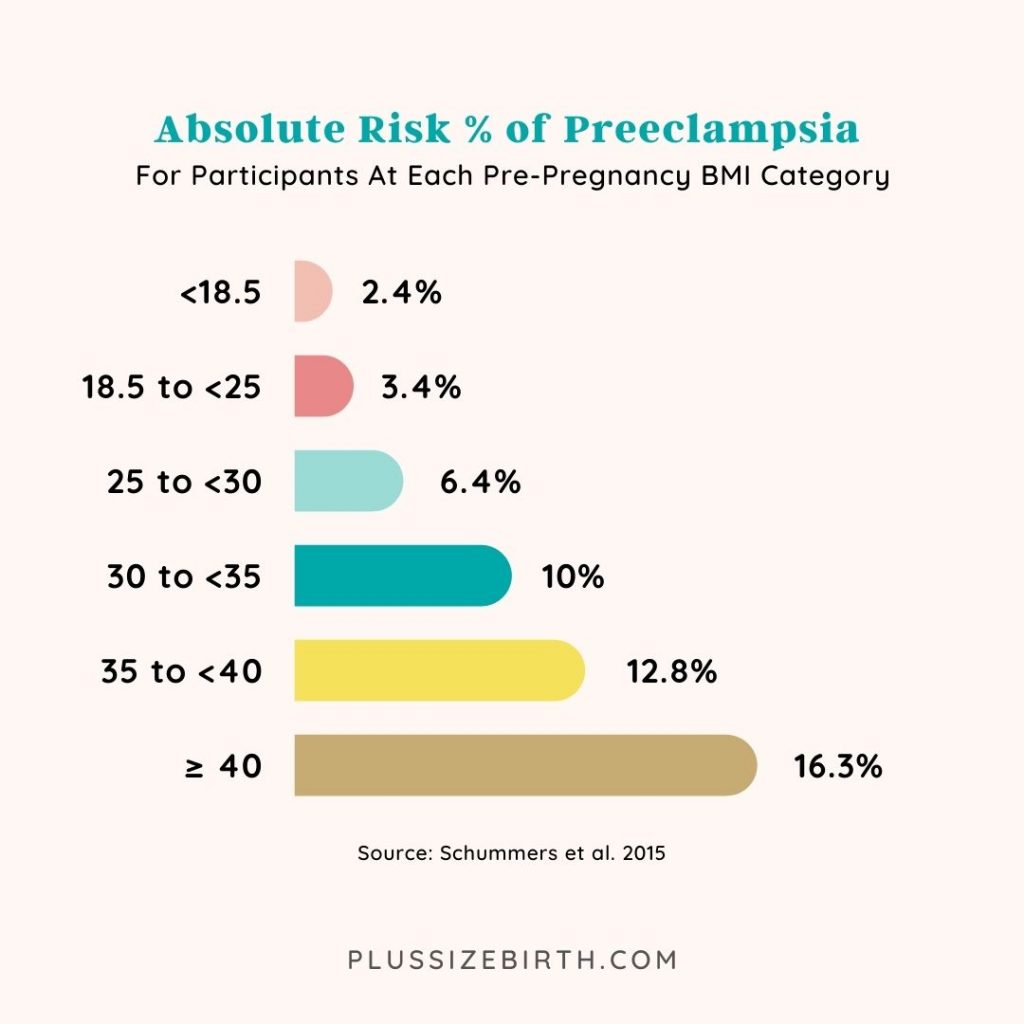 The next time your care provider tells you that you're far more likely to incur something, be sure to ask about your actual risk!
I'm worried about hating my belly/body during pregnancy – any tips?
Yes! Here are four ways to tune into your belly (and body) during pregnancy.
Touch Your Plus Size Baby Bump
For so many of us who are plus size, we're conditioned to believe that we can't love our bodies.
If you're pregnant, your body is growing life within you – that's spectacular!
I encourage you to touch your plus size baby bump and work to appreciate how it changes throughout your pregnancy.
Buy Plus Size Maternity Clothes
Purchasing a few plus size maternity staples can help you feel more comfortable in your pregnant body.
When you're plus size, it can take longer to show, and you might have a B belly. A B belly is when your pregnancy bump looks more like a "B" than a "D" shaped belly.
Wearing plus size maternity clothes, including plus size belly bands, can make your belly to look more pronounced. And this can help you to embrace your bump!
Do most plus size pregnant people get to feel the baby from the outside?
While there are many different factors beyond weight that play into you feeling your baby move, most plus size people feel movement from the outside!
It can just take longer for you to feel movement on the outside, than your smaller friends during pregnancy.

That's perfectly okay!
What are your tips for balancing advocating for yourself, and listening to your doctors, honest health concerns?
It's critical to connect with a size-friendly care provider – that's someone who practices evidence-based compassionate care.
When you're working with a size-inclusive OB-GYN or midwife, you can feel far more confident about the medical recommendations they are making.
My Size-Friendly Care Providers Guide
If you can't switch to a size-inclusive provider, I have some helpful resources below to help you advocate for yourself.

Going To The Doctor When You Are Plus Size – What You Need To Know
Doctor Appointments Alone When You Are Fearful Of Fat-Shaming
Please share resources for what to ask when choosing a doula.
A doula is someone who provides emotional, physical, and educational support to you and your family during pregnancy and postpartum.
When interviewing a doula, the best thing to do is to listen to your intuition!
You want to hire someone who makes you feel comfortable.
I also encourage you to ask about their experience supporting plus size clients and if they can provide you with a reference.
Be sure to check out the plus size doula directory!
How can I advocate for myself during the actual birthing process?
Hire A Doula!
As we shared above, a doula is an incredible resource.
Studies show having a doula by your side during labor and help reduce your chance of having a cesarean birth.
Write A Birth Plan
The power of writing a birth plan is the educational process that happens while learning about all of your options.
Take A Childbirth Class
Be it a hospital-based birth class or an independent one – I highly recommend taking a childbirth education course.
Here are two online childbirth education courses I recommend (affiliate links) –
Know Your Options Childbirth Course from The Birth Hour

The Birth Preparation Course by Dr. Nicole Callowway Rankins
I'm scared because I will have to have a c-section, but I have a big apron belly. Any tips?
If you have an apron belly, you're not alone!
Below are two helpful resources –
What Is An Apron Belly? Practical Solutions And Comfort Tips!

C-Section For Plus Size Women: Everything You Need To Know!
Listen to episode 120 of the Plus Mommy Podcast to get even more information on all of the questions about pregnancy when you are plus size.

We're also joined by family nurse practitioner Flynn O'Neill to talk about noninvasive prenatal testing during this episode. She shares how the Myriad Prequel Prenatal Screen is more effective for people during plus size pregnancy.
Recording & Show Notes: Plus Mommy Podcast Episode 120
Be sure to subscribe to the show on Apple Podcasts, Google Play, Spotify, Stitcher, or iHeart Radio. I'd be incredibly thankful if you took the time to leave a review. Follow Plus Mommy via your favorite social media outlet (Instagram, Facebook, Pinterest, and Twitter). Thanks for being part of this community!
Resources Mentioned On The Show: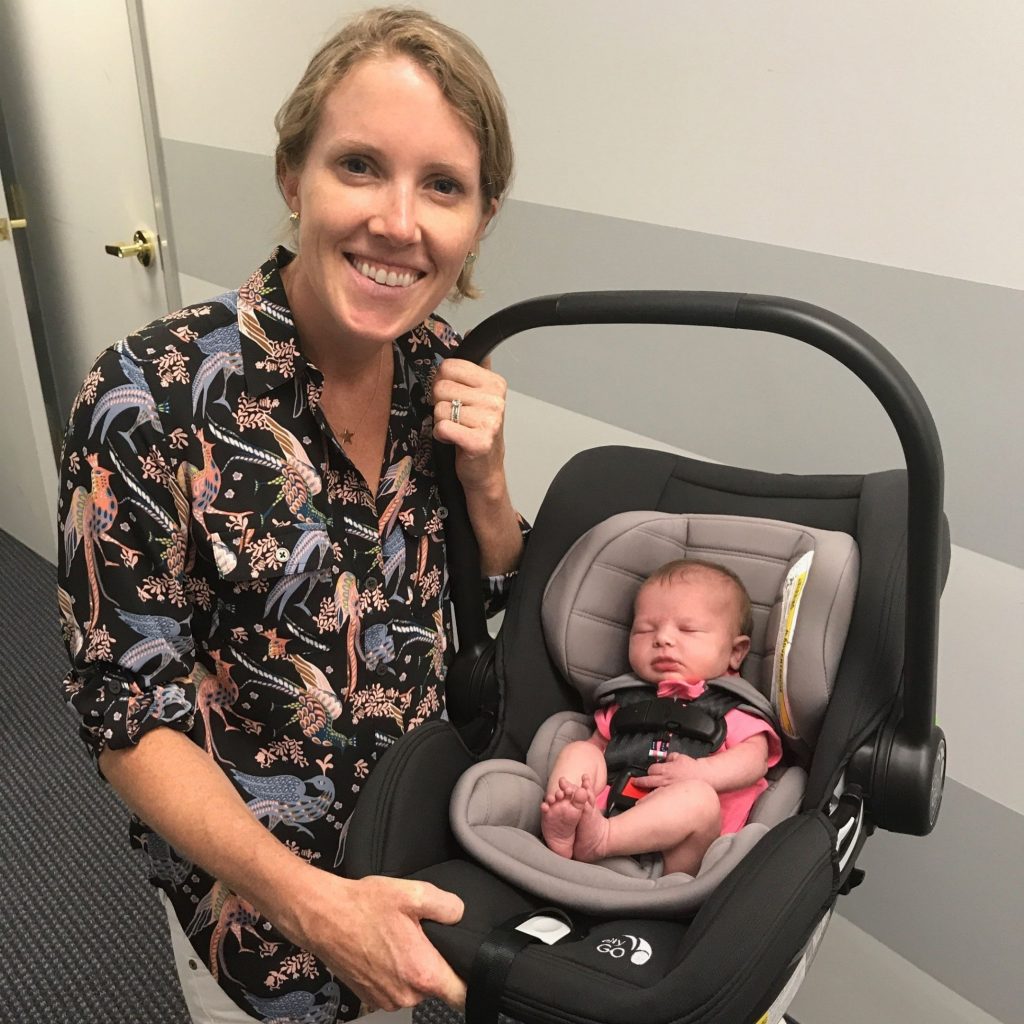 Flynn O'Neill is a family nurse practitioner in Washington, DC. She practices at Bloom OB/GYN and co-founded Stork Childbirth Education. Flynn cares for women of all ages in their Northwest DC office, virtually and in person. She attended Georgetown University and received her nursing degree at the University of Virginia. Flynn has a four-year-old son, Charlie, and is married to a DC native, Andrew. In her spare time, she can be found cooking, watching Charlie climb, and selling goods on Poshmark. On her days off, Flynn is a practitioner with Maven Clinic, providing telemedicine to patients across the country. Use code "Jen" to get 25% off Stork childbirth education courses.
Thank You To Our Sponsor:
This week's podcast episode is sponsored by The Myriad Prequel Prenatal Screen, a noninvasive prenatal screen that demonstrates highly accurate results for all patient types, regardless of BMI. Learn more by asking your care provider about Myriad's Prequel Prenatal Screen or go to myriadwomenshealth.com.