If you're an avid listener of my podcast, you've heard me openly share my life with you. I hold nothing back to help other moms feel less alone and more supported. And today, I'm partnering with the U.S. Department of Health and Human Services to share my family's vaccination story for the We Can Do This campaign.
Disclosure: Paid for by the U.S. Department of Health and Human Services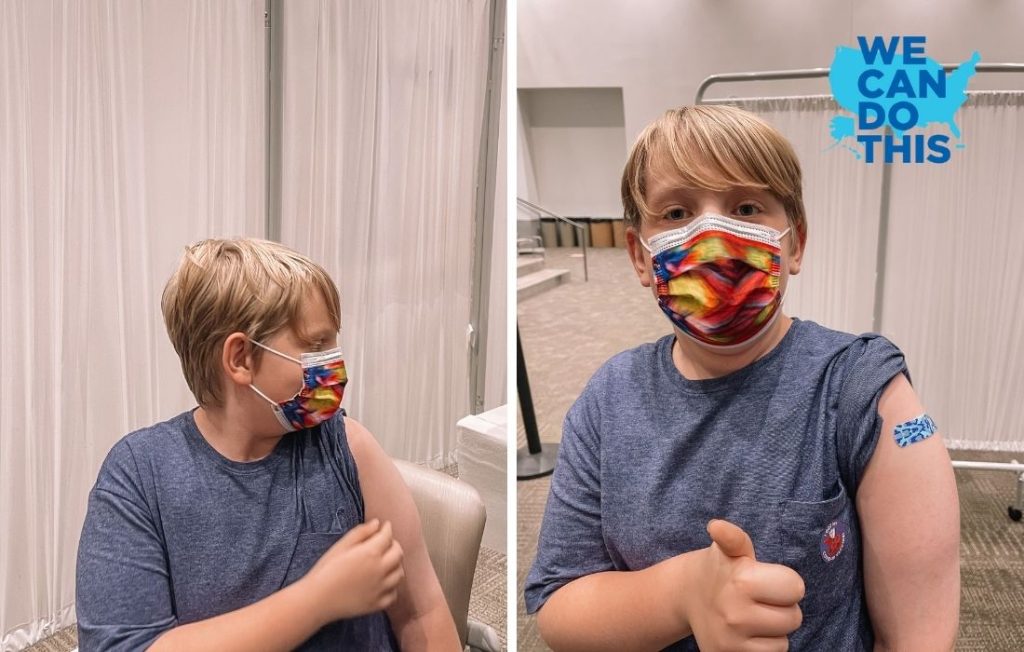 This is our story!
As our collection of masks grew in March of 2020, my husband Chris and I talked about who would help take care of our son if either one of us got sick with COVID.
We never imagined these were conversations we'd have but knew plans should be in place.
As a baker, Chris continued to work nonstop, aside from a short time when all our city's restaurants closed. Meanwhile, I attempted to work at home while balancing our son's distance learning.
I found an even deeper appreciation for teachers during this time!
As someone with anxiety, I wanted to stay informed but knew I couldn't go too deep into all the corners of the internet.
So, when vaccinations became available, I consulted with a scientist and spent a lot of time on cdc.gov/coronavirus.
And, by a scientist, I mean my amazing father-in-law, Red McLellan. He's one of many brilliant people who helped put the first man on the moon in 1969.
I know not everyone has a physicist in their family, so I definitely recommend all the evidence-based information available on cdc.gov/coronavirus.
Feeling good about our decision to get the vaccine, Chris and I registered to get it as soon as it became available. And, as an essential worker, he was the first to get the call.
A few weeks later, I got my first dose of the vaccine.
I shared my experience on Instagram and received quite a few private messages from other plus size women worried about getting the vaccine as a person of size.
I openly shared how I was treated with compassion and was offered a chair without arms. And Chris and I were fine aside from very sore arms, fatigue, and a bit feverish for a day.
And, we had similar responses for a few days when we got our second dose.
Flashforward to this past fall, when the vaccine finally became available for our eleven-year-old son, Braeden.
Chris and I talked, read the information on the CDC's website, consulted with our on-call physicist, and spoke to our son's pediatrician. In addition, we both had friends whose kids were in the vaccine trials and doing fine.
In the clinical trials, we learned that children have the same temporary side effects from COVID vaccines that adults have, such as the sore arm and fatigue that Chris and I experienced.
It was good to know that kids 5-11 receive a smaller dose, specially tailored for younger children. Those 12 years and older receive the same dosage as adults.
Ultimately, we knew there was no way of knowing how Braeden would react to the COVID vaccine. But we took great comfort in knowing clinical trials have shown vaccines help prevent severe illness and death from COVID.
We asked Braeden how he felt about getting vaccinated, and he told us he was counting down the days until he could get his shot.
Chris and I felt good about our decision to get Braeden vaccinated, and we received our son's enthusiastic consent.
On the big day, we went as a family.
Braeden proudly stated his name when the kind nurse asked him, and he rolled up his sleeve.
As he received his vaccination, Chris and I teared up.
For the first time in what felt like forever, we breathed a little easier. And when we asked Braeden how he felt, he said, "I feel safe!"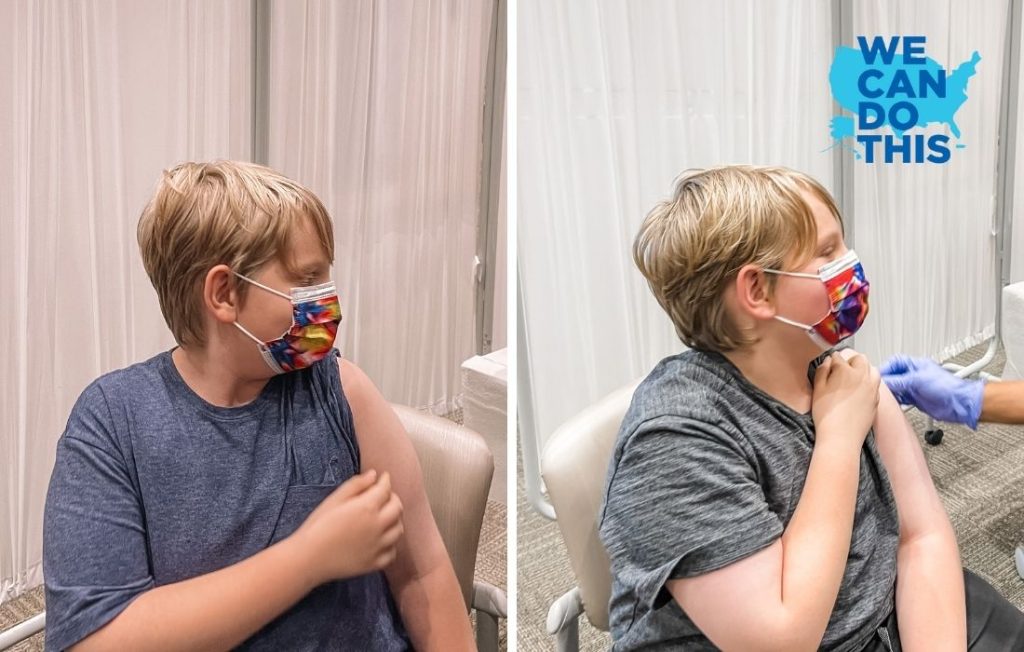 Thankfully, Braeden only experienced a sore arm after the first dose. And for his second dose, he didn't experience any side effects.
All three of us are now fully vaccinated!
Chris and I also received a booster shot that gives us an extra dose that helps keep up protection against COVID.
We have the peace of mind that we've protected ourselves and our son with the most effective tool to fight COVID and highly contagious variants.
So far, we've all remained COVID-free.
From drive-by birthday parties to distance learning and a collection of colorful masks – this hasn't been the experience any of us wanted for our children. ⁠
And as parents, we've all done what we've felt was best to keep our little ones safe. But sadly, things have shifted in the pandemic. Since August, 1 in 5 new COVID cases have been in kids, so it's more important than ever that we get everyone protected and vaccinated.
I know that sounds overwhelming, but vaccines can reduce that number and help protect our children from severe illness, hospitalization, and death from COVID.
If you have questions about the vaccine, talk to your doctor, just as I did with my son's pediatrician.
You can get vaccine facts at cdc.gov/coronavirus. And go to vaccines.gov or text your ZIP code to 438829 for vaccines near you.
Each parent needs to make their own decisions, but I hope sharing our story helps put another experience out in the open.
#WeCanDoThis #Ad