If you think plus size women's clothing is limited, wait until you hear about bigger guy fashion struggles.
Bruce Sturgell, the founder of Chubstr, joins the Plus Mommy Podcast to share how he's blowing up the plus size men's fashion industry!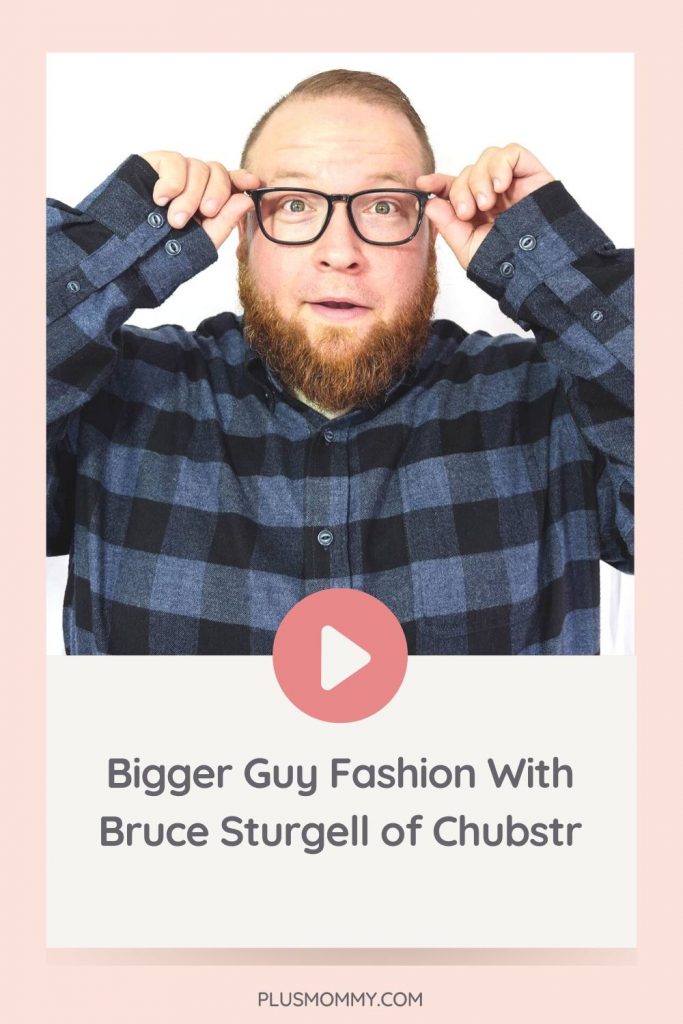 There's a preconceived notion that larger guys don't care about fashion or what they look like. This is completely untrue!
What started as a Tumblr blog where Bruce vented about the struggles of bigger guy fashion, has now turned into a massive brand – Chubstr!
Bruce's mission statement for Chubstr is to help men of size find, create and share their style.
For the past eight years, he has done just that! Chubstr isn't just about providing bigger guys fashion tips and resources – it's so much more! It's an opportunity for those who are plus size and dress masculine to see their style reflected. This can change the way a person feels about their body, and as Bruce shares, it gives people back their dignity!
Bruce shares that while the bigger guy fashion industry has come a long way, it's still difficult to find plus size masculine clothing.
His advice is to remain open and be willing to try clothes from multiple brands. And more importantly, know your measurement! There's no universal standard for sizing. When you know your measurements, you can use the brand's fit guides to find the right size clothes for your body.
A few of the many brands Bruce recommends are Destination XL, Bonobos, and even Walmart with their updated George label.
One of Bruce's projects that he's proud of is Behind The Brand. This video series takes a behind the scenes look at brands who are serving bigger guy fashion options. He helps men struggling with fashion to experience what it's like to connect with a brand who wants to dress them. Check out this recent episode with Bonobos that's very touching.
This interview with Bruce is not only packed with great information but also an important conversation about how access to fashion can change the way a person feels about their body. Tune in!
Recording & Show Notes: Plus Mommy Podcast Episode 33
Be sure to subscribe to the show on iTunes, Google Play, Spotify, Stitcher, or iHeart Radio. I'd be incredibly thankful if you took the time to leave a review. Follow Plus Mommy via your favorite social media outlet (Instagram, Facebook, Pinterest, and Twitter). Thanks for being part of this community!
Resources Mentioned On The Show: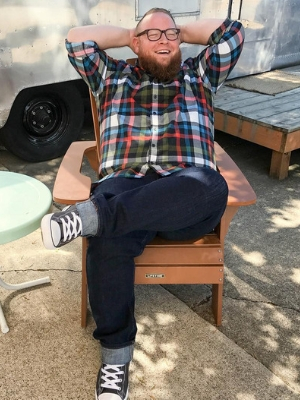 Frustrated by lack of choices and representation, Bruce Sturgell created Chubstr to chronicle his awesome mens' plus-size looks and where to find them. In doing so, he became a voice for others who were struggling to see men with bodies reflective of their own, creating a map of accessible fashion for all. Today, Chubstr highlights other stylish plus-size men and continues to shine a light on brands creating stylish, accessible clothing for bigger bodies with masculine tastes.
Thank You To Our Sponsors:
Kindred Bravely
Finding the perfect nursing bra is like finding a unicorn in the wild. They have to be soft, comfortable, and easy to maneuver when you have a baby who's ready to eat! Mamas, who are a size 2XL or smaller, I'm happy to say I've found your unicorn! Kindred Bravely offers a wide variety of styles perfect for pregnancy and nursing.
My Plus Size Pregnancy Guide
Use coupon code PlusMommy to receive 20% off the My Plus Size Pregnancy Guide that covers everything you could want to know about having a plus size pregnancy. Stop Googling and start feeling empowered today!