Is the medical community failing plus size moms?
Hannah, a labor and delivery nurse, explores how common labor and delivery practices set up plus size women for failure to progress.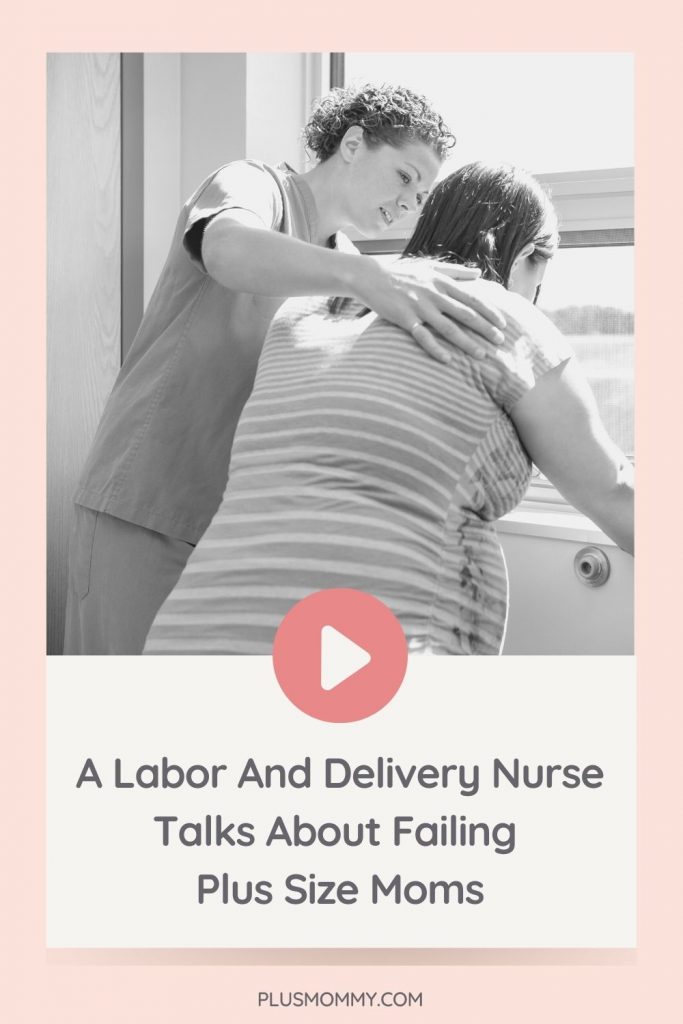 Failing Plus Size Moms
Having worked in hospitals since graduating from nursing school in January 2017, Hannah is no stranger to challenging experiences. After transferring to a birth center two years into her career, she realized how much unnecessary harm is occurring.
Hannah witnessed first-hand how doctors and nurses alike seemed to harbor an inherent bias against plus-size pregnant people.
Not only were these parents-to-be subjected to more scrutiny, but they were also often told that their size would likely result in a much bigger newborn.
On one occasion, Hannah listened to one of her co-workers vent about working with plus size moms who weighed more than 300 pounds. Following this incident, Hannah promised herself that she would never view someone else that way, regardless of their size or medical condition.
Vows made to oneself aren't enough to reduce and eliminate these biases, though.
The medical world needs to encourage open discourse about the topic actively. Healthcare professionals need to examine what prejudices or preconceived ideas they hold and how these affect their relationships with patients.
"I think there's a really basic view," says Hannah, in an interview with the Plus Mommy podcast. "In terms of the attitudes, I have seen [in my] co-workers – people who probably will never confront their own biases. People who are confident in their practice, and couldn't step back and look at whether their practice is evidence-based."
Fetal Monitoring For Plus Size Moms
The failure to accommodate plus-size pregnant people isn't just limited to healthcare professionals and their inherent biases.
Even the medical equipment used by hospitals is often not size-friendly, which only adds to the challenges that the plus size patient is already experiencing.
For instance, contraction monitors don't function properly when the patient is standing up, restricting their movement and relegating them to simply lying down while awaiting labor.
Meanwhile, fetal monitors tend to slip all over the place, even when equipped with belts designed to make them secure.
These monitors may play a crucial role in ensuring that the patient is safe and has stable vitals. However, dealing with their limitations is a huge hassle, especially since pregnant women need to change positions often.
To reduce the disadvantages and restrictions of medical equipment, Hannah recommends that patients be open with their nurse or doctor about what position they want to labor in, whether sitting in a rocking chair or on top of a birth ball. This way, their monitors can be adjusted according to their needs and preferences without compromising their comfort.
"I think the problem is [that] we just don't do enough education that no matter what your size if you roll over to the other side, you're going to have to move the monitor because it changes where we pick the baby's heart rate up," says Hannah.
She continues, "We don't want you to be quiet. I think, sometimes, there is a sort of timidness in asking for what you want. Most nurses want to help. And, sometimes, we get wrapped up in what we have to do at this time. And, we have to do this and this and this. But if you say something, we're more than happy to do it."
Whenever possible, plus size pregnant people should also request wireless monitors. The Novii wireless is the monitor designed for people of size but not all medical facilities have them available.
Hannah believes that the apprehension pregnant women feel when making specific requests is rooted in a lack of awareness of their rights as patients. Healthcare professionals should actively educate people on the many things they can ask their doctors or nurses to do for them.
Know Your Options By Creating A Birth Plan
The importance of creating a birth plan is among the many helpful recommendations Hannah shares.
A birth plan is a list of the pregnant person's preferences for their labor, birth, and postpartum. This list includes various things, such as the kinds of pain relief they want and the person they wish to accompany them inside the delivery room.
"Sometimes, nurses take a birth plan, scan it, put it in your chart, and never look at it again," Hannah explains. "But if we have a patient [who's] really clear on what they want, and they have some ideas, or they say, 'Hey, this is my birth plan, but I don't really know that much about it. Can we talk about it?'"
In this scenario, she claims that nurses will tend to pay more attention to that specific patient. This is especially true since the mother-to-be will see the nurse more often than their doctor or midwife.
Patients – particularly plus-size pregnant women – need to advocate for themselves more, given the inherent biases of the medical world, as well as the limitations of the equipment used.
Failure To Progress
When you combine the medical bias with equipment not designed for larger bodies and patients unaware of their rights – we set up plus size parents for failure to progress!
When plus-size people aren't afraid to speak up and advocate for themselves, we see a reduction in harm. In turn, we see a reduction in failing plus size moms!
"We often forget that we actually have a lot more control than we have," says Jen McLellan. "We have the right to fire a care provider. The right to say, 'You need to be treating me with dignity'. By the way, we're paying for all of this – you are paying for this service."
Listen as we dig into each of the topics above with far more depth during this episode of the Plus Mommy Podcast.
Recording & Show Notes: Plus Mommy Podcast Episode 51
---
Thank You To Our Sponsors:
Modibodi is modern, protective, leak-proof apparel, underwear and swimwear, for periods and incontinence that work! Use coupon code PlusMomLoves to get15% off your first order (excludes packs, sales items, and gift cards).
This episode is also brought to you by Plus Size Birth. Use coupon code PlusMommy to receive 20% off the My Plus Size Pregnancy Guide. This guide covers everything you could want to know about having a plus size pregnancy.