Today's episode of the Plus Mommy Podcast is a plus size pregnancy Q&A.

I asked the Plus Mommy community over on Instagram and Facebook what questions they have about being plus size and pregnant.
Over the next hour, I'll answer questions ranging from where to find affordable plus size maternity clothes to what are the increased risks when you're plus size and pregnant.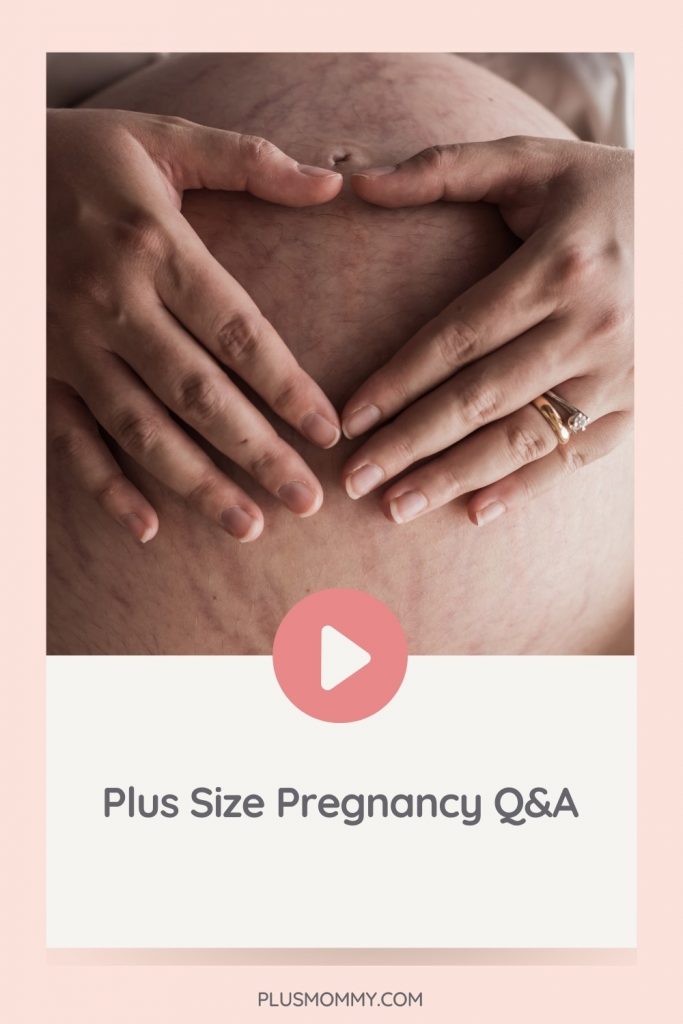 Plus Size Pregnancy Questions, Answered!
Below I'll cover a few of the questions and answers but be sure to listen to the full episode that's linked below.
Where can I find affordable plus size maternity clothes?
You'll be surprised how long your regular clothes will last throughout your pregnancy! I recommend buying a few staples, like plus size maternity jeans, and then wear your regular clothes for as long as they fit.
For more tips and resources here are helpful articles for plus size maternity clothes.
Plus Size Maternity Clothes Featured On Instagram
The Best Plus Size Maternity Underwear Options
The Best Plus Size Nursing Bras And Plus Size Nursing Tanks
8 Plus Size Pregnancy Essentials You Need to Own
Did you have any complications during pregnancy?
There's a lot of misinformation about being plus size and pregnant. While we do have increased risks, just because you're plus size doesn't mean you'll automatically incur any complications.
It's critical to be proactive with your health throughout pregnancy and by doing so, you'll decrease your increased risks.
Tips For Having A Healthy Plus Size Pregnancy
Eat nutritious food, drink lots of water, and take your vitamins.
Be physically active in whatever way is fun for you and you'll be consistent about being active.
Work with a size-friendly care provider, and you can download a free guide on how to connect with one from Plus Size Birth.
How do you manage back pain during pregnancy?
Belly bands can be a lifesaver along with chiropractic care and having a good pregnancy sleep pillow.
Plus Size Maternity Support Belt And Plus Size Belly Band Resources
How do you handle anxiety with doctor appointments?
Whenever possible bring someone with you to your appointments. You can bring your partner, a family member, close friend or even a doula.
Writing down any questions you have in advance can help you prepare and not feel at a loss for words.
If you use essential oils, something like lavender can help you to relax. Listen to music that makes you happy before your appointment, meditate, or do whatever helps you to relax.
Most importantly, if you have a care provider who makes you feel uncomfortable and causes you to have a lot of anxiety, then you should hire a new care provider!
We cover so much more about plus size pregnancy in the episode below and have additional resources linked below.
Recording & Show Notes: Plus Mommy Podcast Episode 44
Be sure to subscribe to the show on iTunes, Google Play, Spotify, Stitcher, or iHeart Radio. I'd be incredibly thankful if you took the time to leave a review. Follow Plus Mommy via your favorite social media outlet (Instagram, Facebook, Pinterest, and Twitter). Thanks for being part of this community!
Resources Mentioned On The Show
If you have any questions about plus size pregnancy, motherhood or body love, please call into the show and leave a voicemail. You might be featured on an upcoming episode! Call 505-926-1303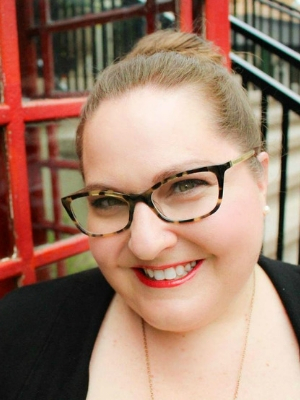 Jen McLellan is a published author, speaker, and founder of Plus Size Birth, the premier resource for all things plus size pregnancy. With over 4 million page views, she is passionate about plus size pregnancy, sharing tips on embracing your body, and navigating the bumps along the road of motherhood. Via her Plus Mommy podcast and social media outlets, she seeks to create an environment of acceptance and end the stigma surrounding plus size pregnancy with education, support, and a sense of humor. She's also a certified childbirth educator, wife, and mother to a charismatic 8-year-old.
---
Thank You To Our Sponsor:
Use coupon code PlusMommy to receive 20% off the My Plus Size Pregnancy Guide that covers everything you could want to know about having a plus size pregnancy. Stop Googling and start feeling empowered today!