Elizabeth, originally from California, has lived in the UK since 2014. This is her story of giving birth as a plus size woman in Scotland during the pandemic. She also shares what it was like to receive prenatal care at a medical facility specifically designed to support people with a high BMI.
Before becoming pregnant, Elizabeth set up a preconception visit for her and her husband. The provider was supportive and encouraged her to be physically active.
When Elizabeth and her husband were ready to start trying – she became pregnant pretty quickly! They found out they were expecting on February 14th, 2020. Just as the world was about to shut down!
This timing impacted her prenatal care. Elizabeth even uses the word "traumatic" as she went to most prenatal appointments alone with people wearing Personal Protective Equipment (PPE).
There was so much unknown about COVID, as it was early on. However, even with all the extra precautions that seemed scary at times, Elizabeth felt very supported by her midwife and care team.
In the UK, it's typical for people to see midwives for their prenatal care unless they are high risk. The National Health Service (NHS) provides healthcare. As an immigrant from the United States, Elizabeth paid a small surcharge to receive NHS healthcare.
At the Edinburgh Royal Infirmary, where Elizabeth planned to give birth, she qualified for Tommy's Charity Metabolic Clinic. Tommy's is a facility that explicitly supports people with a high BMI.
Elizabeth received additional testing, screening, and appointments, including meeting with a nutritionist and an early consult with an anesthesiologist.
She appreciated all the additional oversite and liked being part of a program that studies pregnancy in a larger body.
She said, "I had a very healthy pregnancy, and I didn't feel like it was a waste for me to be included in the research because they need more data about healthy fat pregnancies!"
Elizabeth had limited access to plus size maternity clothes, as many of the second-hand stores she had planned to shop at were closed due to the pandemic. However, she did have some luck online with the size-inclusive retailer out of the UK, Molke. And she wore the one maternity dress she owned for her virtual baby shower.
It was difficult not to be able to attend an in-person birth class. However, she appreciated online resources like HypnoBirthing and Evidence-Based Birth®.
Near the end of her pregnancy, Elizabeth's husband was able to join prenatal appointments as the restrictions started to lift.
She was thankful she didn't experience any of the fat-shaming she had heard about in healthcare.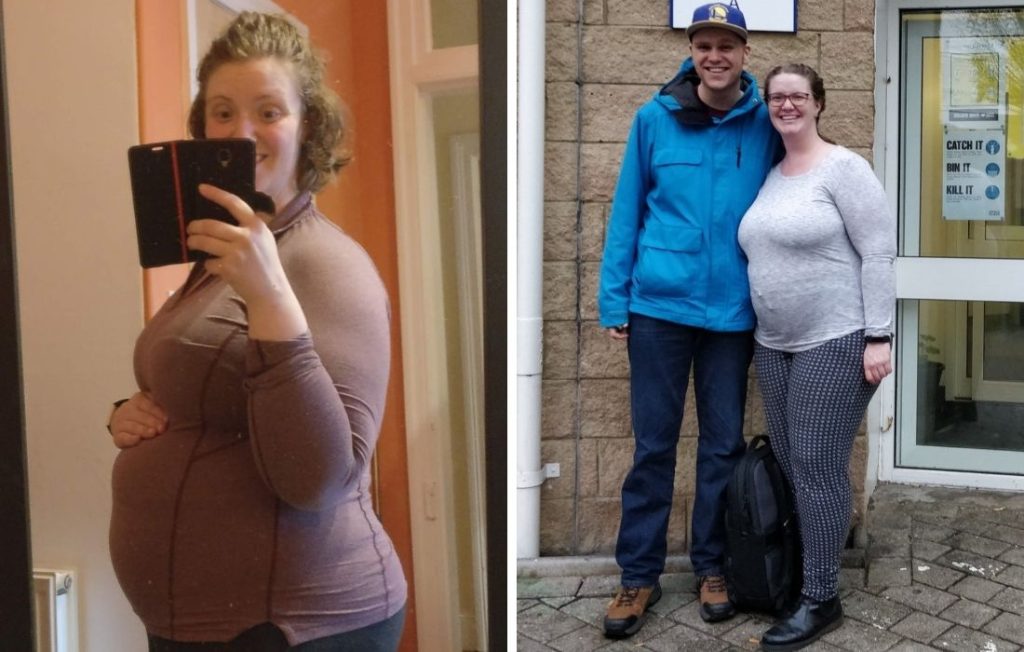 And as her due date came and went, COVID cases rose, and hospital restrictions went back into place. Because of this, she knew once she left the labor suite, her husband could no longer be with her.
At just over 41 weeks into her pregnancy, it was time for an induction. And because of the hospital restrictions, she had to go in alone for a Cook® Cervical Ripening Balloon. Then she was able to go home in hopes of labor starting.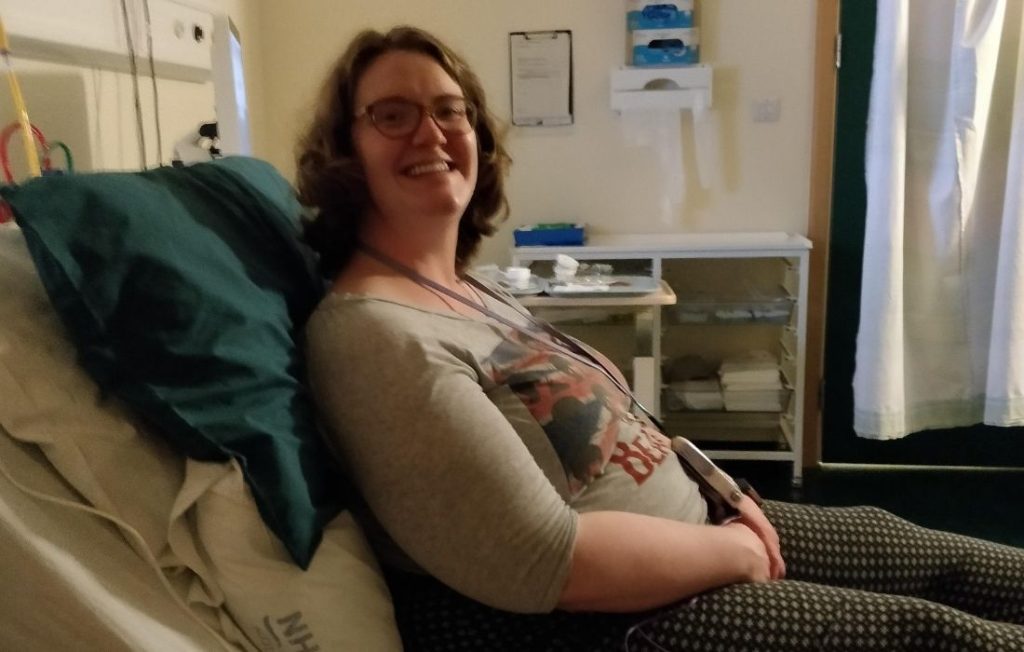 At nearly the 24-hour mark after getting the ripening balloon, Elizabeth and her husband went to the hospital.
Once she got settled, she felt very supported by the care team, including a midwife and a student midwife.
After many hours, Elizabeth wasn't having contractions, and her son's heart rate was decelerating. When a shift change happened, a new midwife was not okay with her son's heart rate and ordered Pitocin to get things going.
There was even a moment when there was a conversation about having a cesarean birth – Elizabeth found this upsetting. At this point, her husband spoke up and asked if this was an emergency, and the care team said no. So, her husband asked for more time, and the team agreed.
After an hour, the deceleration had gone away, and Elizabeth was now experiencing contractions.
While she declined an epidural initially, she wanted one once everything started moving fast. Unfortunately, the anesthesiologist went into emergency surgery.
Labor intensified, and Elizabeth wasn't coping well. Her husband encouraged her to use nitroxide while waiting for the anesthesiologist.
Finally, Elizabeth got her epidural and was doing much better. And a few hours later, it was time to give birth!
For pushing, Elizabeth got into a hands and knees position for a while before her son's heart rate decelerated again. Then she moved onto a supported squat, and following 28 minutes of pushing, her son was born!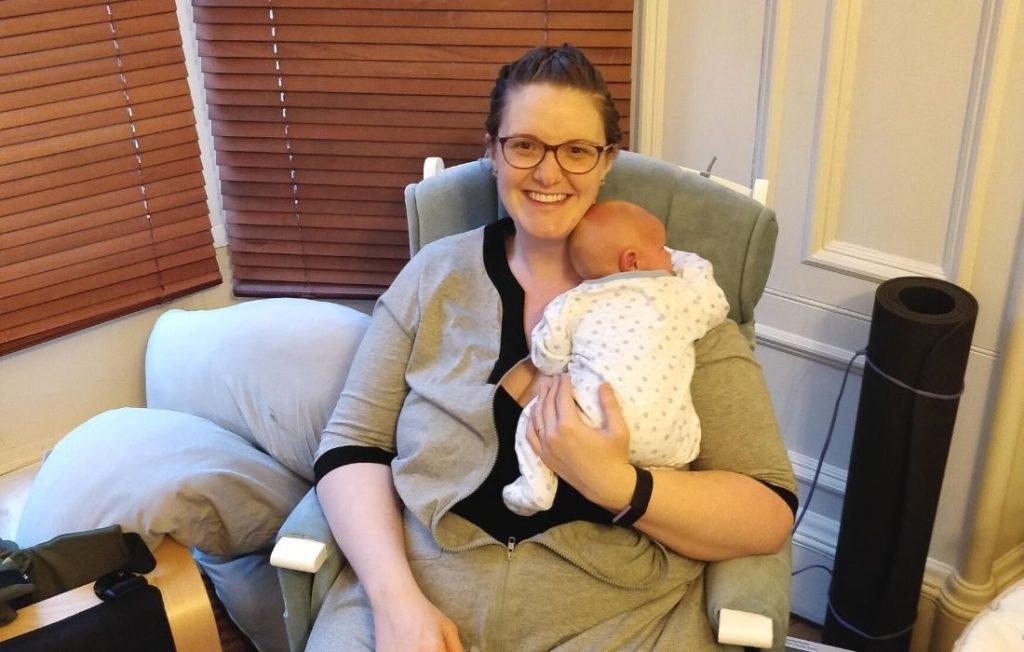 Listen as Elizabeth tells her full story of giving birth as a plus size woman in Scotland during episode 166 of the Plus Mommy Podcast. She also shares her experience with postpartum depression.
Recording & Show Notes: Plus Mommy Podcast Episode 166
Transcript happily provided upon request.
Resources Mentioned On The Show:
Tommy's Charity (language might be triggering)
Quote about birth plans by Jen McLellan, "The power of a birth plan isn't the actual plan, it's the process of becoming educated about all of your options!"
BRAIN Acronym
B – What are the benefits?
R – What are the risks?
A – What are the alternatives?
I – Always listen to your intuition!
N – What happens next or if we do nothing?