When it comes to healthcare advocacy for women of size, our concerns are often unheard because care providers can't see past our size. We need to talk about Lipedema treatment to bring more awareness and support to the approximate 11% of women living with Lipedema. The number is probably much higher, and that's why our voices need to become much louder.
Tina shares her diagnosis, Lipedema treatment, and how her condition dramatically progressed after the cesarean birth of her son. Tina hopes that by speaking up, we bring more awareness to Lipedema!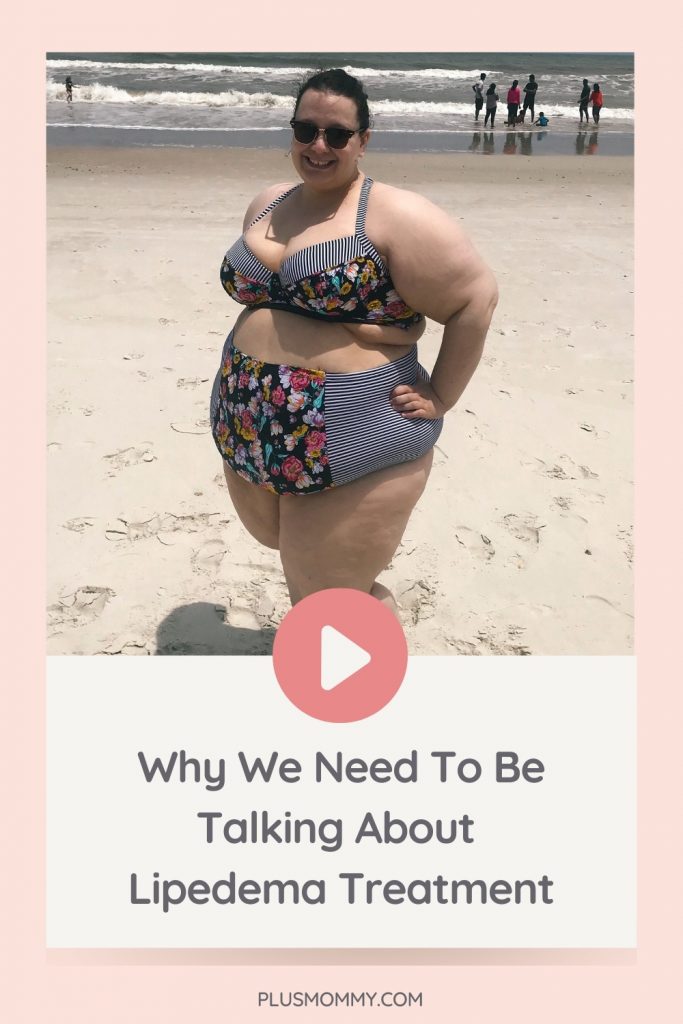 Lipedema Treatment
During puberty, Tina started having growth in her arms and legs. Her mother assumed she was overeating, and care providers didn't address any concerns.
She experienced another growth when she went on hormonal birth control in college. There would be events in her life that would cause her weight to skyrocket, but she wasn't overeating.
If anything, she was overexercising and having disordered eating.
Care providers didn't listen – she was told to eat less and move more.
Tina finally started pushing for answers before having her son.
After an appointment with a Rheumatologist who wasn't helpful, just like all the others, she went home and opened her computer.
Tina Googled, "pain in fat."
Those were the exact words she used to explain her concerns to her care providers for years.
Finally, Tina started to find answers as Google Images displayed photo after photo of women with legs that looked like hers.
"Lipedema is a relatively common fat disorder that is often mistaken for simple obesity. Its clinical diagnosis is an adipose tissue disorder or a lipid metabolism disorder. A typical lipedema patient is a woman who struggles with large hips and legs, usually out of proportion to the rest of her body." – The Lipedema Project
It would take a lot of research, time and determination but Tina finally found a care provider who took her concerns seriously!
She connected with a vascular surgeon who gave her the diagnosis she needed so she could start Lipedema treatment.
There is no cure for Lipedema but treatment can hold off progression and help with quality of life.
Lipedema treatment includes compression stalkings, a pneumatic compression pump, aquatic therapy, diet and supplements, manual lymphatic drainage massage, and surgery.
Tina immediately was proactive with wearing her compression garments and using her pump.
Lipedema After Pregnancy
Things seemed under control until she became pregnant.
Her trusted vascular surgeon said, "You're doing everything you need to do. But Heaven forbid you have a c-section."
Tina had a c-section.
Lipedema gets worse during puberty, pregnancy, following gynecologic surgery, and around the time of menopause.
Tina's surgery, combined with not getting adequate support during postpartum so she could focus on her Lipedema treatment, led to growth that has impacted her quality of life.
Listen below as Tina shares her story and an important message for women who are showing any signs of Lipedema.
Recording & Show Notes: Plus Mommy Podcast Episode 74
Resources Mentioned On The Show: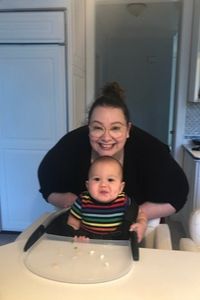 Tina Zargarpur is a 36-year-old mama raising a one-year-old cyclone baby while doing her best to battle several chronic illnesses, including Lipedema. Her first pregnancy seemed like a breeze (especially having armed herself with some incredible evidence-based resources from plussizebirth.com!), but her postpartum experience still has her reeling one year later. She hopes that in sharing her trials with Lipedema, she can bring awareness to this little-known and poorly addressed but relatively common issue (11% of women!) in women's health.
You can connect with Tina via Instagram at @greenporchlight.
---
Thank You To Our Sponsors:
Leading Lady
With over 100 size combinations, signature comfort, and supportive features, Leading Lady has you covered. They also have plus size nursing bras! Go to Leadinglady.com today to find your perfect fit and use code LLPOD30 to get 30% off your first order.
The Preschool Box
The Preschool Box is an educational subscription box designed to teach important reading and math concepts. Each month receive a box packed full of fun, ready to use educational crafts and activities that make learning exciting and engaging! Learn more at thepreschoolbox.com and use coupon code Plusmommy5 to get $5 off your first box.