There's a lot of misinformation about what it's like to be plus size and pregnant.

If you spend a few minutes on Google, you'll be led to believe that you can't have a healthy outcome for you and your baby.

The truth is most plus size people have perfectly healthy pregnancies!
For the past seven years, I've supported thousands of plus size pregnant people. Here are the top 7 things every person should know about being plus size and pregnant.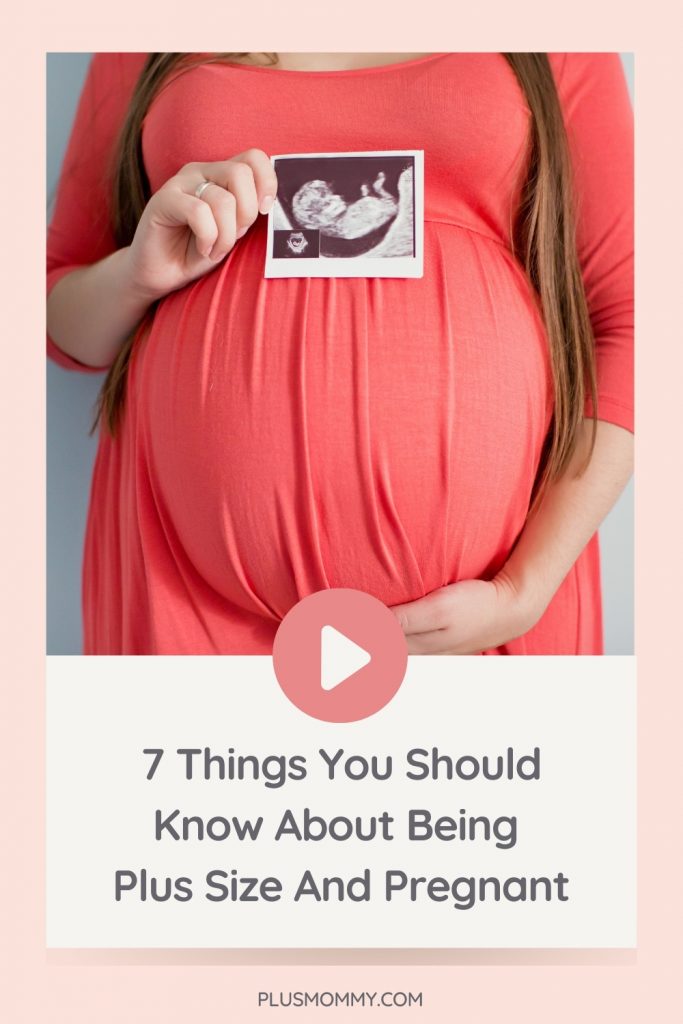 Being Plus Size And Pregnant
1. Your body is incredible!
Yes, you read that correctly. Your body is amazing!

Now's an opportunity to trust and love on your body like never before!

It's time to reframe the relationship you have with your body. To learn to appreciate what your body is doing and know that your body is spectacular.
2. There are many plus size pregnancy misconceptions.
Contrary to what you might've assumed, you're not automatically guaranteed to have a high-risk pregnancy because you're plus size and pregnant.

Also, your care provider shouldn't classify you as high-risk for your BMI alone and no other risk factor. That's a red flag that your care provider is not size friendly.
Yes, there are increased risks, but those numbers aren't as elevated as we're led to believe.

Let's focus on working to be as healthy as possible during pregnancy rather than fearing that our bodies will fail us.
Even if you do incur a pregnancy risk or are having a high-risk pregnancy, you should still feel supported and not made to feel ashamed of your body.
It's critical to set healthy boundaries with loved ones who make you feel insecure. As well as be mindful of the messages you're taking in from the books to social media.
3. Hire a size-friendly care provider!
Working with an OB-GYN or midwife who provides evidence-based, compassionate care is one of the greatest gifts you can give yourself.
Studies have proven bias in the medical community against people of size.

Working with a size-friendly care provider isn't just essential for your emotional wellbeing but your physical health as well.
You owe it to yourself to work with a size-friendly provider not only during pregnancy but for the rest of your life!
If you're not sure where to start, check out the My Size Friendly Care Providers Guide.
4. From nutrition to being physically active – take great care of your body!
This is for people of all sizes during pregnancy and should come as no surprise.

It's important to be mindful of what you're eating and how active you are throughout pregnancy. By doing this, you'll help to reduce your increased risks!
If you have a partner in the picture, be sure to get them involved with helping you to take good care of your body throughout your pregnancy.
5. Plus size maternity clothes do exist!
Contrary to popular belief, you can find plus size maternity clothes and apparel like nursing bras, bellybands, and even baby carriers. I just wish there were more affordable options.
You Might Also Like: Plus Size Babywearing And Postpartum Support Tips For EveryBODY
The reality is the clothes you're wearing will last you longer than you'll realize.

Yet, there's also something that just makes you feel pregnant when wearing maternity jeans with that obnoxious bellyband (even if you don't look pregnant). So there are a few items you might want to invest in.
And don't forget to capture this moment in time by taking maternity photos!
6. Your bump will probably take longer to pop.
This is a tough one because everyone wants to look pregnant when they are pregnant.

The average person takes about 17 weeks to start showing when plus size people often begin showing closer to 20 – 22 weeks. It all depends on how you carry weight and how many times you've been pregnant.
Even if you don't look pregnant, remember that your body is doing amazing things!
7. Body image struggles are normal, and you're not alone.
Being plus size and pregnant is different. It just is!

You can't open a pregnancy magazine and see people who look like you. As Mia shared during the Plus Mommy Podcast episode, Plus Size Pregnancy Struggles And Finding Self-Love, it can be a time in your life when you feel invisible.
Surround yourself with people who love and support you. And people who make you feel fabulous!!
We're making significant progress with this new push for body positivity and self-love, but we still have a long way to go.
If you're having mental health struggles, don't be afraid to ask for help and even connect with a therapist. Asking for help is a sign of strength.
Please know that you're not alone!
Recording & Show Notes: Plus Mommy Podcast Episode 9
Resources Mentioned On The Show:
---
Thank You To Our Sponsor:
This episode was brought to you by Plus Size Birth! Use coupon code Plus Mommy to receive 20% off the My Plus Size Pregnancy Guide that covers everything you could want to know about having a plus size pregnancy.