My husband, Chris, joins the Plus Mommy Podcast as we answer questions about marriage following our 11th wedding anniversary.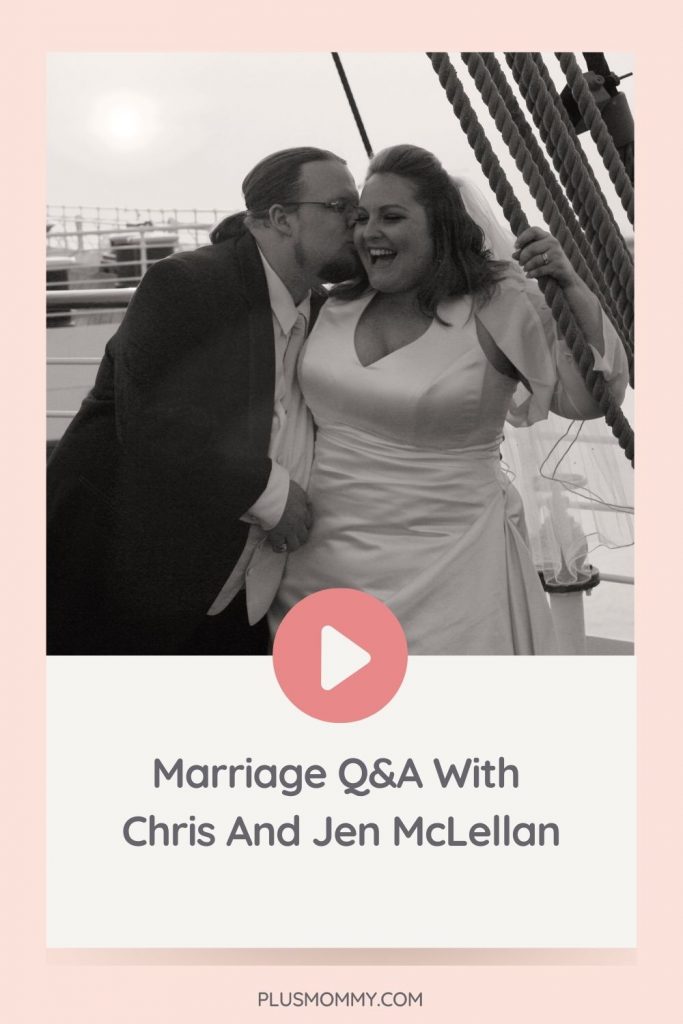 Marriage Q&A
Chris and I are completely transparent, sharing our struggles and how we've strengthened our marriage throughout the years. Here's an example of a topic we cover during this episode where we answer questions submitted by Plus Mommy community members on Instagram.
How is going from a married couple to parents?
We failed at this transition miserably in the beginning by pouring our all into becoming mom and dad. When our son was about seven months old we realized that we had become roommates.
We had forgotten how to be husband and wife.
Make time for one another from the beginning. Your role as husband and wife is just as important as mom and dad!
We hope our honesty throughout this episode helps people listening who are married or in long-term relationships to feel less alone. For those just starting out, we share keys to making our marriage work for the past 11 years.
As you'll hear us mention at the end of the show, be sure to do an Instagram story next time you're listening to the Plus Mommy Podcast and tag me via @plusmommy. Share the show with your friends and help us to grow. We'd be so incredibly thankful!
Recording & Show Notes: Plus Mommy Podcast Episode 64
Thank You To Our Sponsors:
Hotel Albuquerque
Before recording this marriage Q&A episode, Chris and I were lucky enough to spend our anniversary at the historic Hotel Alburquraure. With gorgeous grounds, breathtaking views, a fabulous location, an incredibly comfortable bed, we had a wonderful staycation! Be sure to check out Hotel Alburqure next time you're in town as my husband, and I can't recommend it enough! You can use code SUMMER19 to get 30% off your stay learn more at hotelABQ.com.
Plus Size Birth
This episode is also brought to you by Plus Size Birth! Use coupon code PlusMommy to receive 20% off the My Plus Size Pregnancy Guide that covers everything you could want to know about having a plus size pregnancy.