Plus Size Yoga Instructor Amber Karnes reminds us that yoga is for every body during this week's episode of the Plus Mommy Podcast.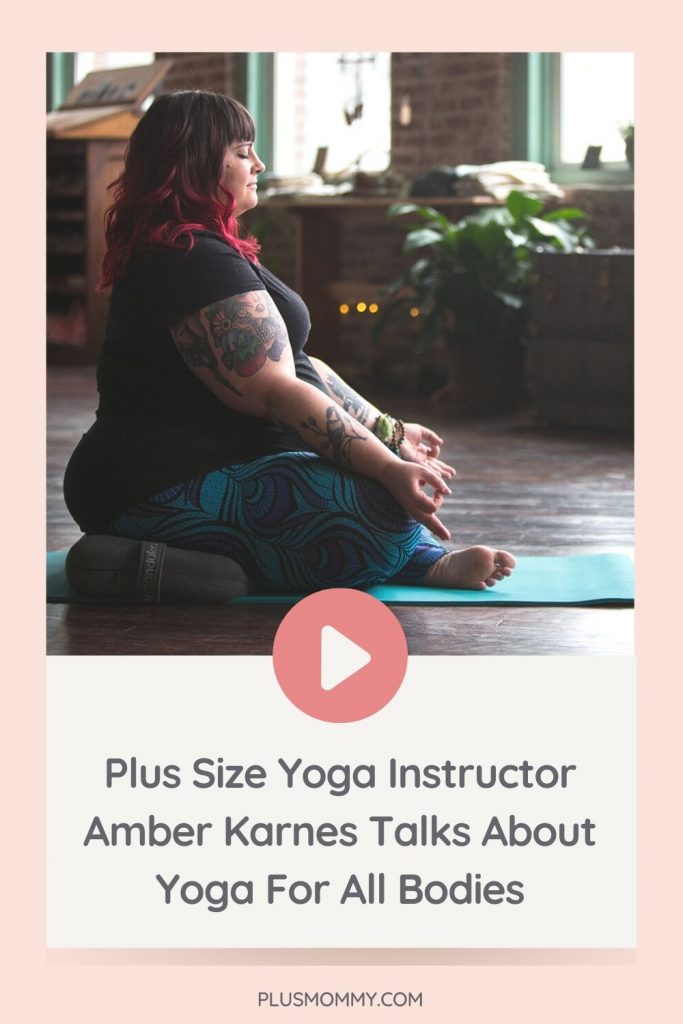 Plus Size Yoga Instructor Amber Karnes
If you've ever Googled "plus size yoga" you probably happened upon Body Positive Yoga by Amber Karnes.
Since 2010 Amber has helped transform what yoga looks like by encouraging people who exist in larger bodies to feel comfortable having access to yoga.
As Amber shares during our interview, the representation of fat bodies in yoga helps plus size people who are interested in starting a yoga practice to feel welcome!
Amber teaches modifications for people in larger bodies to find safe alignment in poses. She also trains yoga instructors on how they can be fat-friendly.
How Can I Access Plus Size Yoga?
Group Yoga Classes
You don't need to go into a yoga studio if that intimidates you!
There are yoga classes at libraries and community centers. Often yoga instructors who teach these types of classes tend to be more size-friendly.
When searching for a class look for words like gentle yoga, chair yoga, plus size yoga, or body positive yoga.
Be sure to pick the right class for you – pick a beginner yoga class (beginner or slow-flow are good words to look for). Even chair yoga or restorative yoga can be a great place to start.
Consider reaching out to the studio beforehand and ask any questions or concern you might have. Share what you have going on and ask to be connected to the right teacher and class.
You're the expert of your own body!
A lot of yoga instructors don't know how to support people in larger bodies. So while you might feel like someone doesn't support you – they might not know how to help you. This is why asking a lot of questions beforehand can be helpful.
As Amber shares, you have every right to take up space in fitness and wellness environments!
At Home Yoga Practice
Online is also a great option! There are many free courses on YouTube and monthly membership classes. Even if you want to do a group class, getting some knowledge ahead of time by watching online videos can help set you up for success.
Benefits of Yoga
"Healthy habits make healthy bodies in a wide range of sizes." – Amber
Movement is great for people of all sizes and yoga has many benefits. Studies show that by moving our bodies we help to reduce increased risks this includes doing prenatal yoga!
It can also be a tool for helping you to make peace with your body with an emphasis on mind, body, and spirit.
Where To Find Plus Size Yoga Clothes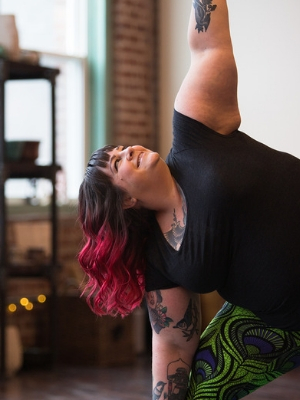 SuperFitHero.com
Rainbeau.com
Dia & Co's Athletic Box
Old Navy
Lane Bryant
Torrid
Tune into the full interview below with Plus Size Yoga Instructor Amber Karnes, and let us know in the comments below if you have or plan to start a yoga routine!
Recording & Show Notes: Plus Mommy Podcast Episode 41
Resources Mentioned On The Show: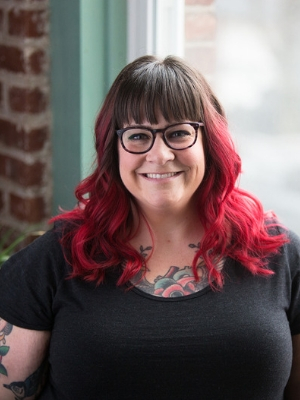 Amber Karnes is the founder of Body Positive Yoga. She's a ruckus maker, yoga asana teacher (E-RYT 200), social justice advocate, and a lifelong student of her body. Her commitment to accessible, adaptive yoga practice empowers thousands of diverse practitioners around the globe. She is the creator of the Body Positive Clubhouse, an online community using the tools of yoga to build unshakable confidence and learn to live out loud.
Amber is the co-creator of Yoga For All Teacher Training, Accessible Yoga Trainer, Yoga International featured teacher, serves as a board member for Project Yoga Richmond and Accessible Yoga, and is a contributor to the Yoga and Body Image Coalition.
Through her workshops, retreats, teacher trainings, and online yoga and wellness offerings, she seeks to further the message of inclusivity, consent, agency, body sovereignty, and accessibility for all (on and off the yoga mat). She lives in Richmond, Virginia, with her husband Jimmy, and blogs at bodypositiveyoga.com.
---
Thank You To Our Sponsor:
My Plus Size Pregnancy Guide
Use coupon code PlusMommy to receive 20% off the My Plus Size Pregnancy Guide that covers everything you could want to know about having a plus size pregnancy. Stop Googling and start feeling empowered today!