If you're experiencing a plus size twin pregnancy or enjoy hearing inspiring birth stories, you're in for a treat!
Sarah shares her twin pregnancy experience, from watching her belly expand to unpacking her relationship with food. And then you'll hear about her empowering birth experience as she gave birth to her twins vaginally in the operating room!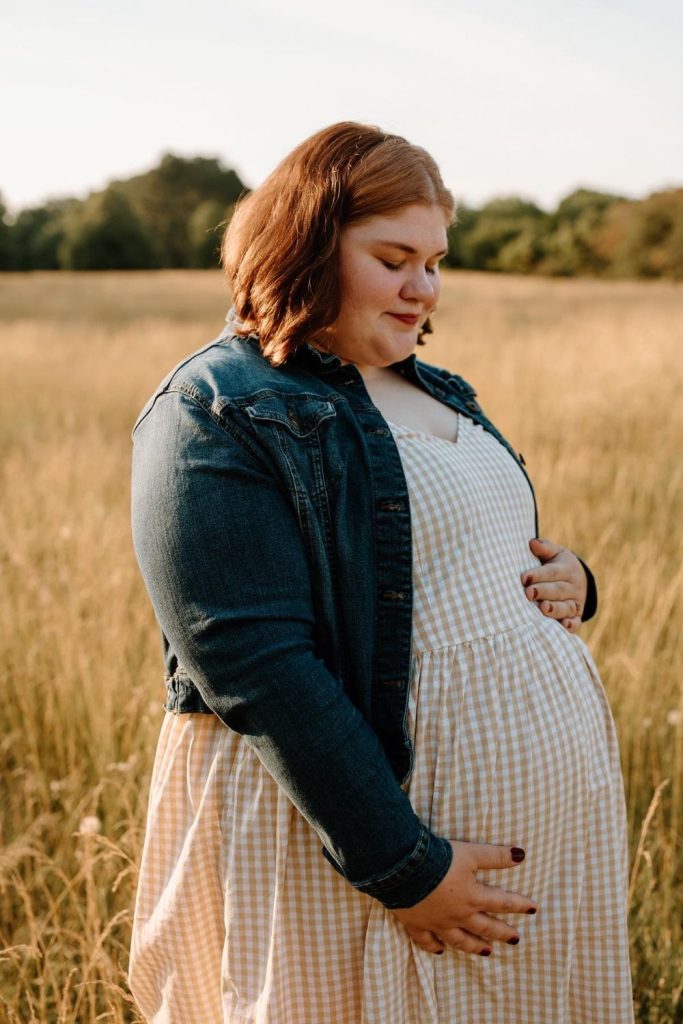 Plus Size Twin Pregnancy Story
After trying to get pregnant with polycystic ovarian syndrome (PCOS) for two years, Sarah was surprised to learn she was pregnant with twins.
Getting Pregnant with Twins
It wasn't until near the end of her two-year trying-to-conceive journey that Sarah got fertility support. Then, three rounds of Clomid later, she got that positive pregnancy test.
From the start, Sarah was upfront with her doctor that she wanted to connect with a size-friendly care provider. She believes that made all the difference along her fertility journey.
Since taking Clomid helps to induce ovulation, getting pregnant with twins is more common. Sarah also has a family history of twins.
During her 8-week prenatal visit, she learned she was having a Di/Di twin pregnancy.
With Di/Di twins, each baby has its own placenta and a gestational sack. And this type of twin pregnancy is known as the safest type of twin pregnancy.
Plus Size Twin Pregnancy Experience
Sarah brought up that she was having a plus size twin pregnancy, and her OB-GYN said they weren't concerned about her size. This helped Sarah to feel comforted and supported.
While she was comfortable with her OB-GYN, she was nervous about seeing additional care providers due to her high-risk classification. Thankfully everyone treated her with dignity, and she never felt fat-shamed.
When it came to finding plus size maternity clothes during a plus size twin pregnancy, Sarah had some struggles.
She didn't have much luck with plus size maternity jeans throughout her pregnancy. So, she lived in plus size maternity leggings from Fabletics (hello pockets!) and Latched Mama items.
Gestational Diabetes Diagnosis with Twins
There's a connection between PCOS and gestational diabetes that doesn't get talked about often enough. And during her third trimester, Sarah was diagnosed with gestational diabetes. Her blood sugar readings following meals were always in the normal range, but her fasting levels were a concern.
Before getting pregnant, Sarah was on Metformin and started retaking it once she got the gestational diabetes diagnosis. With medication, she was able to regulate her blood sugar.
Thankfully she connected with a size-friendly dietitian who treated her with kindness and helped to learn how to pair carbs with fat and protein.
Feeling supported made her feel like she didn't need to restrict herself and could eat balanced without triggering disordered eating patterns.
Another way Sarah felt supported throughout her pregnancy was by working with a therapist. She found it especially helpful when processing her gestational diabetes diagnosis.
Twins' Vaginal Birth Story
Even before Sarah was pregnant with twins, she knew she wanted a vaginal birth. Her care team was supportive and let her know the position of the babies would determine her ability to attempt a vaginal delivery.
Baby A needed to be head-down. And following her first daughter's birth, an ultrasound would determine her ability to give birth to her second vaginally.
If Baby B was breech, only one of her providers was comfortable delivering a breech baby.
With many unknowns and a ton of determination, Sarah went in for an induction at 38 weeks. But getting things going took time. Thankfully, with the support of her care team, husband, and mom, she kept going strong even when questioning if she should have a cesarean birth.
Sarah fondly remembers an incredible nurse who also believed in her body's ability to give birth to twins vaginally.
As Pitocin started flowing to strengthen her contractions, Sarah wanted an epidural. But unfortunately, it took quite some time to see the anesthesiologist. And Sarah was so thankful to have that fantastic nurse by her side, helping her to get into many positions.
She finally got that epidural and started feeling needed relief.
They moved Sarah to the Operating Room as it was nearing time for her to give birth. Anyone attempting to give birth vaginally with twins is almost always required to do so in the Operating Room.
If there's an emergency or a baby is breech, the care team can perform a cesarean birth immediately.
The room was full of care providers for Sarah and the babies, as she gave birth to Baby A soon after everyone was set up. It was an incredible moment for Sarah, even though she didn't see her daughter immediately.
After she gave birth to Baby A's placenta, there was an ultrasound to see the positioning of Baby B. And she was good to go to start pushing Baby B into the world!
Sarah only pushed for a total of twenty minutes while giving birth to both of her daughters! And Sarah felt incredible, with a room full of people cheering her on.
Baby A, Eliza, was 6 lbs 6 oz, and Baby B, Clara, was six pounds. Both girls had great weights and didn't need any time in the NICU. Everyone was healthy and happy.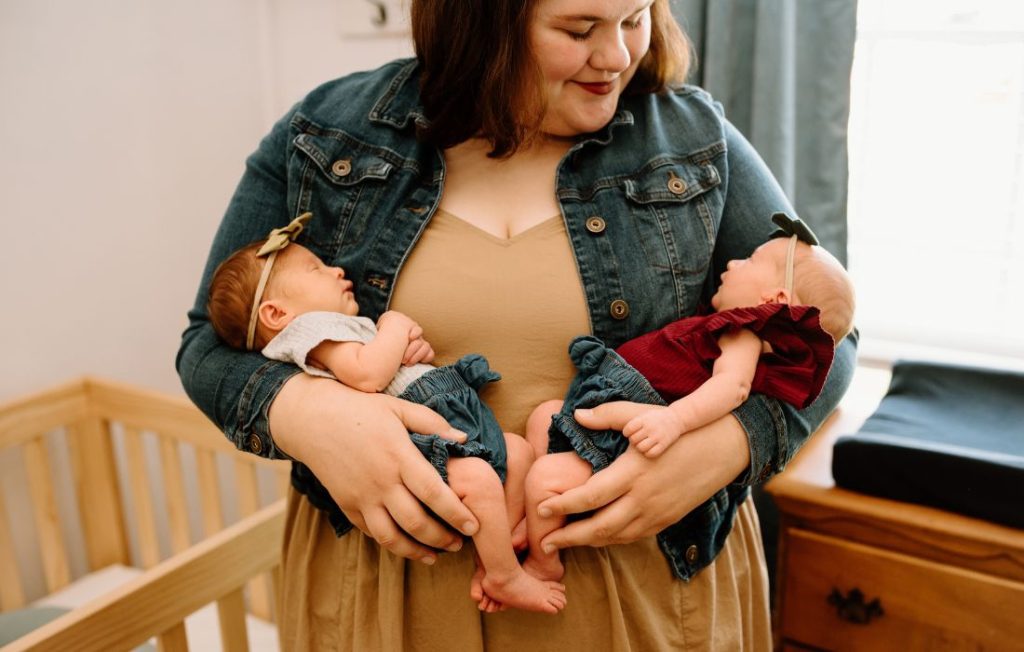 Sarah shares her positive plus size twin pregnancy story during episode 186 of the Plus Mommy Podcast.
Recording & Show Notes: Plus Mommy Podcast Episode 186
Transcript happily provided upon request.
Resources Mentioned On The Show