On Sunday, September 15th, 2019, life as my family knew it turned upside-down after my husband and son were involved in a horrible car accident.
I needed something good to come out of a terrible situation. So I went onto Facebook and Instagram to talk about booster safety. If it wasn't for my son being properly secured, he could've been far more injured or worse. A Facebook post I wrote went viral with a reach of over one million and got picked up by major media outlets from People to Good Morning America.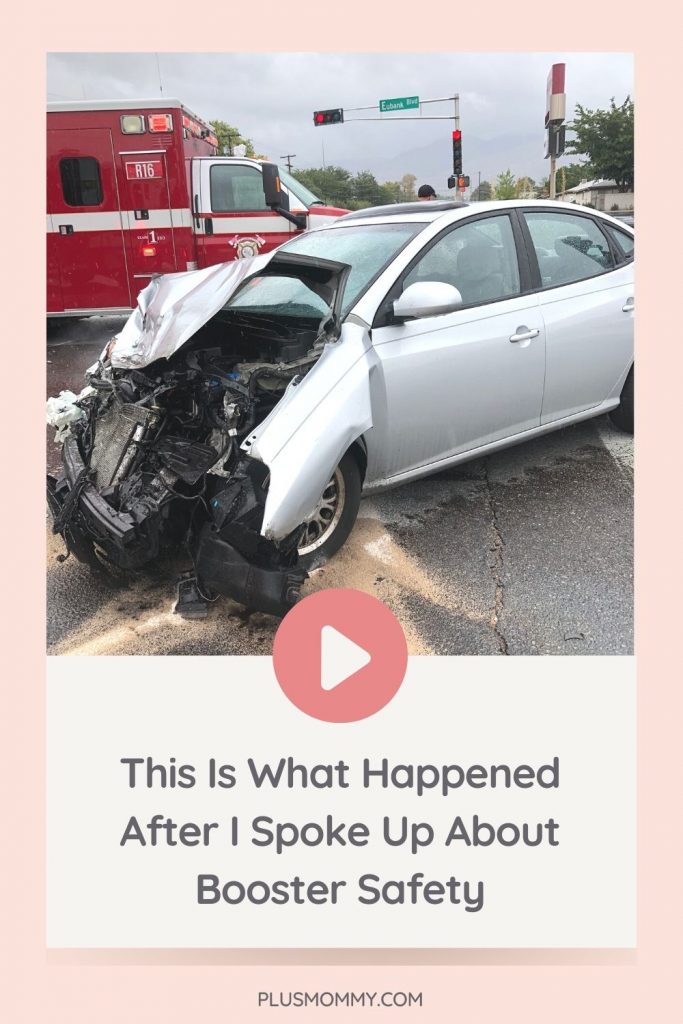 My Family's Story About Booster Safety
My husband, Chris, and I will forever be thankful we never budged on booster safety!
Starting last year in 3rd grade, our son Braeden would tell us names of friends who no longer used a booster seat. Braeden put the pressure on us even harder this year now that he's nine.
Braeden was secured correctly in his booster, on September 15th, when out of nowhere, an SUV ran a red light, and my husband t-boned them.
When I received the call from my husband I was at home. I could immediately tell something was wrong. He said they were just in a car accident down the street from our home. He thought they were okay, but told me the car wasn't.
I didn't realize how major of an accident it was, and that my husband wasn't okay until I arrived on the scene to see fire trucks and ambulances had already arrived. Unable to pull up to the scene, I pulled into a parking lot and ran!
At first, I couldn't see my son, and I screamed out, "Where's Braeden?!"
When I finally saw him, he was covered in something red – I must've looked like I was going into shock because multiple people screamed out that it was a drink.
Braeden was holding a red Slurpee that spilled all over him and the backseat when the accident occurred.
My husband and son were seated on the curb, surrounded by paramedics.
Then I turned my head to see the car, and my heart stopped. It was worse than I could've imagined.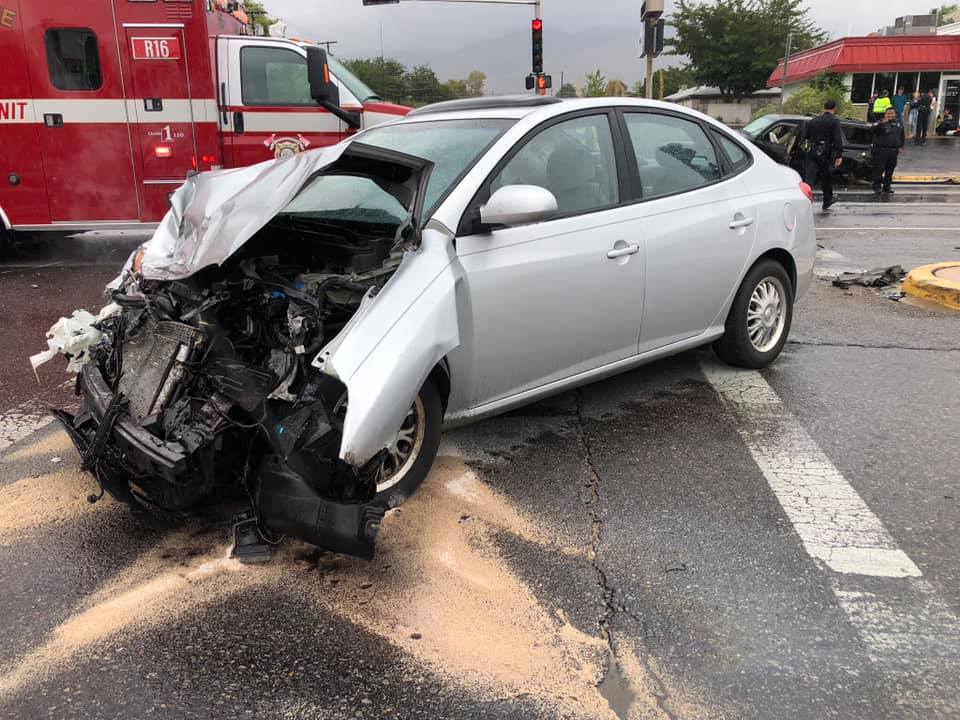 My boys were moved to the ambulance to be evaluated, and I tried to process everything that was happening.
The paramedics said how they don't often see kids my son's size doing so well after an accident like this. They said he would've been far more injured had he not been in a booster. The paramedics praised my husband and me for using a booster.
We left the scene of the accident after I asked a police officer if the people in the SUV were okay – he told me they were. Then we spent hours in the emergency room as our family joined, and my dear friend Brianna brought us a care package.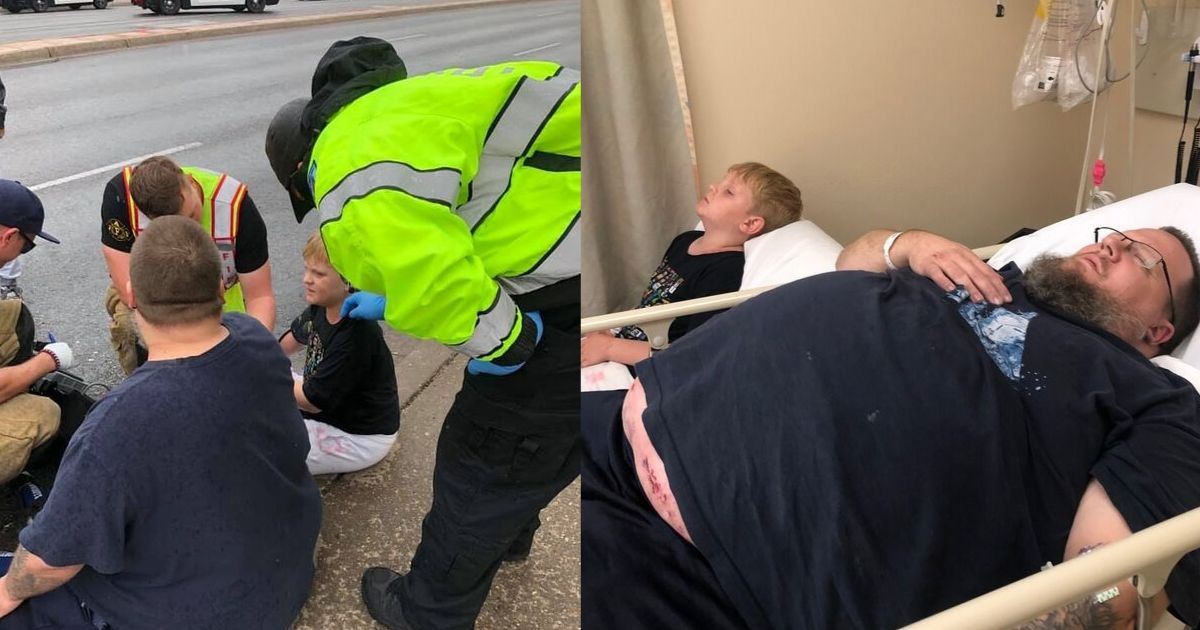 My son's chest and neck bruising clearly show how the booster kept my son at the appropriate height. Had he not been in a booster, the seatbelt would've been at his neck and face.
Things could've been so much worse, and while my son is doing well, my husband has a road to recovery.
Braeden told his pediatrician during our follow-up visit from the emergency room, "My moms says I have to be in a booster until college now, and I'm not happy about it."
His pediatrician and I laughed. We both told him he'd be tall enough long before college, but we need to wait until he's safe.
Braeden's pediatrician talked about how she has treated kids with neck and spine injuries from not being adequately secured in a booster. She also warned against putting kids in the front seat too soon as airbag injuries can be terrible.
I keep telling Braeden that cool kids are safe kids! He now agrees and doesn't complain at all getting into my car in his booster.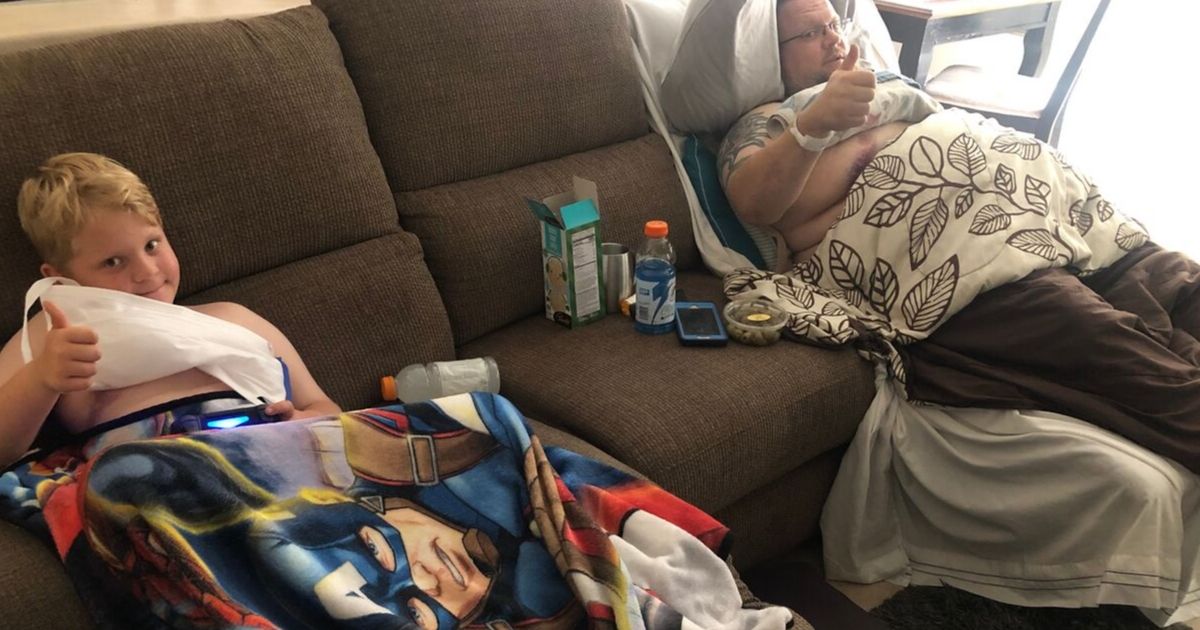 I wanted some good to come from this terrible accident.
We need more awareness of how vital boosters are for bigger kids – even if they don't think they are cool! It's incredible knowing that my Facebook post has reached over one million people with over 7,000 shares.
I've heard from close friends to strangers about how they are putting their bigger kids into boosters, and that makes my heart so happy.
On social media, I've read many comments from people sharing how they were considering removing their kid from their booster. After hearing our story, they will keep their kids in a booster until they meet all the safety requirements.
My parents also want to make sure grandparents hear this message loud and clear too. They didn't mind buying our son a booster for their car but thought we were a bit extreme. Now they are so thankful and are telling everyone they know who has kids and grandkids about booster safety.
My family is so grateful our story is making an impact and appreciate everyone who has kept us in their thoughts!
During episode 72 of the Plus Mommy Podcast, I share the story of my family's terrible car accident, why I spoke up about booster safety, and how that message has gone viral. My nine-year-old son, Braeden, joins me briefly with a message for kids who don't want to be in boosters. As Braeden says, "Cool kids can also be safe kids!"
Recording & Show Notes: Plus Mommy Podcast Episode 72
Be sure to subscribe to the show on iTunes, Google Play, Spotify, Stitcher, or iHeart Radio. I'd be incredibly thankful if you took the time to leave a review. Follow Plus Mommy via your favorite social media outlet (Instagram, Facebook, Pinterest, and Twitter). Thanks for being part of this community!
Resources Mentioned On The Show:
Connect with a local Certified Carseat Tech to answer all your specific needs for your kid's car seat or booster safety.
This is a helpful resource for booster safety from the Car Seat Lady – Booster Seats.
For those asking how you can help my family, here's our GoFundMe link and my Venmo is Jennifer-McLellan-2.
This is the article from Today mentioned during the episode.
Call into the Plus Mommy Podcast with your questions and help me with upcoming episodes – 505-926-1303. I really hope you'll call-in with questions about plus size pregnancy, motherhood, plus size lifestyle, etc.