Are you trying to find a fat-friendly doctor? You're not alone!
Below you'll learn helpful tips and advocacy tools to receive the evidence-based, compassionate care that you deserve.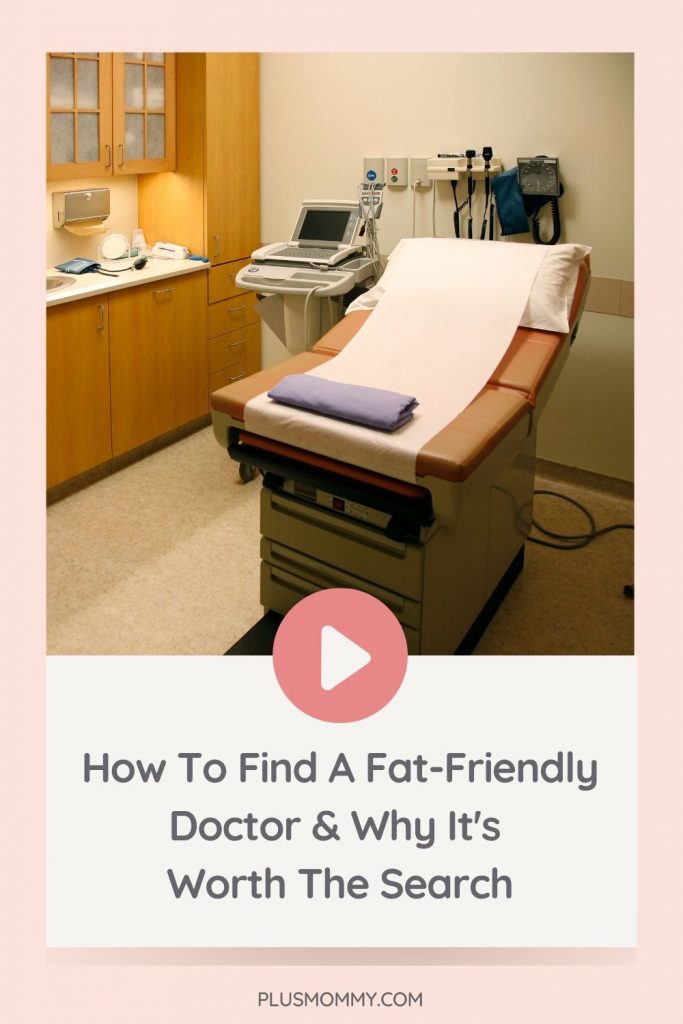 Find A Fat-Friendly Doctor
Sadly, many plus size people have heartbreaking stories of mistreatment – from outwardly being shamed to having all of their medical concerns dismissed and only told to lose weight.
Starting the search to find someone who will treat you with kindness can be daunting. So, we hope these five steps to finding a fat-friendly doctor are helpful!
Step One – Research Prospective Fat-Friendly Doctors
You can easily get a list of care providers covered by your insurance or people who take medicare. However, it's hard to know by looking at a long list of names who is size-inclusive.
It would be wonderful if care providers listed on their website if they are size-friendly or not. But, until that day, we can review the information we find online and attempt to read between the lines.
Don't worry; there's a lot more you can do!
One of the best ways to find a fat-friendly doctor is to ask your plus size friends and co-workers if they have a provider they love. Then, if they give you a few leads, check to make sure your insurance covers them.
If you don't get any leads, consider joining a local mom's Facebook group. Then, post that you're plus size and looking for fat-friendly or size-friendly doctor recommendations. This is a tip that has helped many people to get leads!
Once you get a few names, check who your insurance covers and do some online Googling of your selected care provider.
Remember, just because a care provider is a right fit for another plus size woman, it doesn't automatically mean they'll be perfect for you. So, you'll want to walk through the other steps below.
Step Two – Call Ahead To Your Doctor's Office
When you're booking your appointment, you have the opportunity to ask for more than just the facility's address.
Ask if they have large blood pressure cuffs and gowns. You can even question if they have BMI restrictions and if they see plus size patients. While they'll likely say they see people of all sizes, you can listen to the tone of their voice when they answer your questions.
Sometimes you can speak with your prospective care provider before your first appointment – it never hurts to ask if that's a possibility!
Step Three – Make Observations
As you arrive for your first appointment, pay attention to how people treat you.
Look around the lobby – are there chairs without arms and a place for you to sit comfortably?
What type of materials do they have on display?
When you're called back, how are you treated when they ask you to step on the scale?
As a mentally competent adult, you have every right to refuse to be weighed or say that you'll get weighed later on if it's medically necessary (for example, if weight is needed for a medication dosage).
You might get some pushback if you decline being weighed, but that is your right. There are also other options, and one of my favorites is standing backward on the scale. You can also weigh yourself at home and let them know the number.
When taking your vitals, pay close attention to ensure the correct sized blood pressure cuff is wrapped around your arm. If it's too tight, speak up!
If you need to undress, are you provided with and gown and drape that fully cover your body?
Once your care provider enters the room, watch their body language and listen to how they talk to you.
All of these observations will help you to decide if you're in good hands.
Step Four – Ask Questions
Now's your opportunity to ask questions and address anything important to you.
You can openly talk about how care providers in the past have treated you and that you're looking for a fat-friendly doctor.
One great tool is the BRAIN acronym! It's a set of questions you can ask when making medical decisions.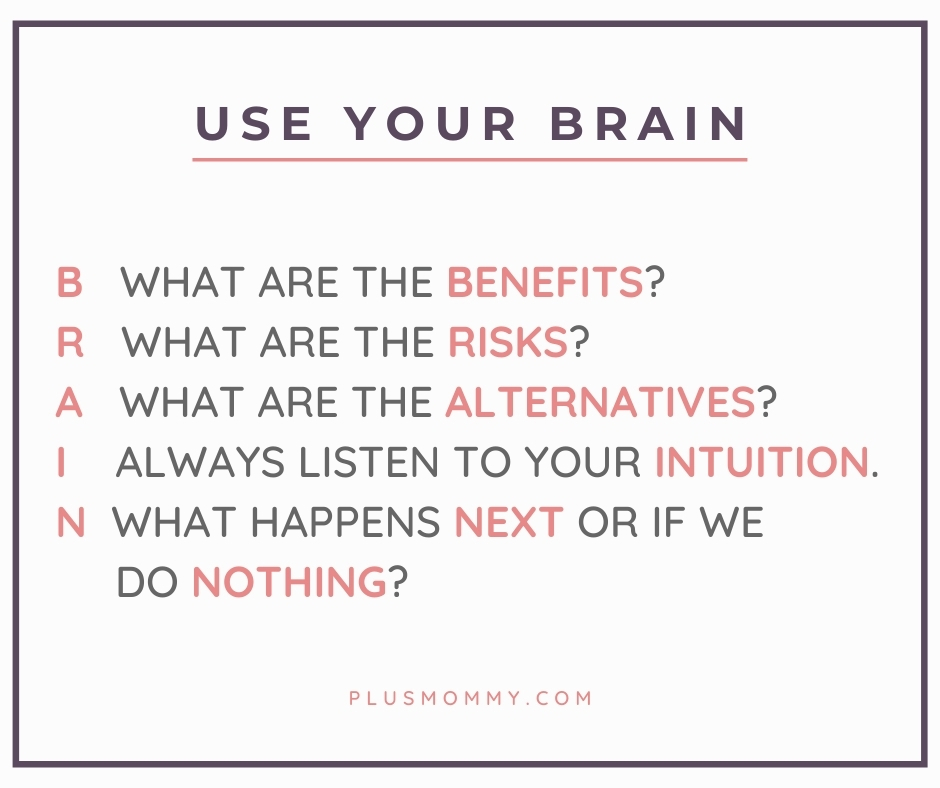 Step Four – Trust Your Gut When Searching For A Size-Friendly Care Provider
Trust your gut!
You can often tell pretty early on if your care provider is size-friendly or not, so listen to your intuition.
I know it isn't easy to keep searching for a fat-friendly care provider if this first visit doesn't work out, but it's always worth it!
You deserve to be treated with dignity!
What can you do if your doctor isn't size-friendly?
We hope you never need to use these tactics, but they can be effective if you face mistreatment.
First, it's essential to know you can fire your care provider at any time. You don't need to wait for the end of your appointment – you can get up and leave at any time.
But, there are times when you need care right away.
Whenever possible, bring a support person with you. Even just having someone in the room with you can change how people of size are treated.
If you need medical attention and feel your care provider is only telling you to lose weight, you can ask what recommendations they'd be making for someone who has a smaller body.
You can take it a step further and ask for it to be documented in your records that they aren't providing you with medical treatment because of your size. Hopefully, you never need to make this request, but it often shifts the conversation quickly.
Thankfully, there are many size-friendly care providers out in the world waiting to connect with you!
Listen to episode 150 of the Plus Mommy Podcast for more tips on connecting with a fat-friendly care provider, and the impact it can make on how plus size people experience healthcare.
Recording & Show Notes: Plus Mommy Podcast Episode 150
Resources Mentioned On The Show: