Before I share my new body love anthem, I want to say that this article isn't about The Greatest Showman movie. This article is about one song and powerhouse plus-size actress featured in the movie.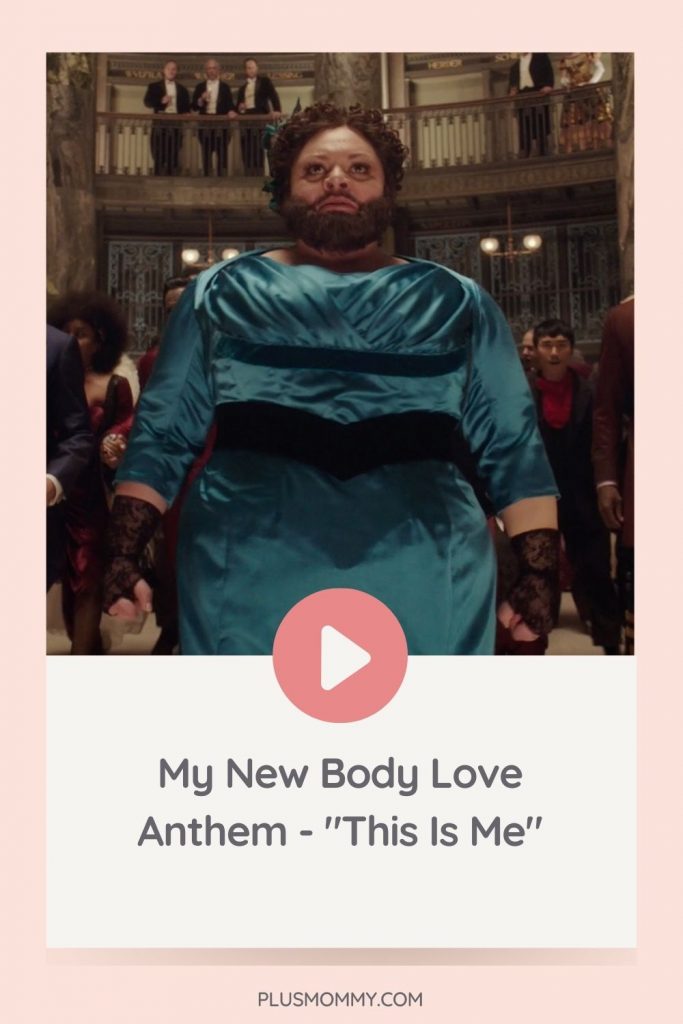 When it comes to body love anthems, Christina Aguilera's "Beautiful" is always a front-runner. Sure, "All About That Bass" causes a booty shake, but it doesn't move me to my core.
Then the other night, while scrolling on my phone taking two minutes for myself, my jaw dropped.

Okay, yes, I was peeing – but it's the only time we moms get a break.

Anyway, I found myself smile-crying on the toilet and you just need to experience this for yourself…
Keala Settle is no Christina Aguilera – Keala is your average 42-year-old plus size woman.
That's one of the many reasons I love this video so much and why "This Is Me" is my new body love anthem!
While I'm sure Christina has her own struggles with body image, it's hard for me to relate.
When I watch Keala sing, I can feel her pain and understand it as my own.
Many of us struggling with body love can relate to not feeling good enough, pretty enough, or worthy enough.
We desire to fit in and harm our body trying to obtain a perfection that doesn't even exist.
It's invigorating to witness the way Keala belts out this song with her award-winning Broadway skills. She proves that when you're brave enough to step into your power and self-love, you can impact everyone around you!
Stepping into our truth and accepting who we are today, regardless of what we want to look like tomorrow, takes true bravery!
Below you'll read my favorite verse of "This Is Me".
When the sharpest words wanna cut me down
Gonna send a flood, gonna drown them out
I am brave, I am bruised
I am who I'm meant to be, this is me
Look out 'cause here I come
And I'm marching on to the beat I drum
I'm not scared to be seen
I make no apologies, this is me
Absolutely, I make no apologies, this is me!
Cover Photo: Keala Settle in The Greatest Showman by Twentieth Century Fox
Want even more body love? Checkout our Body Love Book List!