Yes, we absolutely need a plus size mom podcast and we're thrilled you're here.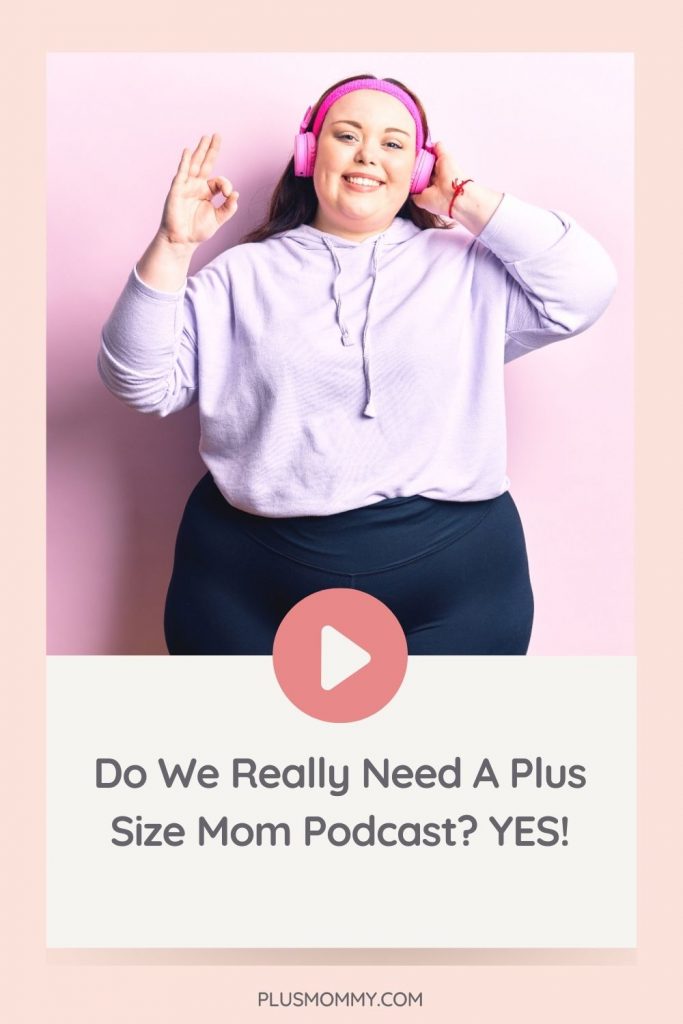 What's the need for a plus size mom podcast you might be wondering?
We live in a society where being plus size (or fat if you don't mind the F-Word) is unacceptable.

Sure, plus size model Tess Holliday graced the cover of People Magazine. There's also a very likable visibly plus size woman on the hit TV show This Is Us. Yet, we still have a very long way to go and that's apparent from the daily bullying people of size face.
There's this societal belief that plus size = bad, lazy, unworthy. What's worse, many plus size people feel that way about themselves.
This Plus Mommy Podcast is here to provide a space for moms-to-be and moms to feel a little less alone.
We'll address common frustrations and concerns including how to raise body positive kids. Share tips on how to feel healthy in our body without the focus being weight loss (because we've already tried every diet out there…twice).

We'll help to reduce the fears many of us experience while having a plus size pregnancy. Plus size moms rock yoga pants as well as enjoy getting dolled up so we'll play with fashion (and have guest fashionistas).

It's so important to love a body that we are led to believe is broken – self-love is something everyone should tap into and here you'll learn how.

And so much more!
There are genuine fears plus size moms face. At Plus Mommy, we face them together.
Here, you'll find community!
Regardless of how you became a mother or your parenting philosophies, we welcome you.
But hasn't Plus Mommy already been around for years?
Yes! The Plus Size Mommy Memoirs blog (now called Plus Mommy) launched way back in April of 2011. It was housed within the Plus Size Birth website for over six years – so now it has space of its very own.

How exciting is that?

The Plus Size Birth website is packed full of resources for those who are experiencing a plus size pregnancy. Here, at Plus Mommy, we're going well beyond the bump!
We already have a Facebook community of over 200,000. Connect on Instagram and Pinterest, too.
Be sure to subscribe to our newsletter to receive our 10 Steps to Body Love. This way you'll stay connected as we continuously add resources and guest interviews to this one-of-a-kind resource that is Plus Mommy.
Welcome to the plus size mom podcast you've been searching for – Plus Mommy!
You can listen to the show here on the Plus Mommy website or via your favorite podcast app. Subscribe and enjoy!