Plus size fashion designer Ashley Nell Tipton tells the story behind becoming the winner of Project Runway Season 14.
During episode 114 of the Plus Mommy Podcast, Ashley digs in deep and shares what happened on and off-screen. As well as how her life has changed since winning the show.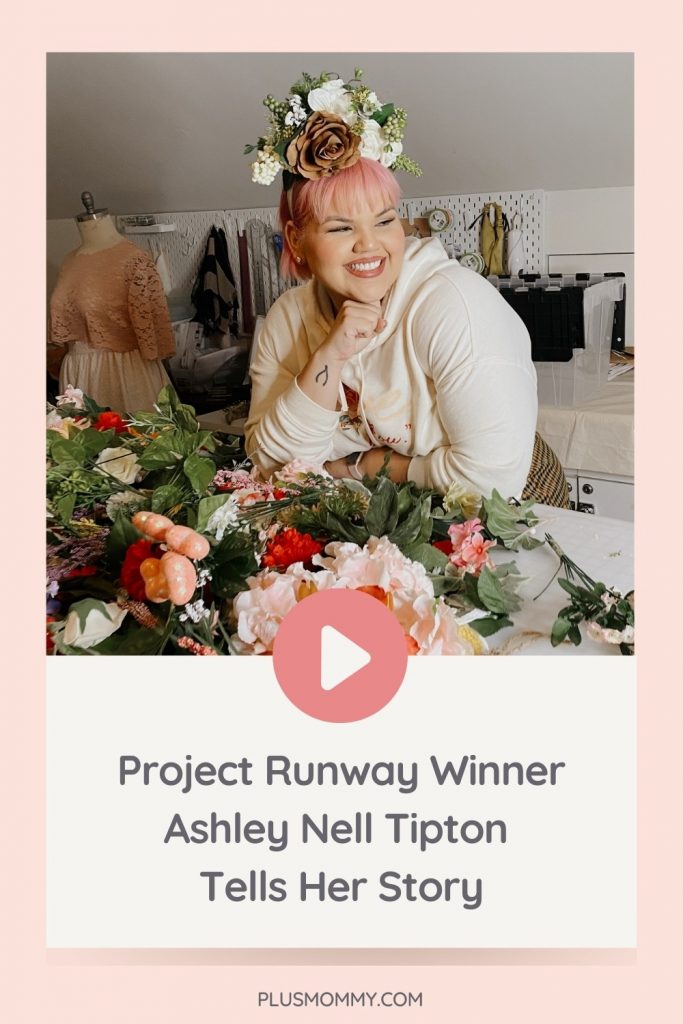 Ashley Nell Tipton Project Runway
Ashley's grandmother introduced her to painting, crocheting, knitting, hand sewing, and the sewing machine at a young age. She cherished this time with her grandmother and all she was learning.
Like most kids as they grow older, their interests shift. As Ashley shares, "I lost interest for a few years until I got into high school, and I was like, I don't see myself in magazines. I don't see myself on TV. I think the only person that I could relate to at that time was Kelly Osbourne."
Ashley's frustration with the lack of clothing options intensified after getting a job at Torrid. She heard from countless plus size women who wanted access to so much more!
While still in high school, Ashley designed a clothing collection featuring a variety of sizes for one of her final exams. She was in her element!
Ashley declared that she would become the best plus size clothing designer!
After high school, she found herself in fashion school designing clothing for only straight-sized people.
It wasn't until her senior year that she was able to talk with a professor about how plus size clothing is made.
Ashley became one of the first students at her school to create a plus size collection.
It was this collection that caused a buzz after being photographed and shared online in 2012.
"And that's when I did Full-Figured Fashion Week, which was like the Oscars for us in the industry. It's huge. It was like the only event once a year that plus size women could come and have the safe space to be who they are and to meet all these amazing women from all around the world."
At this time, Project Runway sent Ashley an email encouraging her to audition for the show.
"I got that email to apply for Project Runway because I was referred from my college. And I was like, oh my gosh, I want to do this so bad. But something told me, I was like, Ashley, you're not ready yet. You're not ready. You know? If this is right for you, this moment will come back again.'"
Ashley got to work growing her business for the next few years.
Two days following her beloved grandmother's passing, Project Runway came calling again.
With the encouragement and support from friends and family, Ashley was ready.
Yet, she was also grieving.
"All that emotion, all that sadness I mean everything about losing my grandmother, gave me the drive to get through Project Runway."
Ashley Nell Tipton's Project Runway Audition Tape
Listen as Ashley Nell Tipton shares her experience during season 14 of Project Runway. From behind the scenes details and what it was really like working with Tim Gunn – this episode of the Plus Mommy Podcast is a must-listen!
Today, Ashley continues to support the plus size community with her talents that have expanded to mask making. She's about to launch a new self-love program called Love You!
Recording & Show Notes: Plus Mommy Podcast Episode 114
Resources Mentioned On The Show: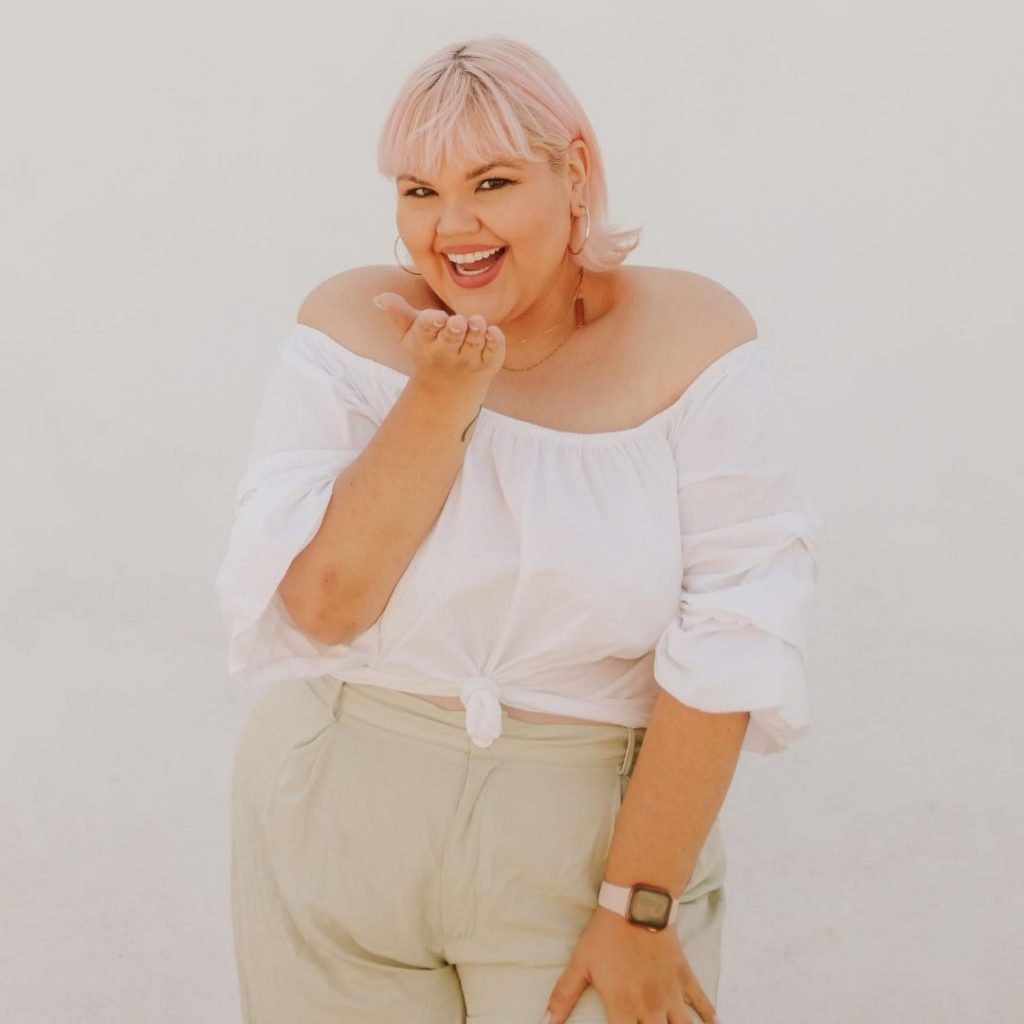 Her passion for fashion started at a very young age where she learned to sew on her grandmother's sewing machine when she was just seven years old, and only continued to grow her talents from there. Tipton went on to attend Fashion Careers College where she got her AA in Fashion Design and Technology. Her senior collection at Fashion Careers College was highlighted in the annual Golden Hanger Fashion Awards. She's also showed her collection at New York's Full Figured Fashion Week in 2012.
After entering and winning Project Runway in 2015 Ashley signed a contract with clothing retail giant JC Penny to design and be the face of their "plus-size" Boutique +
She has also designed Plus Sized patterns for Simplicity and her own jewelry line for K&M Accessories. Gifted in understanding the needs of the plus-size consumer Ashley released her first line of apparel and eyewear in November of 2017 and continues to work as a design consultant for other plus size establishments.
---
Thank You To Our Sponsor:
This episode is also brought to you by Plus Size Birth! Use coupon code PlusMommy to receive 20% off the My Plus Size Pregnancy Guide that covers everything you could want to know about having a plus size pregnancy.