Dr. Alisa Baer is a pediatrician, co-founder of The Car Seat Lady, and a National Certified Child Passenger Safety Instructor. She joins the Plus Mommy Podcast to share what parents need to know about booster safety.
During this episode we go well beyond the basics – even addressing how a child and parent's weight can impact the passenger safety choices families need to make.

This is an informative episode that will hopefully change the way you think about booster safety.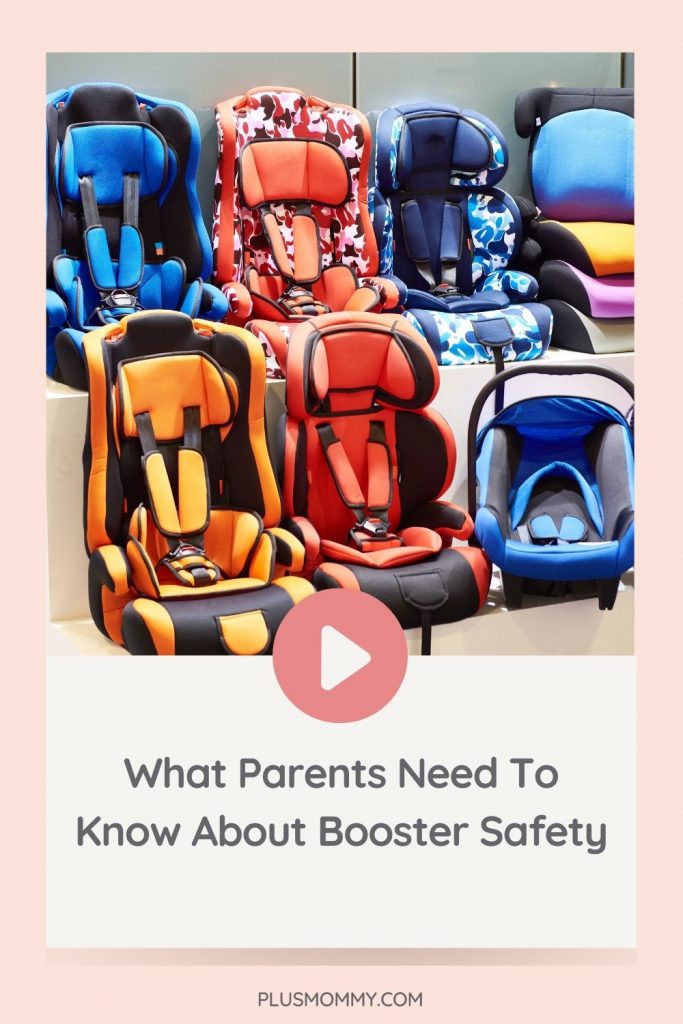 Booster Safety Tips
Below are some of the top topics we cover on booster safety.
Tell Your Kids Booster Safety Is Non-Negotiable
It's common for kids, and even adults, to push back on booster safety.
As parents, it's our job to keep our kids safe.
Dr. Baer shares, "Help the child to understand that safety is non-negotiable. There are certain things that you will discuss ad nauseam with them, like, do they want to wear blue shirts or purple shirts. And certain things the child needs to know that there's no negotiation."
What makes a booster different from a car seat?
A car seat is a restraint. If there's a car accident, the five-point harness secures the child.
A booster is a positioning device that does not restrain a child.
The booster positions the child's body to fit better in the vehicle using the seatbelt to secure the child in case of an accident.
When should a child move from a car seat to a booster?
Kids need to remain in a car seat until at least five-years-old and a weight of 40 pounds.
There's another benchmark that isn't often addressed, "The most important part, which people often don't hear at all, is that the child needs to be mature enough to sit properly in the booster."
If your little one wiggles around a lot, they probably aren't ready to transition to a booster. With that said, it's critical to be aware of the weight limit of your car seat.
Are there different types of boosters?
There are two different types of boosters – high back and backless.
When does a child no longer need to be in a booster?
Most kids will need to be in a booster until 10 to 12 years of age.
The image below, developed by The Car Seat Lady, clearly shows the benchmarks kids need to meet to no longer need a booster.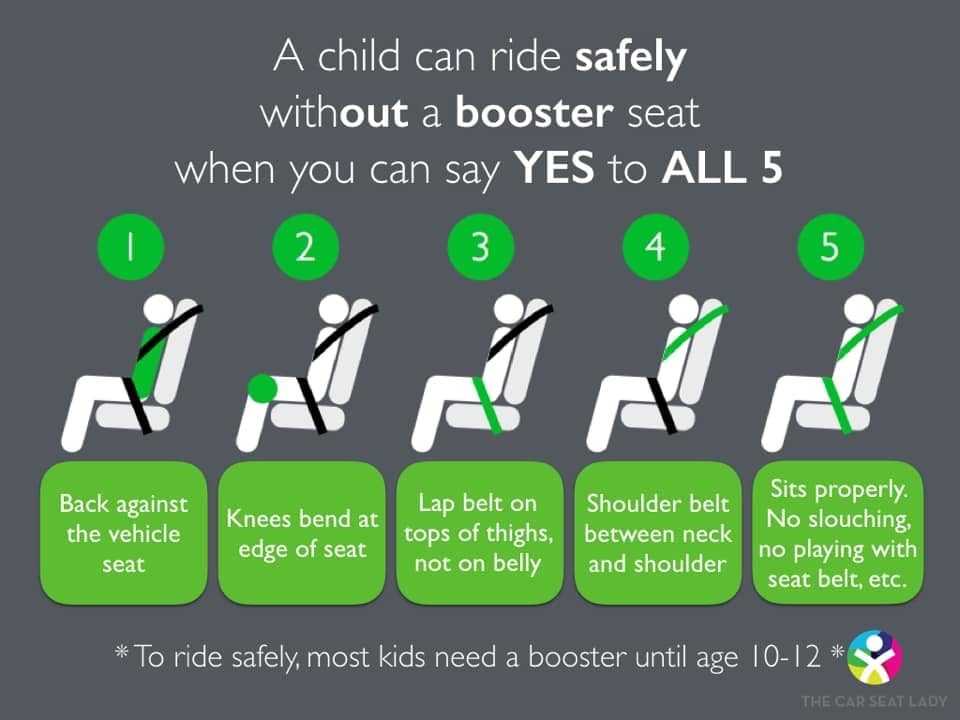 All of the positioning points above are incredibly important for booster safety. One that people of all ages don't often get right is making sure the belt is positioned on a person's lap and not their belly.
Sadly some of the worse injuries during a car accident, especially for children, are if the seat belt isn't on the lap.
If you're pregnant or a person of size, you need to make sure the seat belt is tucked under your stomach so it can sit on your lap and not across your belly.
What is the best booster seat for wider kids?
While no current boosters on the market go above a 120 lb weight limit, The Car Seat Lady has a few recommendations on their website for bigger kids.
What should plus size parents know about where to position kids in the car?
With g-forces in a motor vehicle collision, everything in a car becomes extremely heavy.
Whenever possible you don't want a child seated directly behind a plus size parent in the car. In a crash, seats in the car can recline backward for people of all sizes, but the risk increases for larger passengers.
Learn more about booster safety and deep dive into the topics above by listening to episode 117 of the Plus Mommy Podcast.
Recording & Show Notes: Plus Mommy Podcast Episode 117
Resources Mentioned On The Show: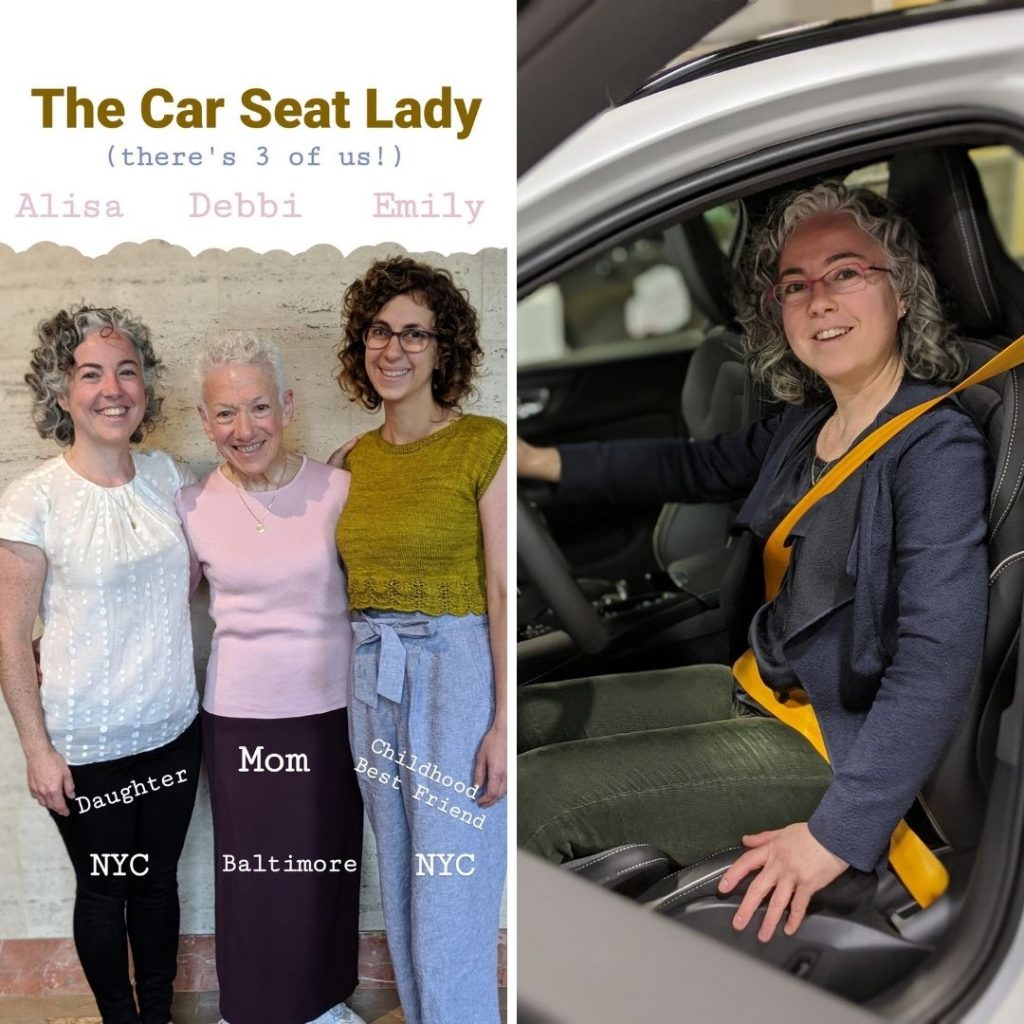 Dr. Alisa Baer is a board-certified pediatrician, nationally certified child passenger safety instructor, and co-founder of The Car Seat Lady. In her 22 years in the field of vehicle and car seat safety, Alisa has consulted with many of the leading car seat manufacturers in the design and development of their car seats, collaborated on programs that improve how children travel in urban environments (such as Uber's car seat program in NYC), and personally installed over 15,000 car seats. Alisa has been featured as a car seat expert in major publications including The New York Times, The Washington Post, CNN, and many more. She also develops the content for The Car Seat Lady's website and popular social media channels, primarily Instagram and YouTube, which empower parents worldwide with evidence-based research and recommendations on vehicle and car seat safety.
Thank You To Our Sponsor:
This week's podcast episode is sponsored by The Myriad Prequel Prenatal Screen, a noninvasive prenatal screen that demonstrates highly accurate results for all patient types, regardless of BMI. Learn more by asking your care provider about Myriad's Prequel Prenatal Screen or go to myriadwomenshealth.com.