As a medical assistant, Nia's plus size pregnancies challenged her view of the maternity care system. During episode 118 of the Plus Mommy Podcast, Nia shares her pregnancy and birth stories, along with changing her career path to becoming a doula!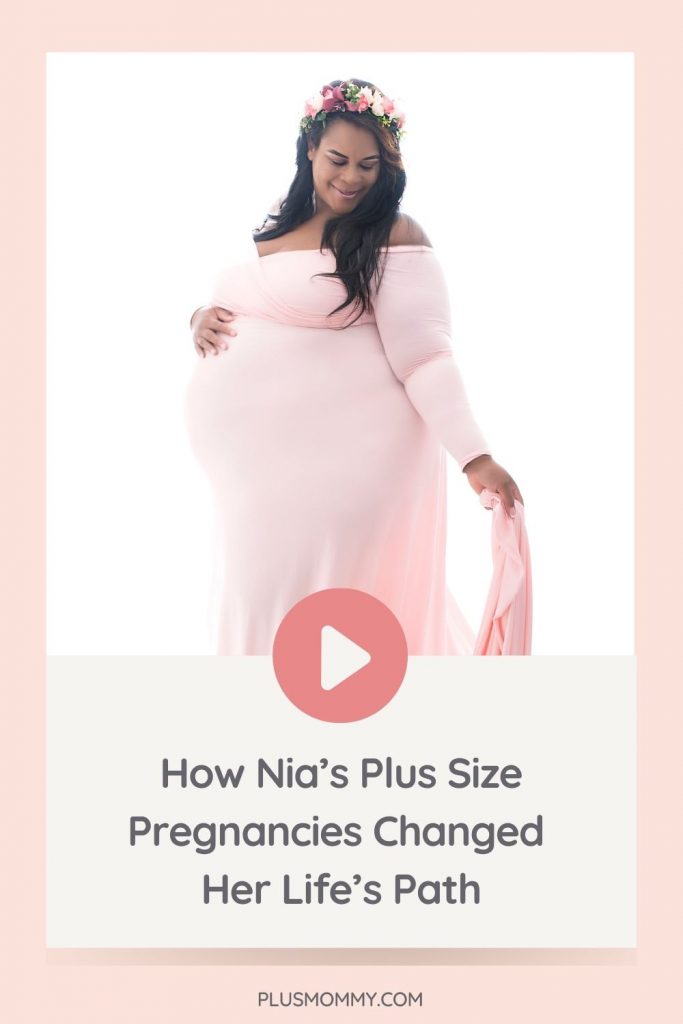 Nia's Plus Size Pregnancies
For three years, Nia and her husband tried to get pregnant. Following the advice of her OB-GYN, they decided to see a fertility specialist.
Unlike what most plus size women experience, the first fertility doctor she connected with was size-friendly.
To Nia's great surprise, she got pregnant before her treatment plan even started!
For her first trimester, she stayed under the care of her fertility specialist. Early on in pregnancy, she found out she had a short cervix. When you have a short cervix, you're at a higher risk of having preterm labor.
At three months, Nia was transferred back to her OB-GYN, who is also size-inclusive.
While it wasn't the most pleasant experience, Nia started taking progesterone daily via vaginal suppositories. Along with the medication, she had to get used to being on pelvic rest. This restriction meant her duties at her job became extremely limited, and she wasn't able to have intercourse with her husband.
At 24 weeks, she was able to get off pelvic rest.
Aside from having a short cervix, Nia had a completely healthy plus size pregnancy!
The weight discussion between her and her doctor only arose when Nia would discuss it. She felt utterly supported and empowered to have the unmedicated childbirth she desired!
At 38 weeks, she went in for a routine doctor's visit. Unfortunately, Nia found out her blood pressure was elevated, and her OB-GYN recommended an induction.
Nia was understandably disappointed, but she was still determined not to have any pain medication.
Having a shorter cervix meant that labor progressed fast.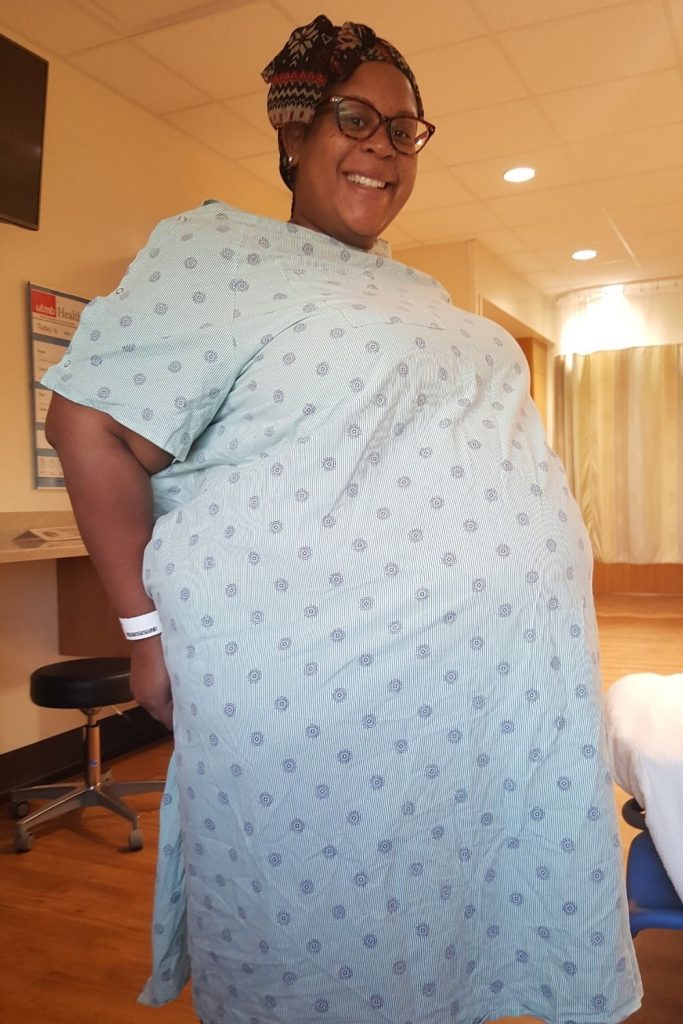 They started on her Pitocin around 9:00 am, and her daughter was born at 3:30 pm.
Nia felt because she had such a great care provider and support system, she gave birth without any pain medication.
She felt so great she went home from the hospital the next day with her wonderful husband and perfect brand new baby girl!
Eighteen months later, Nia and her husband felt it was time to start trying again since it took so long to get pregnant with their first. Five weeks later, she found out she was pregnant!
To her great surprise, she also found out her cervix was measuring normal. She was overwhelmed with emotion, but the worry never entirely went away throughout her second pregnancy.
At each visit, she would bring up concerns, and at each visit, her care provider would reassure her that everything was fine with her cervix.
Since Nia worked with anesthesiologists, she often picked their brains throughout her plus size pregnancies. One day a doctor commented about how many c-sections he had done the night before—a total of eight c-sections with 16 patients giving birth that day.
Nia spoke up about how that hurt her heart and continued to speak up to other doctors about her feelings.
Nia thought she wanted to become a labor and delivery nurse. Following these conversations, she didn't know if she could handle seeing so many people have cesarean births that aren't always medically needed.
Nia felt like there had to be something more, some way to help people advocate for themselves, and she connected with a friend who is a doula.
Nia started learning about how to become a doula when she was six months pregnant with her second daughter.
As her pregnancy progressed, Nia's doctor provided most of her prenatal care. But she had to transfer her care near the end because her doctor was also pregnant.
Her new OB-GYN wasn't as size-inclusive as her first and pushed for Nia to give birth at a larger medical facility due to her size. But Nia advocated for herself and said she wasn't going to deliver at the other facility.
During a routine visit at 38 weeks and five days, Nia was already dilated 5 cm. Her doctor told her that she was technically already in active labor.
Nia responded by asking if she could first see the Lion King, and then she'll come in the morning to the hospital. She had one last wonderful meal and night out before becoming a mother of two.
The next morning Nia and her husband went to the hospital to give birth.
Nia was told they were going to start Pitocin, but she refused. Her care provider offered to break her water instead. She consented because that seemed better to her than Pitocin.
Her water was broken around 9:00 am, and her baby was born at 1:00 pm.
Nia's 8 lb daughter was born in two pushes! She felt incredible, and like her first birth, she went home from the hospital the very next day.
Nia breastfed both of her babies, and as a Black plus size woman, that means so much to her – she wants people to know it's possible!
When her second daughter was two months old, she circled back to her friend to start her journey to becoming a doula.
Nia's plus size pregnancies inspired her to follow a new life's passion to help people advocate for themselves throughout pregnancy, birth, and postpartum.
Listen to Nia's full story below during episode 118 of the Plus Mommy Podcast.
Recording & Show Notes: Plus Mommy Podcast Episode 118
Resources Mentioned On The Show:
Thank You To Our Sponsor:
This week's podcast episode is sponsored by The Myriad Prequel Prenatal Screen, a noninvasive prenatal screen that demonstrates highly accurate results for all patient types, regardless of BMI. Learn more by asking your care provider about Myriad's Prequel Prenatal Screen or go to myriadwomenshealth.com.