Do you want to go on a cruise as a plus size person but have concerns?

Are you worried about the bathroom size and weight limits on cruise excursions?

Do you wonder how to pack plus size cruise wear?

You've come to the right place!
Travel Agents and seasoned plus size travelers, Jimmy and Amanda of Chubby And Away, talk about going on a cruise while plus size.

We're covering all your concerns and bringing up some points you probably haven't even considered in this extensive resource.

Before we lift anchor, you should know that kids are free on many cruise lines.

So, going on a cruise is an excellent option for a family vacation with plenty of activities for people of all ages (and sizes).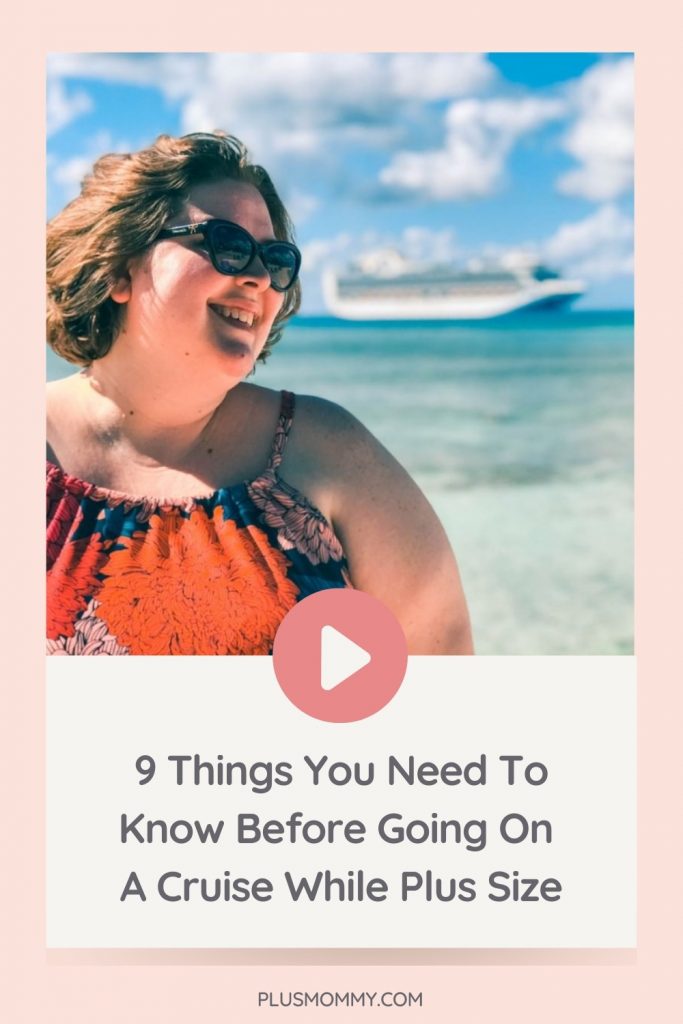 Cruises For Plus Size People
While we wish we could provide you with an extensive list of fat friendly cruises, the reality is all cruise lines and ships are different!

Cruise ships are often being refurbished (thank goodness), and sparkling brand ships are setting sail.
How do you find the best cruise line for obese people?

We encourage you to spend time looking at ship tours via cruise line's websites and go onto YouTube to watch videos.
Virtual tours provide you with insight on crucial obstacles people of size commonly face while going on a cruise that we address in this resource.
For example, does the stateroom bathroom have a shower curtain instead of doors?

Curtains allow for the bathroom to be far more accessible for people of size (a lot more on that will be covered below).
And one of our biggest pet peeves, does the theater seating look size inclusive?
If you can't find a recent virtual tour or still have unanswered questions after viewing one, call the customer service line for the cruise.

Another option is to connect with Chubby And Away for their size-inclusive travel agent services.
Thankfully cruise lines are starting to pay more attention to the needs of people of size, and newer ships tend to have shower curtains and accommodating theater seating!
Getting To Your Cruise As A Person Of Size
If you're lucky enough to live within driving distance to a port, that's your best bet! Drive, park, and enjoy your vacation.
For most of us, however, a flight is required to get to your cruise's departure location.
Flying not only limits the amount of luggage you can take with you but also can be a source of anxiety for people of all sizes.
Thankfully we've got you covered with this extensive Flying While Fat resource that includes how to get a free middle seat via Southwest's Customer Of Size Policy.
Plus Size Cruise Wear
When you research going on a cruise as a plus size person, the topic you'll see mentioned most is plus size cruise wear.

We get it, people of all sizes want to look adorable while on vacation.
When you're plus size, clothing not only takes up more space in your luggage but also weighs more.
Most cruise ships don't have a limit on the luggage you can bring, but if you're flying to your departure port, airlines do have limitations.
The reality is most people pack far more clothes and shoes than they'll wear.

While you can use helpful packing tricks like rolling or space bags, start by paring down what you're bringing!
You can do laundry aboard the ship, and rotate the clothes you bring by mixing and matching outfits.

Remember, your stateroom will probably be small so you don't want to fill it with luggage beyond what you can fit under the bed and in the closet.
You truly don't need to bring an outfit for each day!! Pack a few staples, a formal outfit or two, and most importantly, comfortable shoes.
Concerns About Cabin Size
Cruising 101 – the more you spend, the bigger the stateroom. With that said, you aren't in your cabin very often. You just need to be able to comfortably sleep, shower, and pee!
If you're concerned about having a tight room, an interior cabin isn't ideal, but it's manageable for people of most sizes (see our section on bathroom accessibility below).
If you can afford a bit more, a balcony cabin will provide you with a few more square feet.

Just note, the balcony chairs provided almost always have arms and are not accommodating for people of size.
Every cruise line has accessible staterooms, but they are reserved for people with disabilities.

You can inquire with your cruise line regarding their qualifications, and if you might be able to request an accessible stateroom close to your departure date if they haven't already been filled.
Regardless of what size room you get, be sure to take really good care of your room steward beyond the gratuity you pay as part of being on a cruise.
Once you get settled in your room, Amanda highly recommends writing a quick note for your room steward along with a $20 bill before you set out to explore the ship.

She always does this and shares that the staff is incredibly thankful and takes fantastic care of all her needs throughout her stay!
Cruise Ship Bathroom Size And Accessibility
One of the biggest unspoken concerns people have about going on a cruise is being able to fit in a tiny bathroom comfortably to shower and use the toilet.
We're going to address all your cruise ship bathroom questions in great detail, so you feel far more at ease!
As we mentioned above, try selecting a cruise line that has a shower curtain rather than a shower door. With this layout, the entire bathroom essentially becomes the shower, and it's very accommodating for people of size.
The bathroom floor has drains, so you don't need to worry about getting water everywhere.
Having a shower curtain instead of doors also allows more room for you to sit on the toilet comfortably.
And fear not, the toilet is far more sturdy than it feels when you sit down on the plastic seat.

Remember everything on a cruise ship has a little give, so the odds are quite slim that you're going to break the toilet.
With all of this shared, what can you do if the bathroom is too small for you to shower or use the toilet?
Unfortunately, cruises are almost always at 100% capacity, so the likelihood of you being moved to a different room is slim, but it never hurts to ask.
There are accessible bathrooms located throughout the ship that are far more roomie than the one in your cabin.
If you need more space to shower, all cruise lines have spas with showers. Address your needs with the cruise staff and request a spa pass – we sure hope they won't charge you!
Seating Throughout The Ship
Theater seating can be a nightmare when you're plus size, as the seats are often smaller than airplane seats. While newer ships are more accommodating, you might run into this issue.
Always know that you can advocate for yourself and address any concerns with cruise staff! Ask for seating accommodations to be made for you.
Thankfully from dining to lounging, you'll almost always find chairs without arms throughout cruise ships.
The staff is trained to look out for your needs. They often direct people to chairs without arms without you even needing to ask.
If you're ever in an area where there aren't size-inclusive chairs, be sure to advocate for your needs by addressing concerns with staff.
Transportation On And Off The Ship
When your ship arrives at most ports, you use a small boat called a tender to be transported to your destination.
Tenders are size inclusive because they almost always have bench seating.
In most cases, you'll walk down a ramp and then step down into the tender boat. Staff members are trained to help guide people on and off the moving tender.
Take your time and accept the help that is being offered! Remember the staff is trained to help people of all sizes, ages, and abilities.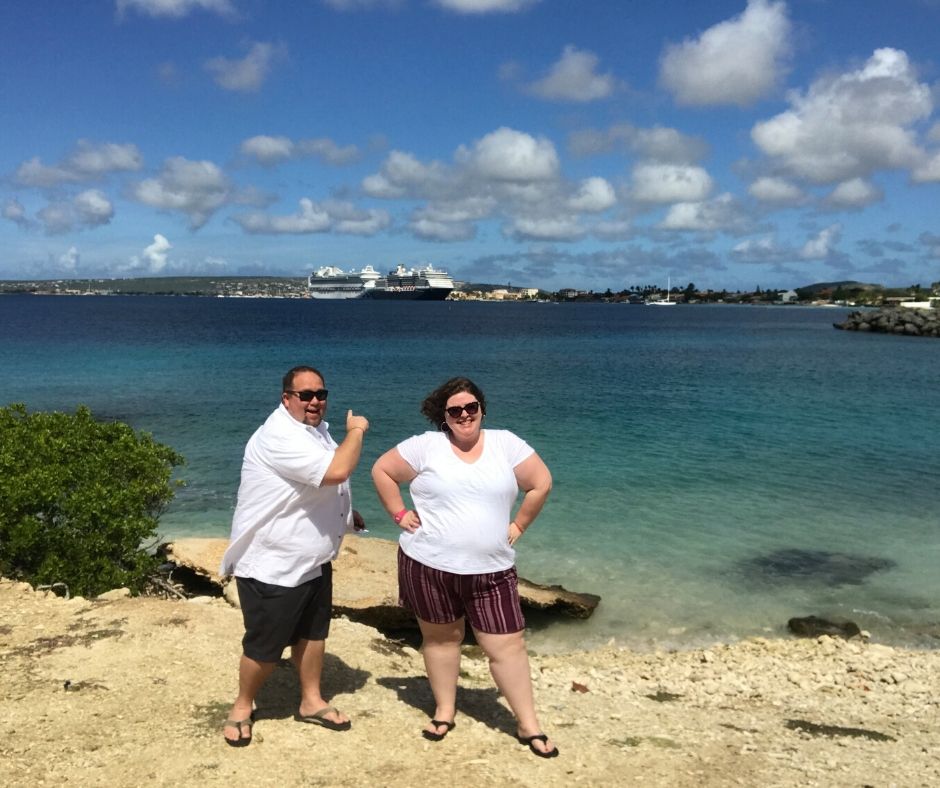 Weight Limits On Cruise Excursions
Unfortunately, there isn't a lot of information provided about the accessibility for plus size people during group excursions.
There will always be unknowns when it comes to weight limits on cruise excursions and inclusive seating options.
Amanda and Jimmy share some frustrations with cruise excursions during the podcast recording at the bottom of this article.
Rather than going on an excursion planned via the cruise line, Amanda and Jimmy almost always do their own excursions.
It's important to note, unlike a cruise excursion, the ship will not wait for you. If you are running late for the departure time, you can get left behind.
A helpful tip Jimmy shares is to have a watch set to cruise time. The time zone of the port might not be the same time that your cruise ship is going off of that day.

Each morning you'll be provided with cruise time so you can set your watch accordingly. Make sure you're not relying on a watch connected to a network, like an Apple watch, that will update timezones automatically.
You need to do what is most comfortable for you. If you decide to go on a cruise excursion, speak up, and advocate for your needs!
Eating On A Cruise Ship
It's easy to worry that people will judge you, especially when it comes to unlimited food options and quantities.
Amanda and Jimmy share they have only been met with kindness and compassion. They've never felt judged and are often encouraged to try whatever sounds good on the menu.
For starters, let the staff know about any dietary restrictions. Then try not to worry about what others might think as you enjoy your vacation.
Hot tip – be sure to bring a water bottle on board. There are plenty of stations with liquids provided at no charge from water to tea!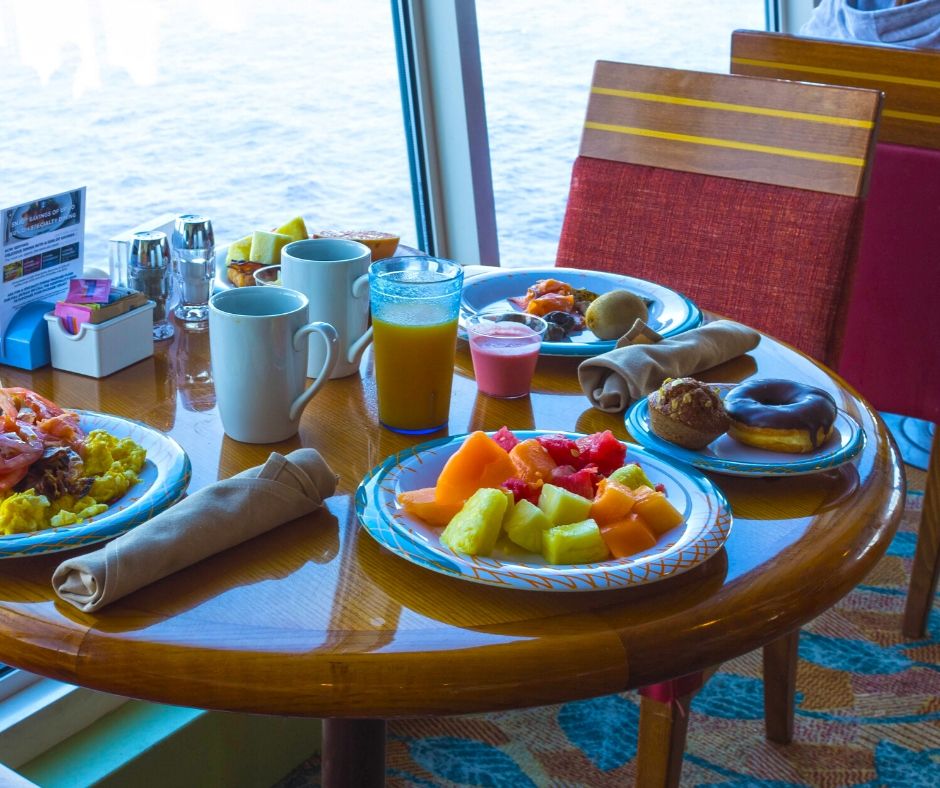 Have we address all of your concerns, and are you ready to book your cruise? We hope so!

Listen below as Jimmy and Amanda go into even more detail during episode 87 of the Plus Mommy Podcast.
Recording & Show Notes: Plus Mommy Podcast Episode 87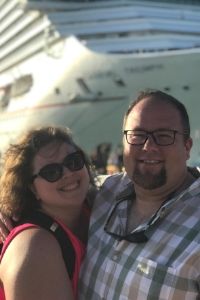 Connect with Chubby And Away via their website, YouTube channel, Instagram, and Facebook. You can book a group cruise or inquire about any of your travel needs via [email protected].
---
Thank You To Our Sponsor:
This episode was brought to you by Plus Size Birth! Use coupon code Plus Mommy to receive 20% off the My Plus Size Pregnancy Guide that covers everything you could want to know about having a plus size pregnancy.