Two moms whose lives are not Pinterest worthy, spend time musing on plus size motherhood. Join us for an honest conversation about motherhood, mental health, and body image!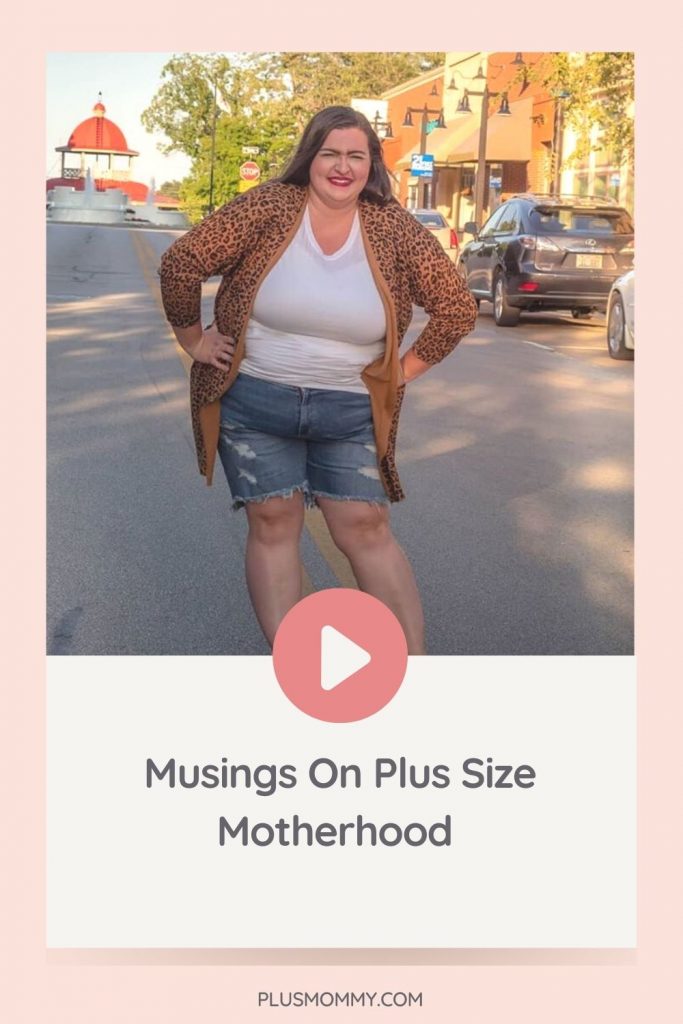 Plus Size Motherhood
Aryn Hinton, of Musings On Motherhood, is my special guest. Aryn and I agree that if you come to our homes, you'll probably step on a Lego!
While we love our type-a mom friends, who have everything in order, our homes aren't sparkling clean.
We try our best, and that's enough!
Today we're musing on plus size motherhood and covering mental health and body image below. You can listen to our full conversation, during episode 88 of the Plus Mommy Podcast, linked at the bottom of this article.
Motherhood And Mental Health
Mental health is a topic we've addressed a lot here on Plus Mommy, including one of our favorite interviews with Dr. Kat talking about mental wellness during pregnancy and postpartum.
While I only struggled with baby blues following my pregnancy, I've opened about depression after my miscarriage.
Aryn doesn't shy away from talking about mental health.
When Aryn's daughter was about nine months old, she had to have a serious conversation with herself about postpartum depression.
Rather than turning to her family, she opened up online to her community. That felt safer, and when she was ready, she did let her family know.
Aryn and I want everyone reading this to know they aren't alone, and asking for help is a sign of strength!
We recommend postpartum.net if you have concerns during the postpartum period. Please call The National Suicide Prevention Lifeline at 1-800-273-8255 if you need someone to speak with urgently.
Body Image For Plus Size Moms
Both Aryn and I have existed in larger bodies since puberty.
We each have stories of our moms taking us to Weight Watchers, and doing things they felt were right at the time to help their daughters.
Aryn and I shared frustrations with finding clothes that fit as young girls and teenagers.
Flash forward to today, and Aryn was featured in Self Magazine, and I've had a feature in Glamour! We never would've imagined it to be possible if it wasn't for our willingness to start a journey to self-love.
Aryn's approach was faking it until she made it – with sharing images of herself online that were terrifying but also liberating.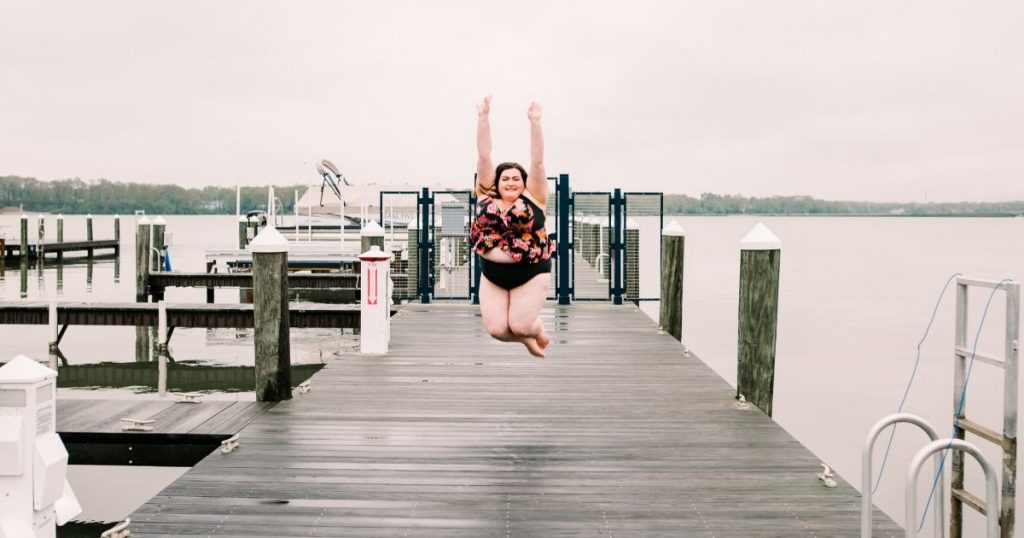 My approach was a little slower by taking baby steps to body love, but eventually also stripping down for some liberation!
Whatever path you take to self-love, Aryn and I can't encourage you enough to start your journey!!!!

We share so much more during this episode of the Plus Mommy podcast!
Recording & Show Notes: Plus Mommy Podcast Episode 88
Be sure to subscribe to the show on iTunes, Google Play, Spotify, Stitcher, or iHeart Radio. I'd be incredibly thankful if you took the time to leave a review. Follow Plus Mommy via your favorite social media outlet (Instagram, Facebook, Pinterest, and Twitter). Thanks for being part of this community!
Resources Mentioned On The Show: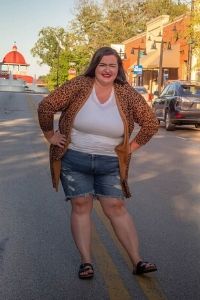 Aryn is a beauty junkie, PPD/PPA warrior, breastfeeding, baby wearing, sometimes crunchy, plus size mom on a journey to self-love. Aryn is also the writer and creator behind "Musings on Motherhood". During her struggle with PPD/PPA after the birth of her first, Aryn started writing her story as a way to process her feelings, connect with other parents, and represent plus size bodies in motherhood. On her blog, you'll find her musings on motherhood, favorite things, and tips and tricks to make motherhood just a little bit easier. Oh, and hopefully a little solidarity too. When Aryn is not busy blogging and being a mom of two, she loves working with families postpartum as a Certified Lactation Counselor.
Thank You To Our Sponsor:
This episode on plus size motherhood was brought to you by Plus Size Birth! Use coupon code Plus Mommy to receive 20% off the My Plus Size Pregnancy Guide that covers everything you could want to know about having a plus size pregnancy.