When it comes to pregnancy and postpartum sex when you're plus size, the sexiest thing you can have with your partner is an open line of communication.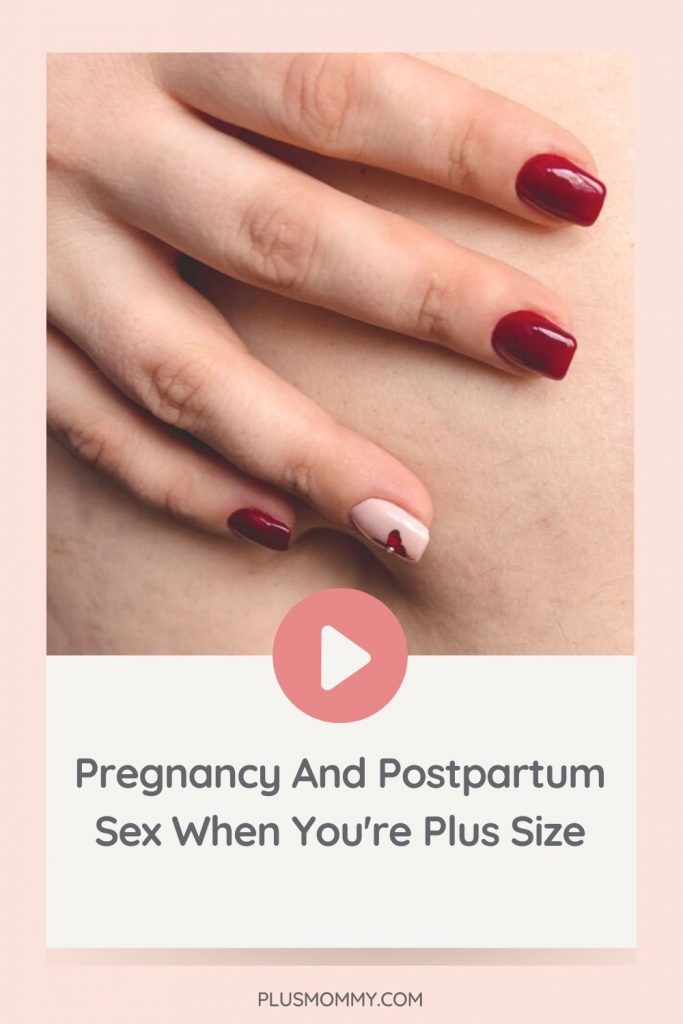 I know you were probably expecting something far sexier. But communication is sexy!
Communication lays a foundation of trust, love, and support. Most importantly, communication opens a dialogue for consent and what you and your partner need from intimacy in your relationship.
Learning one another's Love Language can take your communication skills to the next level! You can determine your Love Language by reading a book or taking an online quiz.
Speaking of love, lube is love, and you're going to want to use a lot of it, especially for postpartum sex!
During episode 59 of the Plus Mommy Podcast, sex educator Meg Snyder joins us to talk about all things pregnancy and postpartum sex when you're plus size. From communication, postpartum changes, plus size sex positions, to size-friendly adult toys – we're talking about it all!
We need to be having these conversations far more often because just as your body will change, so will your sexual relationship during and after pregnancy.
When you're pregnant, you might not want intercourse as often as you used to due to morning sickness or other discomforts. Right after having a baby, your care provider will tell you to abstain for the first six weeks while your body heals.
As Meg shares, "Sex is not intercourse exclusive."
Meg recommends being kind to yourself and your body. Listen to what your body wants, and what it doesn't want.
There's A LOT you can do to connect while also pleasuring one another without intercourse (listen to this podcast episode for all kinds of tips).
If you're kind to yourself while having an open line of communication, you'll find a new level of intimacy with your partner!
Let's talk about being comfortable during intimacy!
Whether you're pregnant or not, as a plus size woman, you might want special wedge pillows to help get your body into different positions. Another fun example is transforming your pregnancy sleep pillow into a plus size sex pillow!
Note that sex can be messy so you might want to have some washable pads on hand that are also beneficial for if your water breaks during pregnancy.
When it comes to adult toys, they can be great for alone time or playtime with your partner.
We talk about quite a few options on the show. I'm obsessed with this "massager" (get one, and you'll thank me later!). We also discuss Kegel Balls for strengthening your pelvic floor. Then Meg blew my mind by telling me about vibrating Kegel Balls!
During intimacy, wear as little or as much as you want! What matters most is your comfort level. During postpartum, you might find plus size lingerie with a built-in bra so you can slip in a nursing pad if you're lactating.
Meg's favorite plus size lingerie site is yandy.com and mine is curvygirllingerie.com.
Want to learn even more and hear about helpful plus size sex positions? Listen to the episode below!
Recording & Show Notes: Plus Mommy Podcast Episode 59
Be sure to subscribe to the show on iTunes, Google Play, Spotify, Stitcher, or iHeart Radio. I'd be incredibly thankful if you took the time to leave a review. Follow Plus Mommy via your favorite social media outlet (Instagram, Facebook, Pinterest, and Twitter). Thanks for being part of this community!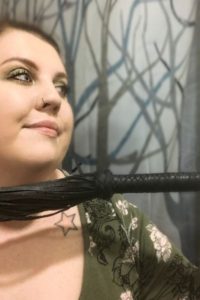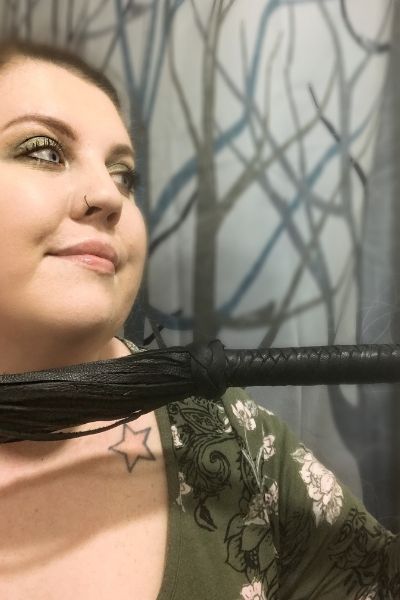 Madame Glitter or Meg has been in the sex industry for over five years as a sex and relationship educator and Dominatrix. As a sole single parent to a five-year-old, I aim to help women (and couples) regain their sexuality. As well as their sexual health pre and post-baby. I am currently working on becoming a doula. I aim to help plus size mommies have the best delivery possible. Plus size mommies are grossly underserved in labor and delivery and I hope to change that. As well as the stigma of plus size individuals in the sex industry.
You can send inquiries at @the_madame_glitter on Instagram or [email protected].
Thank You To Our Sponsor:
This episode is also brought to you by Plus Size Birth! Use coupon code PlusMommy to receive 20% off the My Plus Size Pregnancy Guide that covers everything you could want to know about having a plus size pregnancy.