Plus size blogger, Aleesha Wiest, shares her story of having a plus size pregnancy with Gestational Diabetes following a PCOS diagnosis.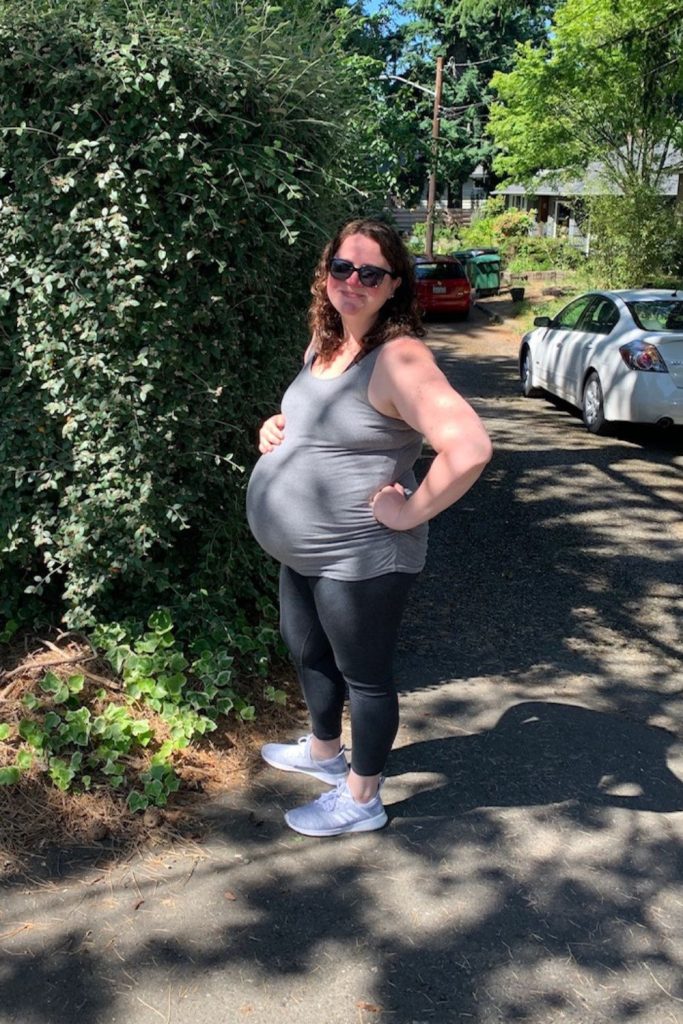 Getting Pregnant With PCOS
When Aleesha and her husband Doug decided it was time to start a family, they faced some unexpected roadblocks.
Aleesha learned she likely had Polycystic Ovary Syndrome (PCOS).
Looking back, many PCOS symptoms, like facial hair and heavy inconsistent periods, aligned with things she experienced throughout puberty and as a young adult.
Sadly, she found it very frustrating to navigate the medical system while trying to conceive with PCOS. When she finally connected with an OB-GYN who confirmed the diagnosis, this provider said she didn't have time to support patients with PCOS.
The OB-GYN told Aleesha to lose 10% of her body weight, prescribed Metformin, and sent her on her way.
This was so upsetting!
Plus Size Pregnancy With Gestational Diabetes
Thankfully, Aleesha unexpectedly got pregnant on her own, around a year after she started her trying to conceive journey.
Living in Seattle, Washington, she was lucky to have many options for maternity care.
Her mom had a home birth with her and was a childbirth educator. So with that influence, Aleesha's view of birth was holistic. And after looking into different options, she was thrilled to connect with a midwifery program at her local University hospital.
Things went well during her first prenatal visit, but her BMI was part of the conversation. Looking back, she felt there was an unsaid bias about her weight. Red flags she didn't see at the time.
As time passed, her pregnancy progressed great, and she didn't have a lot of morning sickness.
Due to PCOS, Aleesha knew she had an increased risk of developing Gestational Diabetes. And when she didn't pass her one-hour Gestational Diabetes test, she prepared herself emotionally before getting confirmation from the three-hour test.
Her midwives immediately connected her with a diabetes education nurse at the hospital and a nutritionist.
Aleesha initially felt ashamed, as if she had done something wrong with her new diagnosis. Unfortunately, having a plus size pregnancy with Gestational Diabetes has a societal stigma.
Thankfully, she quickly felt reassured and supported once she connected with her extended care team. They helped her to know it wasn't her fault and taught her how to control her Gestational Diabetes with nutrition.
As someone who has struggled with diet culture, Aleesha found it challenging to restrict certain foods to help keep her insulin levels balanced. However, she tried to think of it as something she needed to do to make it one step closer to meeting her baby.
As an added stress, Aleesha knew she would no longer be able to work with her midwives if she needed to be put on insulin.
So, she was hypervigilant with her nutrition. So much so that she didn't even eat a piece of candy at a friend's birthday party. Looking back now, she realizes she could've enjoyed a piece of candy, and there's no need to skip on a slice of cake at a baby shower. But she was so concerned about keeping her levels balanced at the time.
Giving Birth With Gestational Diabetes
While understanding that childbirth is unpredictable, Aleesha desired an unmedicated birth. So, she took a childbirth education course, listened to many birth stories, and absorbed as much information as possible.
She felt prepared when she went into labor on her own at forty weeks and two days. And when her mom (who was also her doula) got to her, she said they needed to go to the hospital directly as labor was progressing quickly.
When they arrived at the hospital, Aleesha was already seven centimeters!
She felt supported by her mom, husband, and midwife for her desired unmedicated birth experience. And her son Carter was born weighing 8 lbs 15 oz, with no blood sugar issues due to her Gestational Diabetes. He was a big healthy boy, and his size wasn't a surprise due to a family history of big babies.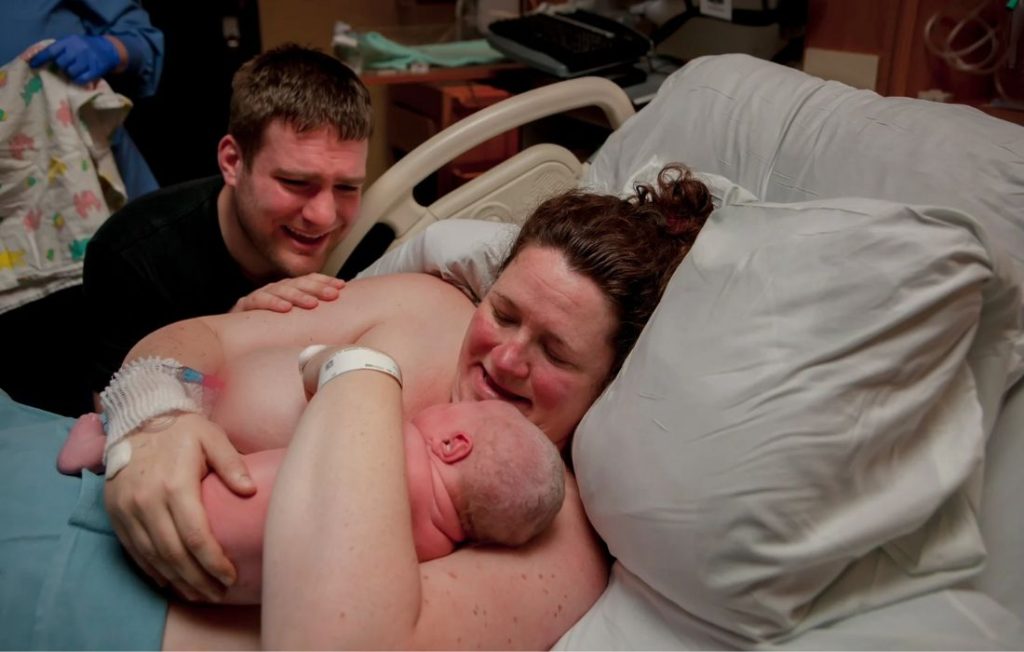 Aleesha wants people to know that having a plus size pregnancy with Gestational Diabetes doesn't mean you can't have the pregnancy and birth you envisioned.
Hear Aaleesha share her birth story below!
Recording & Show Notes: Plus Mommy Podcast Episode 172
Transcript happily provided upon request.
Resources Mentioned On The Show: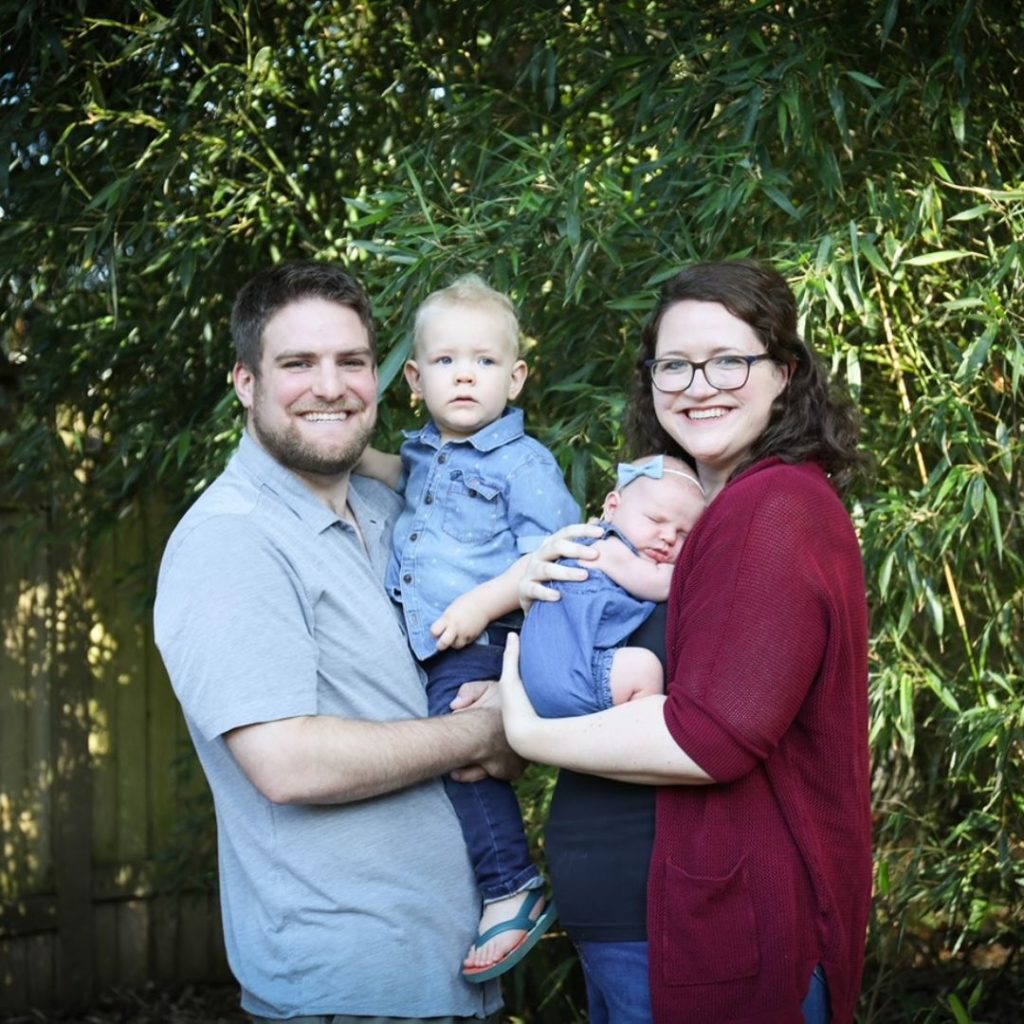 Aleesha lives with her husband and two children in Seattle, WA. By day, Aleesha works in university administration and also enjoys connecting with others through her growing social media/blog and photography work.