At the age of 17, Kasey experienced an ectopic pregnancy that ruptured. She lost one fallopian tube and an ovary. She was a high school student at the time and decided to keep her loss a secret. Kasey shares her story of pregnancy after ectopic pregnancy and the pain of holding onto secrets, we shouldn't have to keep.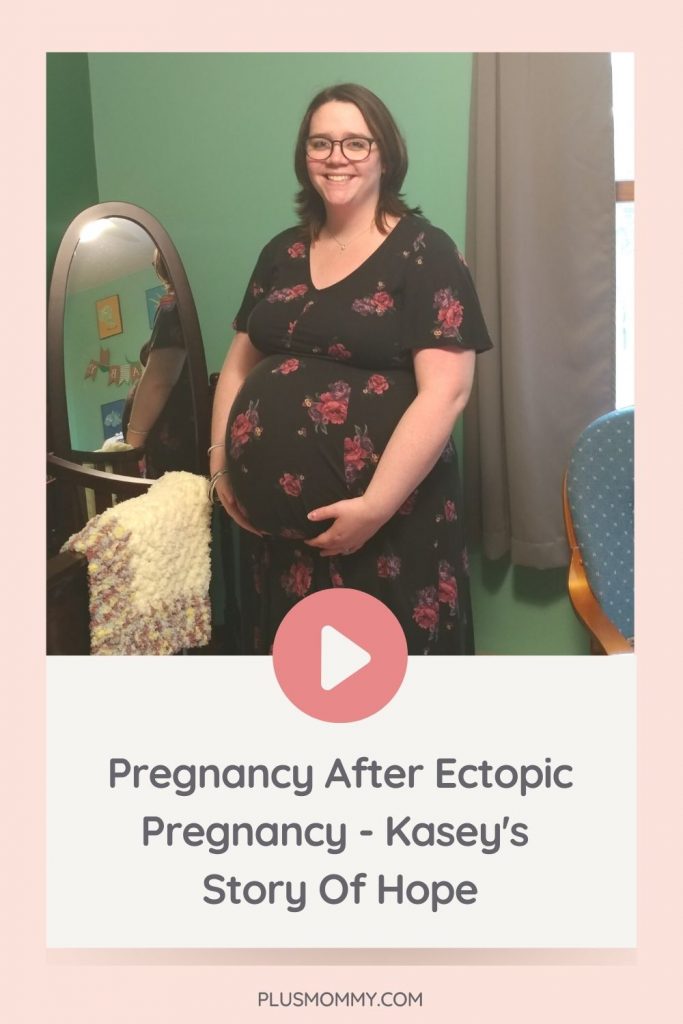 Before we go into Kasey's story, below are somethings you should know about ectopic pregnancy.
What Is An Ectopic Pregnancy?
Ectopic pregnancy is when the egg attaches somewhere outside the uterus, and this can happen inside a fallopian tube.

Sadly, pregnancy is not viable if this occurs. The growing tissue can cause life-threatening bleeding if left untreated.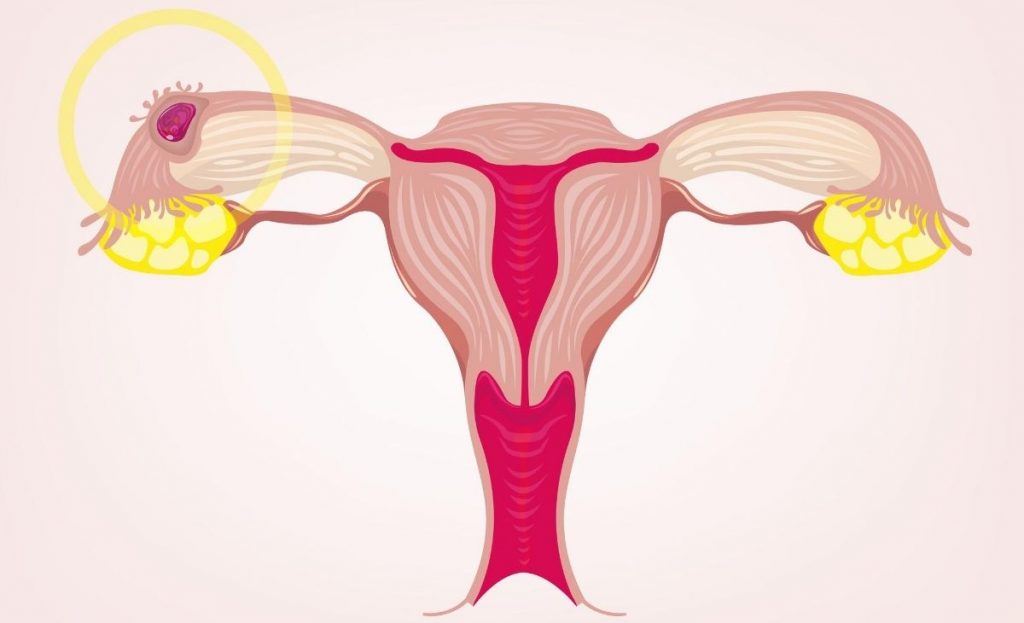 What Are The Symptoms Of An Ectopic Pregnancy?
As the fertilized egg grows many people start experiencing light vaginal bleeding a pelvic pain.

If the ectopic pregnancy is located in a fallopian tube, it can cause the tube to rupture.

Call your care provider with any medical concerns but seek emergency medical help if you have severe pain and bleeding. As well as lightheadedness and shoulder pain.
Stigma Surrounding Ectopic Pregnancy
Like miscarriage, ectopic pregnancy has a stigma surrounding it as people aren't sure how to comfort those who have experienced a loss.

Sometimes people say things that can be emotionally damaging, and it's critical to reach out for support if you're struggling.
Pregnancy After Ectopic Pregnancy
If a previous ectopic pregnancy resulted in the loss of a portion of a person's reproductive system, it could make pregnancy after ectopic pregnancy challenging.
Some people require support from a fertility specialist to get pregnant with treatments like IUI or IVF.

Unfortunately, having a previous ectopic pregnancy increases your risk of having another ectopic pregnancy. So it's critical to be in close contact with your care provider and be aware of signs to look for that may indicate another medical emergency.
Kasey's Pregnancy After Ectopic Pregnancy Story
A few days after Kasey found out she was unexpectedly pregnant, she started experiencing horrific pain while at high school in theater class.
Kasey was 17 and having an ectopic pregnancy. Sadly it ruptured, and she lots a tube and ovary at such a young age.
Following surgery, Kacey's mom asked her if she wanted to tell people what happened or not.
Kacey decided to keep her loss a secret. She pushed her emotions deep down and didn't even tell her siblings until years later.
As she got older, she would occasionally share her story, and the responses weren't always supportive. People downplayed the trauma of her loss because she was so early along in her pregnancy. That was extremely painful.
Pregnancy After Ectopic Pregnancy
Ten years following Kasey's loss, she was married and thinking about starting a family. Her husband, Shawn, was aware of her past and was incredibly supportive.
Kasey got off birth control, and they started trying to conceive with the support of a fat-friendly care provider.
Kasey decided if she didn't get pregnant on her own, she and Shawn would adopt.
Her journey to conception after ectopic pregnancy was kept a secret, as she didn't want pressure from loved ones.
After trying for nearly a year, Kasey asked her care provider to run some tests to evaluate her fertility. She didn't want to have an IUI or IVF, but was open to getting some support that wasn't as invasive.
Her care provider recommended doing blood work to test Kasey's fertility after an ectopic pregnancy with the loss of one tube and ovary.
While running tests with her care provider and looking into adoption agencies, Kasey got the shock of her life finding out she was pregnant!
She surprised her husband with the wonderful news.
While Kasey was thrilled, she had a challenging time connecting to her pregnancy early on. She was terrified of another loss.
Her care providers were proactive and ran bloodwork right away – everything pointed to a viable pregnancy!
Her pregnancy was easy, but for Kasey, that made it even harder as she didn't have morning sickness or the usual aches and pains most people talk about during pregnancy.
She was also experiencing a plus size pregnancy, so it often takes longer to show and feel movement.
At 22 weeks, she finally felt her son move inside her for the first time! She also started showing.
Kasey shared her frustrations of searching for plus size maternity clothes and found luck joining Facebook groups.
A friend encouraged her to take bump photos to help her embrace pregnancy.
Childbirth After Ectopic Pregnancy
Near the end of Kasey's pregnancy, around 38 weeks, her blood pressure started to rise. There were concerns that she'd develop preeclampsia.
Kasey wanted to go into labor on her own and have an unmedicated birth.
She went on leave from work and started trying all the natural induction methods from eating dates to having sex.
Her water broke the day before her scheduled induction!
She labored at home for a while and then headed to the hospital an hour away from her home.
Her hospital room wasn't ready right away, so she started walking around the hospital, and her contractions immediately got stronger.
She was only 3 cm when they arrived at the hospital. After her walk, everything progressed quickly!
Kasey's mantra was, "I can do anything for a minute," as she labored.
Forty-five minutes later, things became increasingly intense as she had progressed to 7 cm.
Ten minutes later, she was 9 cm! Her labor went by so fast in only six hours.
Kasey asked for some support with pain management, and then she was able to start pushing.
With encouragement from her husband, she was ready to meet her son.
About five contractions later, Llewyn was born!
Listen to episode 112 of the Plus Mommy Podcast, where Kasey tells her full pregnancy after ectopic pregnancy story.
You'll also hear a special message Kasey shares with other loss families – don't keep it a secret. Do whatever you need to do to process through the trauma of the loss!
Recording & Show Notes: Plus Mommy Podcast Episode 112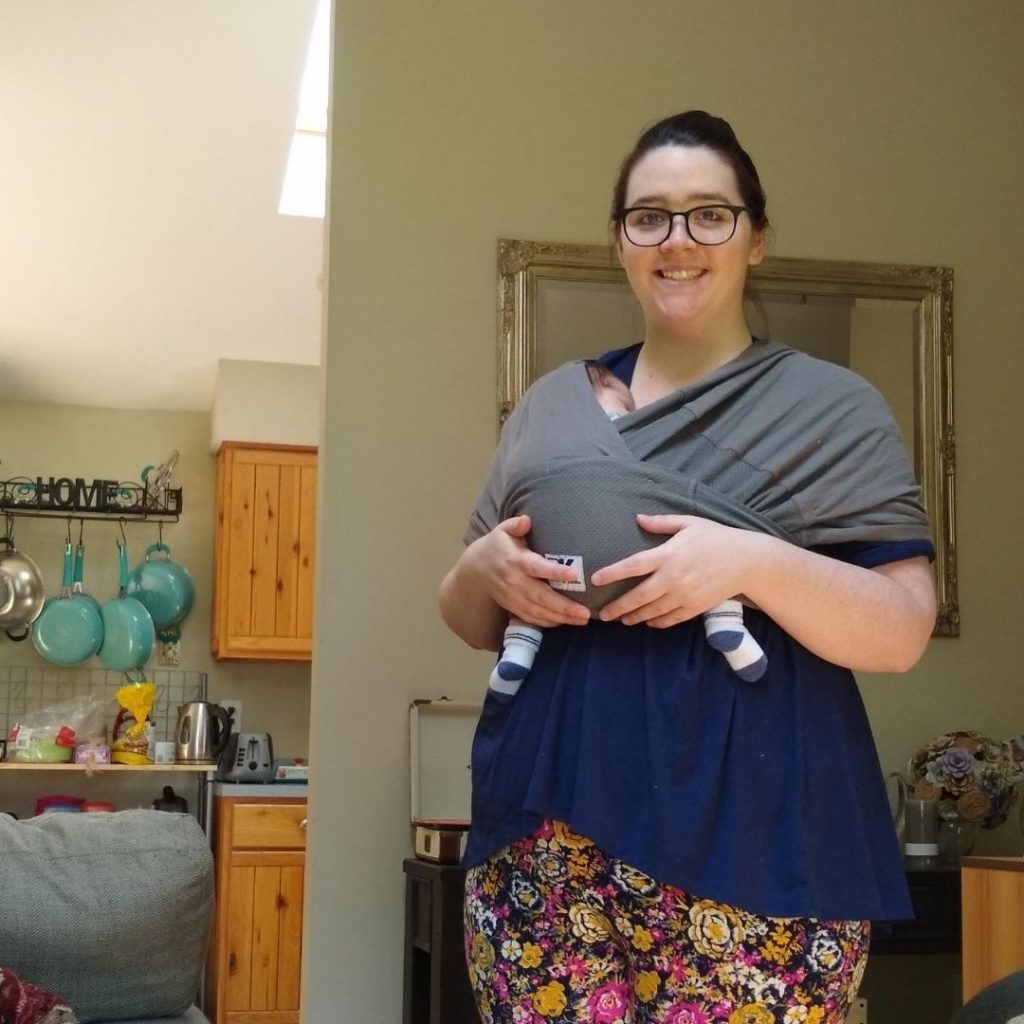 My name is Kasey Thomas, and I live in Pennsylvania with my husband Shawn, two cats, and, most recently, our son Llewyn.
Shawn and I met when we were both Corrections Officers at a local County Prison in 2012. Shawn still works as a Corrections Officer, but I am now employed through the Treatment Department at the County Community Corrections Center (work release) as the Employment Case Manager. I am the youngest of 4 children (two sisters and a twin brother) having been raised by a single mother.
When I was about 17, I had an ectopic pregnancy, and it took me years to be able to come to terms with that and be able to discuss it. Shawn and I wanted to wait until our first wedding anniversary to try for a baby, and 12 months after starting to try, I was pregnant! I gave birth at age 29 on 5/16/19.
You can connect with Kasey via her personal Facebook and Instagram.
Thank You To Our Sponsor:
I'm excited to tell you about Ready. Set. Food! founded by a team of physicians, leading allergy experts and parents, it's a groundbreaking solution to childhood food allergy prevention. It conveniently mixes in with breastmilk, formula, or food and is pre-dosed to give your baby the right amount of peanut, egg, and milk – even if they're not yet ready to eat solid food.