Can plus size women have a VBAC? Tori shares her unforgettable VBAC story to encourage plus size women to know that having a VBAC (vaginal birth after cesarean) is absolutely possible!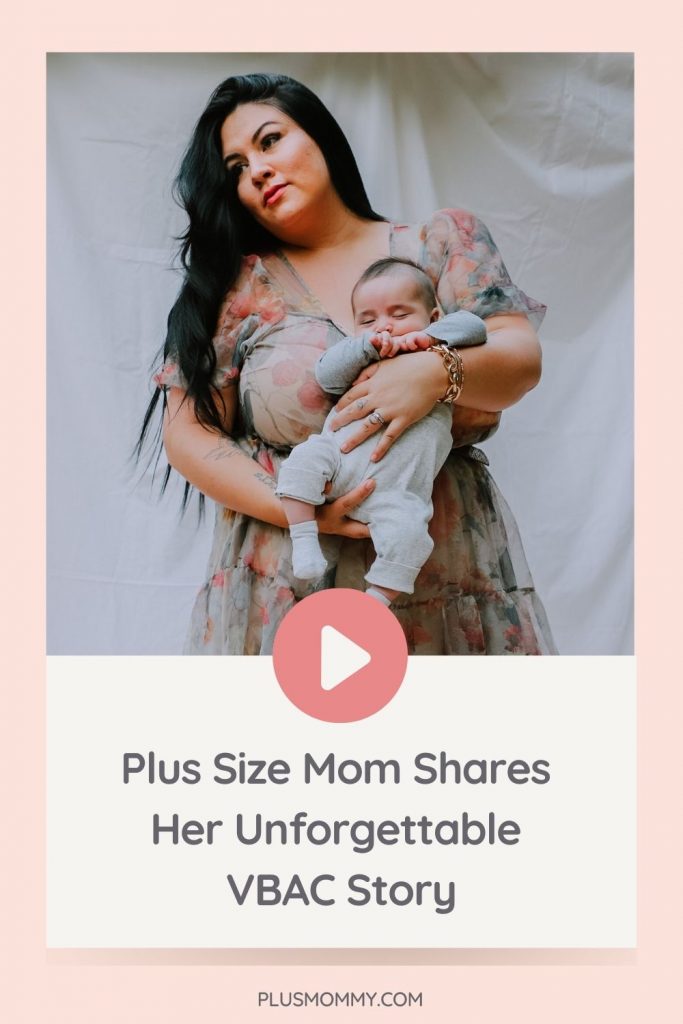 Plus Size Birth VBAC Story
When Tori was pregnant with her first son, Bodi, her OB-GYN told her she needed to have a c-section.
Her doctor told her Bodi weighed 11 pounds.
Tori consented to the cesarean, believing it was the best choice for her birth based on her care provider's advice.
Her son was born weighing just over 8 pounds.
That same OB-GYN told Tori she would not support her having a VBAC if she became pregnant again.
Tori spiraled into a deep postpartum depression following Bodi's birth.
"That wasn't what I wanted for his birth." Tori Shares, "And I ended up feeling shame around that because he ended up not having the issue of being 11 pounds."
By the time Tori became pregnant with her second child, Ryder, she had relocated from Southern California to Northern California.
There she connected with a fat-friendly care provider.
This OB-GYN not only supported Tori's desire for a VBAC but encouraged her to have one!
Throughout Tori's second pregnancy, she was bound and determined to have a VBAC.
There wasn't a moment her plans swayed, even following her father's tragic loss and COVID-19.
"COVID hit in the US right after my dad died. And so it was just so intense. You know you want your partner there with you holding your hand. And with COVID, it's all taken away from you."
It wasn't surprising that Tori experienced some depression during pregnancy. Thankfully, she had her support team in place and kept a close eye on her mental health.
While Tori considered hiring a doula, that option was taken away from her since only one support person was allowed to attend her birth.
At 40 weeks and one day, Tori went into labor while watching Star Wars with her family.
She would spend 13 hours laboring at home before taking the long drive to her hospital located over an hour from her home.
When Tori arrived at the hospital, she was disappointed to learn she only dilated to two centimeters. Thankfully a kind nurse advocated for Tori and Shilo, so they didn't have to return home.
After passing a COVID-19 test, Tori and her husband were able to remove their masks and settle into a labor and delivery room.
Little did they know, they'd be there for the next few days!
Tori returned to laboring by tuning into herself, as she did at home for hours.
She wasn't interested in all the coping tools her VBAC-friendly hospital provided. Tori held into the handle on her bed and breathed through her contractions for hours.
"I didn't use not even a quarter of the things that I brought and wanted to use. I was very like, I just wanted to curl in a ball and like, grab on something, and then just facial expressions all the way. Yeah, like shower didn't appeal to me. The birth ball I kind of used it but I'm kind of shocked that I barely used it. I literally just wanted to sit there and kind of like, zone out, almost just like meditate and like that's it. The exercise I use is breathing through my contractions, and then just like grasping onto the side of the bed."
As a plus size woman attempting a VBAC, Tori was continuously monitored.
After being set up with the standard monitoring straps, she switched to a more size-friendly monitoring system called the Monica Novii Wireless Patch System (pictured below).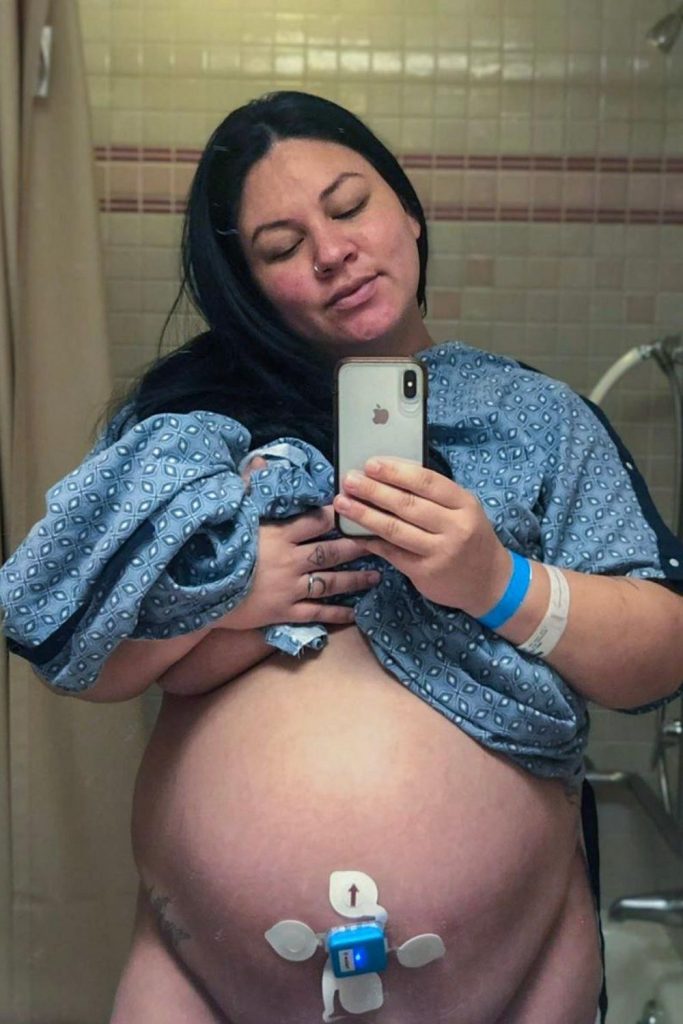 Hours blurred together.
When Tori hit 48 hours of labor, she knew she needed to rest. It was time to get an epidural.
"It was something I had been sitting on for hours. You know, and I told myself before I even went into labor, I said, I'm not going to pressure myself. Whatever way Ryder comes into this world is okay."
Unfortunately for Tori, the anesthesiologist who placed her epidural didn't have a lot of experience or comfort with larger bodies.
"It took her a while and she said to me it was because of 'the obesity.' And, you know, my reaction was literally to giggle and I looked at Shiloh."
It would be the following day before another anesthesiologist would properly place her epidural. Yet, even with the second placement, Tori never felt full relief.
When the time came to push, after over 60 hours of labor, she felt everything.
"And then it was time to push, and I could tell with all the checks and whatnot that my OB was doing. She was getting a little concerned, I think. And so I was like, I'm gonna push my brain out."
Tori pushed hard for one hour and felt her father was with her the entire time.
After intense pain from the ring of fire, she birthed her son Ryder.
Tori got her VBAC story!
"I felt everyone's energy with me, and that is what got me through. That is what helped me just push. It is the most primal, most intense, like empowering thing I've ever done. It was magical. So magical!"
Listen below as Tori tells her plus size VBAC story during episode 109 of the Plus Mommy Podcast. She not only shares her story but advice for other plus size women considering a VBAC.
Recording & Show Notes: Plus Mommy Podcast Episode 109
Resources Mentioned On The Show: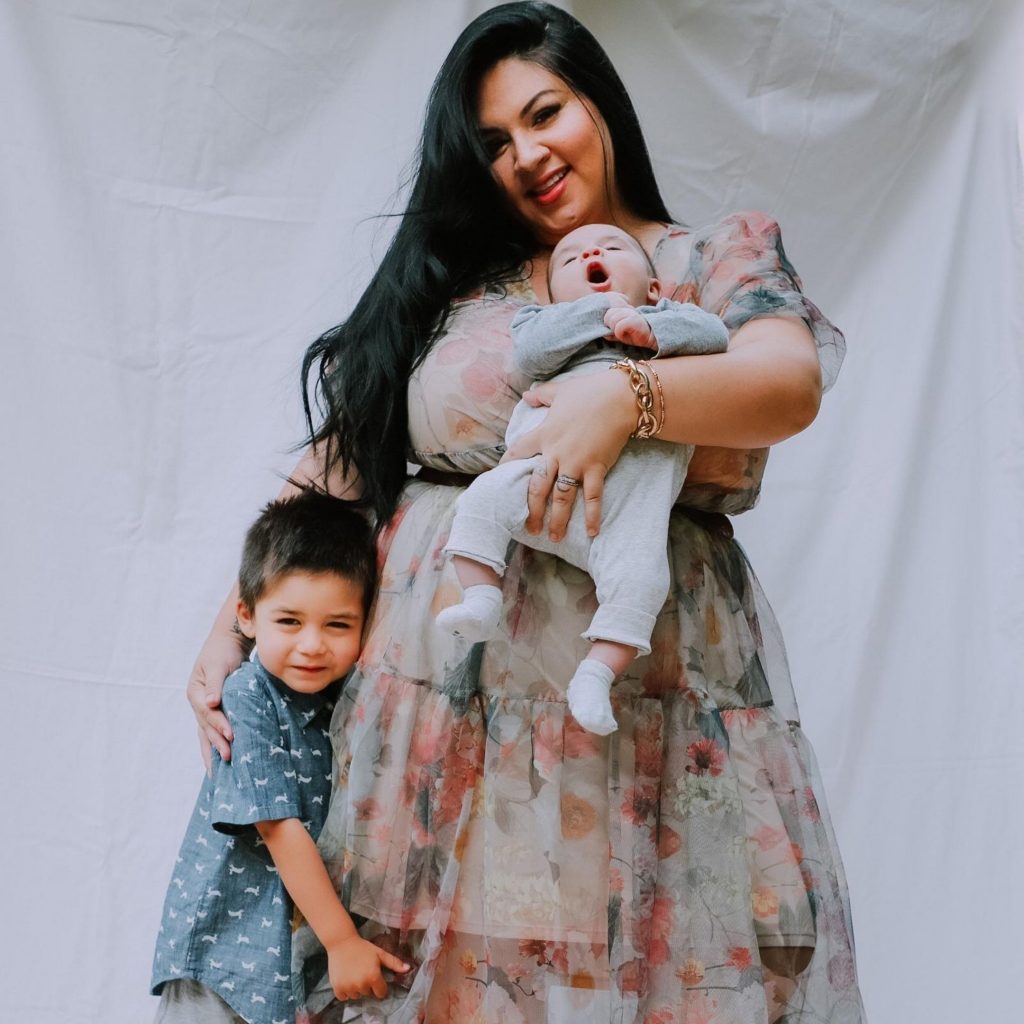 My name is Tori and I'm a lifestyle blogger with a focus on my plus size fashion and beauty, raw experiences in motherhood and life, and body acceptance after a lifetime of insecurities.
I spent years relearning how to love myself after weight gain and shame, and now I'm on a personal mission to uplift and empower other women to do the same by guiding them with real, actionable tips to awaken and empower their inner confidence and navigate them through difficult topics.
I believe that when women feel worthy, the world becomes a better place. Whether it be through fashion, self care regimens, daily affirmations, or relating to stories from my own life, I know together we can change each other's lives for the better.
---
Thank You To Our Sponsor:
I'm excited to tell you about Ready. Set. Food! founded by a team of physicians, leading allergy experts and parents, it's a groundbreaking solution to childhood food allergy prevention. It conveniently mixes in with breastmilk, formula, or food and is pre-dosed to give your baby the right amount of peanut, egg, and milk – even if they're not yet ready to eat solid food.