Breastfeeding when you are plus size looks different!
There are unique obstacles plus size people face while breastfeeding. From the lack of plus size nursing apparel to a delay in milk production and how plus size moms are sometimes mistreated in public – let's talk about it all!
Disclosure: Plus Size Birth is a participant in the Amazon Services LLC Associates Program, an affiliate advertising program. As an Amazon Associate, I earn from qualifying purchases. Read more about these links in my disclosure policy.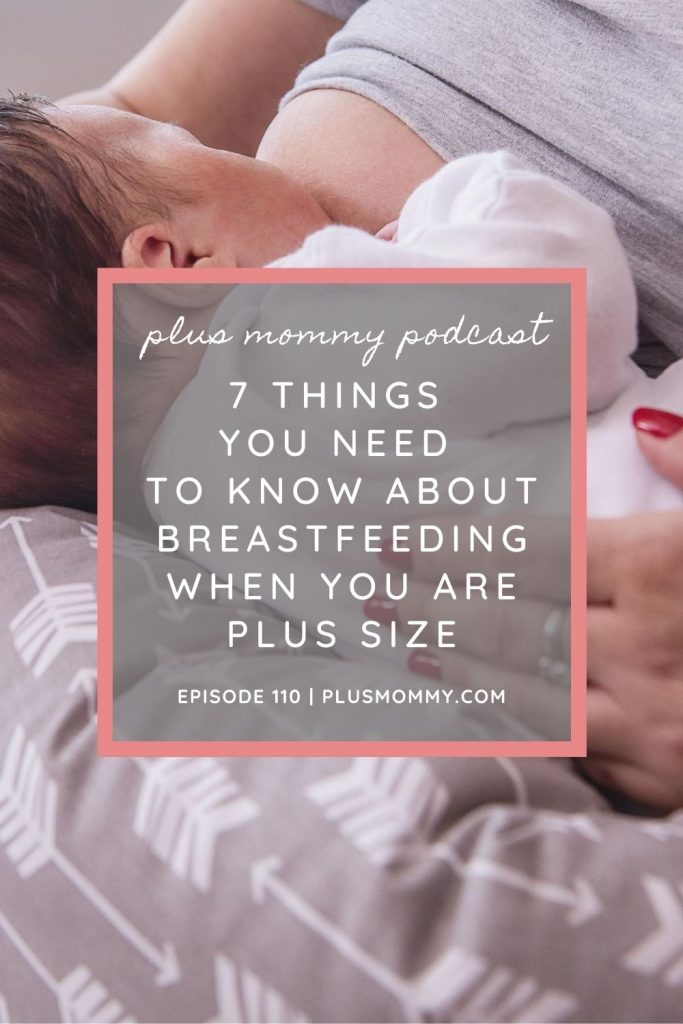 How To Prepare For Breastfeeding When You Are Plus Size
1. How To Find Plus Size Nursing Bras, Clothes, Pillows, And Other Apparel
When you're plus size, options for plus size nursing bras and large breastfeeding pillows are limited.
Thankfully they do exist, and here are some helpful resources that include options for plus size pumping bras.
The Best Plus Size Nursing Bras And Plus Size Pumping Bras
7 Plus Size Nursing Cover Tips And Tricks
4 Mom Approved Plus Size Nursing Pillows
Along with the resources above, some of my favorite plus size nursing apparel tricks include making your own nursing bras!
You can order nursing bra clips online and watch YouTube videos on how to transform your regular bra to a nursing bra.
Are you worried about showing off your belly while nursing?
It can be helpful to wear a plus size nursing cami underneath your top. This way when you lift your shirt up, the tank top covers your stomach.
My go-to nursing bra is the nursing wrap sleep bra as it's so comfortable. While it's probably not supportive enough for you to wear it alone while out in public, it's perfect for around the house and when you're sleeping.
When you're going out in public, I have the nursing bra resource above and below is the most popular plus size pumping bra among plus size moms.
By having access to nursing apparel and breastfeeding essentials designed for larger bodies, plus size women feel appropriately supported.
2. Put A Support System In Place For Breastfeeding Success
Connect with an IBCLC, tap into community support groups, and get your family involved with your breastfeeding plan.
Studies show that connecting with a lactation consultant (specifically an IBCLC) can improve breastfeeding outcomes for plus-sized women.
An IBCLC can help make sure you're confident in your ability to breastfeed. If needed, they can recommend items like a nipple shield or supplements to help with milk production.
From local breastfeeding groups like La Leche League to spending time with other breastfeeding moms, community support is incredibly beneficial.
By reading breastfeeding books (like the ones recommended here by an IBCLC) and taking a breastfeeding class, you can have the support and knowledge you need to feel prepared to nurse.
Also, be sure to talk to whoever lives in your home about your breastfeeding plan, and share how they can best support you.
3. Plus Size Breastfeeding Positions And Pumping Needs
There's no one position that is best for breastfeeding when you're plus size.
Be sure to try different positions and pillows to find what works best for you and your baby!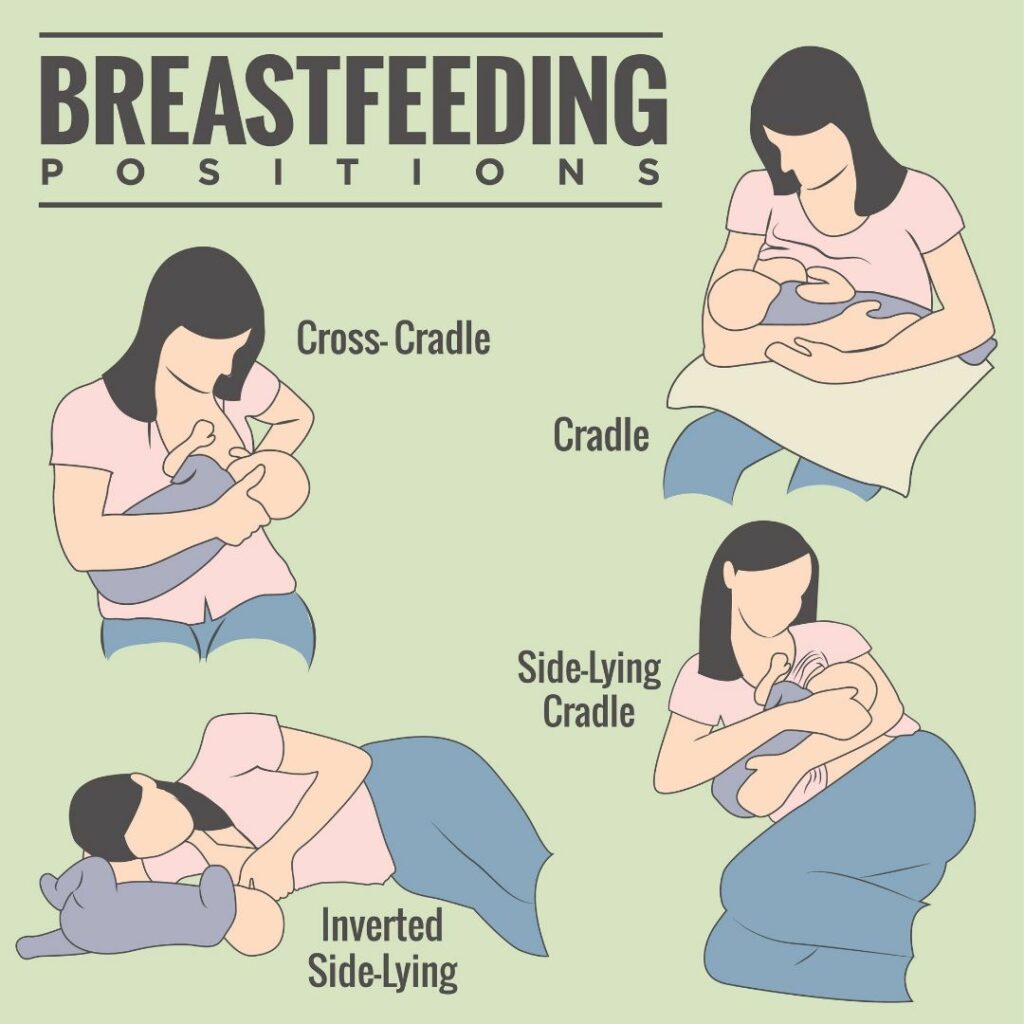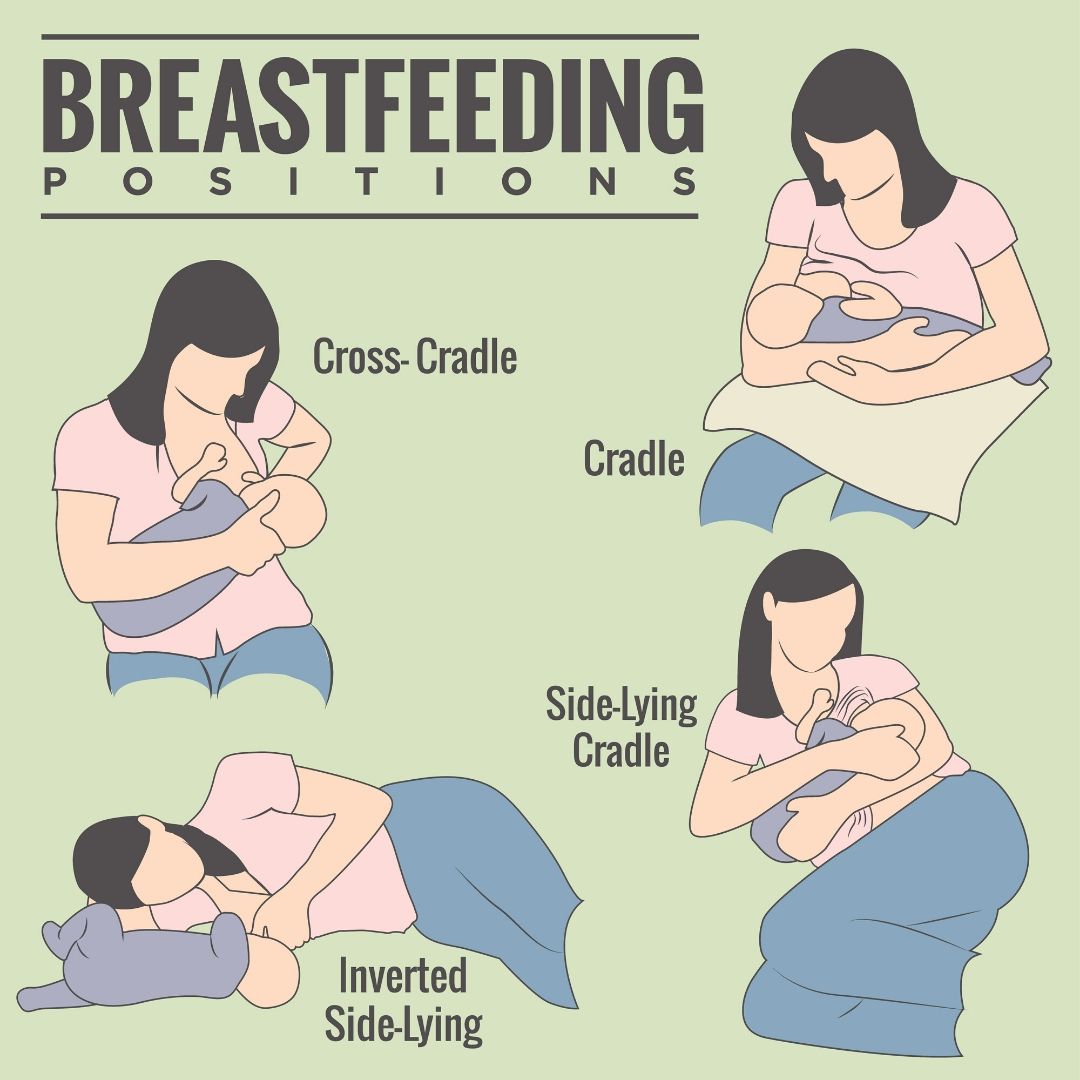 Besides finding what position works well, you also want to ensure you're using the correct size flange when pumping.
A flange fits over your nipple to form a vacuum seal that allows for milk extraction from your nipple.
Talk to a lactation consultant about what size flange is best for you.
4. Your Milk Might Take One Day Longer To Come In When You're Plus Size
On average, it takes 2 – 3 days for milk production, but it can take an additional day for plus size people.
Laurel Wilson is a highly respected IBCLC who presents around the world. During episode 58 of the Plus Mommy Podcast, Everything You Want To Know About Plus Size Breastfeeding, she goes into detail of how hormones impact breastfeeding.
It's essential for anyone who struggles with their insulin levels or has Polycystic Ovarian Syndrome to be aware that breastfeeding can be more challenging.
To encourage milk production, keep your baby skin to skin on your chest often. This releases oxytocin, the love hormone that helps your body to produce breast milk.
Even though you're probably not producing breast milk immediately after giving birth, you will have colostrum to nourish your baby.
Work with your care team to ensure your baby is getting all they need in those first few days. Don't feel defeated if supplementation of formula or donated breastmilk is recommended.
5. Take Care Of Yourself
Have you heard of the 4th trimester? As a society, we are so focused on pregnancy, and then the focus shifts to the baby following childbirth. But what about the mom?
The 4th trimester is the 12 weeks following childbirth.
During the 4th trimester, your hormones are shifting, and organs are returning to their original place. You're bleeding, have swollen breasts, you might experience postpartum hair loss and other physical changes.
All the while, you're also caring for a tiny human who is 100% dependant upon you.
Everyone wants to hold the baby, but who is holding mom?
We know that how you're caring for your body during this time can directly impact breastfeeding.
For example, if you're not drinking enough water and become dehydrated, that can impact your milk production.
Be sure to do all you can to take care of yourself during this time, regardless if you're breast or bottle feeding.
Below are some helpful tips for taking good care of yourself during the 4th trimester.
Drink Water
Keep a water bottle with you at all times, one with a straw that's easy to bring to your mouth while you're holding your baby.
Eat Nourishing Food
For breastfeeding, you need about the same additional 500 calories as you were taking in during pregnancy. Be sure to fuel your body with nutritious food and take vitamins and supplements recommended by your care provider.
Rest And Recover
Now isn't the time to be a host when people come over to meet your baby. Now is a time for you to be pampered and rest!
Rest as much as possible.
The saying, "sleep when the baby sleeps" can sound annoying, but it's true!
Monitor Your Mental Health
Your mental health matters! You can't be everything for everyone else if you're not taking care of yourself.
Be aware of signs to look, and talk to your loved ones about how they can also know if you're struggling with your mental health.
Don't Focus On Weight Loss During Breastfeeding
There's this misconception that you'll lose weight by breastfeeding. The reality is that not everyone does.
Stop focusing on the number on the scale!
Nourish your body with all it needs to help you feel healthy, from eating a balanced diet to being physically active following your six-week postpartum checkup.
6. Be Aware That People Can Be Cruel To Plus Size Breastfeeding Moms
I wish this point didn't need to be here. Sadly, the reality is people of all sizes who breastfeed can deal with rude confrontations from strangers. Yet, when you're plus size, you face another layer of societal bias.
People might stare.
Cruel comments might be said.
It's crucial to take care of your well-being, set healthy boundaries, and lean on your support system to shake off any negative experiences.
Hopefully, you won't ever have anything happen, but knowing what you can face is helpful, so you're not caught off guard.
7. Accept That The Way You Feed Your Baby is BEST
While all the tips above will help you feel prepared to breastfeed, sometimes things don't go as planned.
You might still need to formula-feed your baby – and that's okay!
What's most important is that you feed your baby and do so in whatever way works best for you and your family.
Hopefully, that can be breastfeeding! But if it isn't, or if it starts off that way, and then ends up being exclusively pumping or formula feeding, know that you're not alone.
If you're unable to breastfeed exclusively, you might feel disappointed. Be sure to talk about those feelings with your loved ones and consider getting therapy if you need further support.
Whatever path your journey to breastfeeding while you are plus size takes, from breastmilk to formula, know that you are an amazing mom.
We're all doing the best we can – and it's enough!
In honor of World Breastfeeding Week, Jen McLellan shares the detours along her breastfeeding journey, and what she wishes she would've done differently during episode 110 of the Plus Mommy Podcast.
Recording & Show Notes: Plus Mommy Podcast Episode 110
Be sure to subscribe to the show on Apple Podcasts, Google Play, Spotify, Stitcher, or iHeart Radio. I'd be incredibly thankful if you took the time to leave a review. Follow Plus Mommy via your favorite social media outlet (Instagram, Facebook, Pinterest, and Twitter). Thanks for being part of this community!
Resources Mentioned On The Show:
Thank You To Our Sponsor: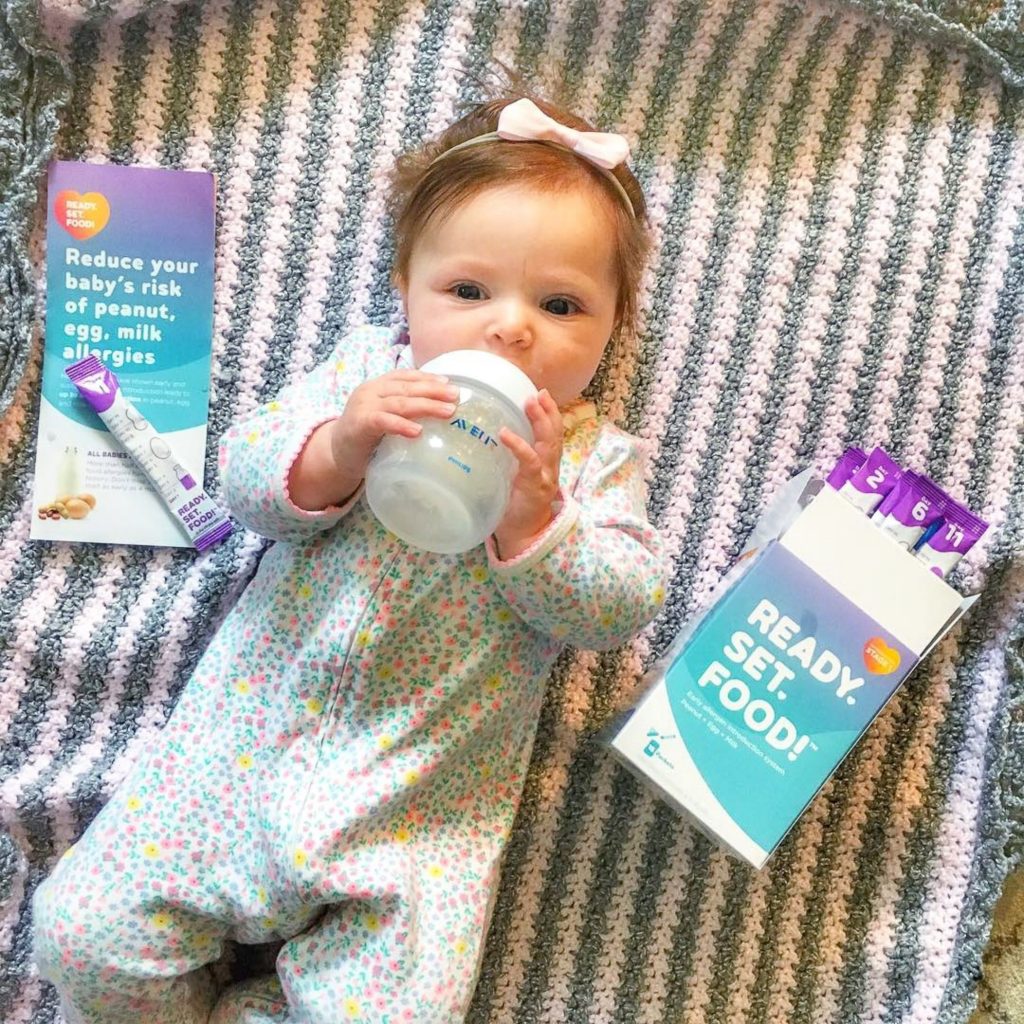 I'm excited to tell you about Ready. Set. Food! founded by a team of physicians, leading allergy experts and parents, it's a groundbreaking solution to childhood food allergy prevention. It conveniently mixes in with breastmilk, formula, or food and is pre-dosed to give your baby the right amount of peanut, egg, and milk – even if they're not yet ready to eat solid food. Use code PLUSMOMMY to get $20 off the first month of a 6-month subscription to Ready. Set. Food! valid for new customers only and through the end of the year.