Veronica chose to switch care providers at 26 weeks pregnant after her OB-GYN made assumptions about her body's ability to have a healthy outcome.

With her wife's support, Veronica advocated for herself and found an outstanding care provider.

You deserve to connect with a care provider who makes you feel heard and respected!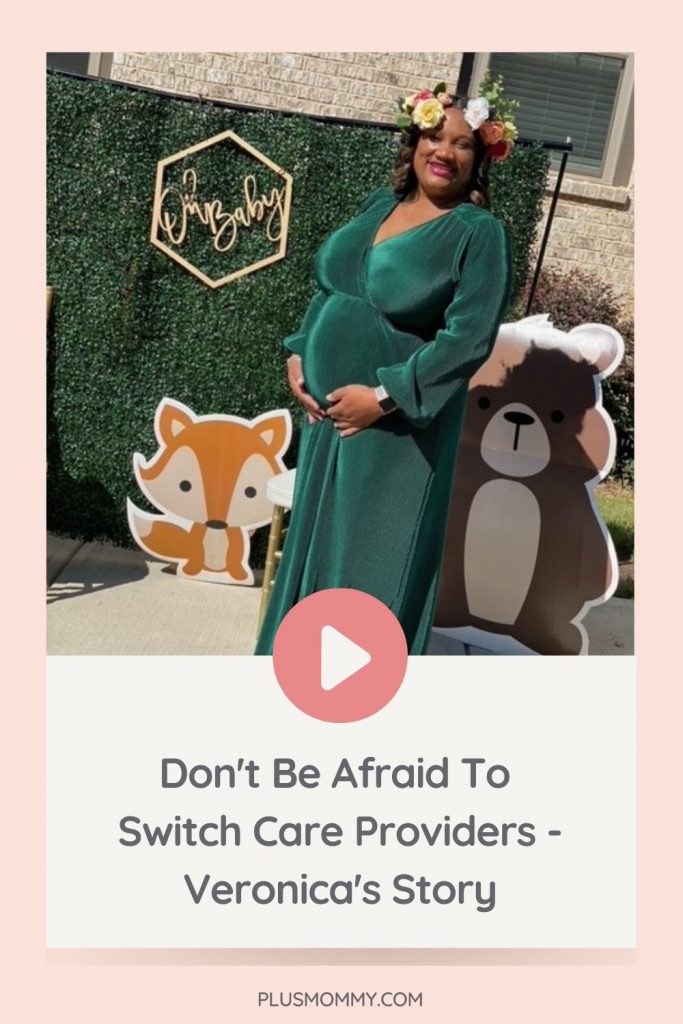 When Veronica and her wife met in 2012, they knew they were one another's forever.
They immediately wanted to start a family. So, they met with care providers who recommended Veronica's wife become pregnant.
Even though her wife was ten years older, care providers leaned towards
her, carrying their child because of Veronica's weight.
Veronica wanted her wife to experience pregnancy, so they started their journey to becoming parents, including doing IUI.
Things were unsuccessful.
They switched care providers and also changed their family plan. Now Veronica would carry their child.
With a Polycystic Ovarian Syndrome diagnosis, Veronica decided to make significant lifestyle changes to help her become pregnant.
When she was ready to get pregnant, her fertility specialist asked her if she wanted to consider IVF.
Veronica and her wife had spent so long trying to conceive that they were eager to do whatever might speed the process along.
Sadly, Veronica's first pregnancy ended in a loss at four weeks.
They decided to try IVF again and got pregnant with their rainbow baby!
Following the positive pregnancy test, Veronica immediately went into research mode.
As a Black woman, Veronica felt it was essential to connect with a Black female OB-GYN who would support her and provide outstanding care.
She thought she found the perfect OB-GYN!
That was until she went to her first prenatal visit, where this OB-GYN said, "I just know you're going to have gestational diabetes and preeclampsia because of your weight, and you're a Black woman."
Veronica responded by saying, "How you can tell everything by just looking at me?" She was met with further pushback because of her weight.
After spending so much time researching and looking for the best possible provider – this experience was extremely disappointing.
Still, Veronica decided to give her another chance.
That was until during a phone call with her care provider when she asked about how her OB-GYN supported unmedicated labor.
Her doctor said, "You didn't conceive naturally, so why do you want to have this baby naturally?"
In shock, Veronica responded by saying, "How did you expect me to get pregnant? I'm in a same-sex marriage!"
Veronica was livid!
She knew this care provider wasn't the right fit for her and was terrified of how her pregnancy and birth would unfold if she didn't switch care.
With an appointment the next week and not enough time to find a new provider, Veronica had one last prenatal visit with this provider.
Veronica emotionally prepared for this visit and took her wife with her via FaceTime.
This visit further confirmed this care provider was not going to provide her with evidence-based, compassionate care!
When Veronica inquired about different gestational diabetes testing options, her doctor responded by saying, "Pull up your big girl panties and just drink it!"
When Veronica questioned if the provider did episiotomies, her OB-GYN said something even more shocking.
"You're either going to have stitches down low, or you're going to have them on your belly."
Thankfully, that was the final time Veronica would ever have to experience such horrible care!
It was time to find a new provider!
The first place she called, a birth center, had BMI restrictions.
While she kept researching, Veronica was on Instagram, and she saw a beautiful birth photo with a care provider looking lovingly at the family.
She immediately wanted to learn more about this local OB-GYN.
Following an hour and a half phone call with the physician's office, she knew she had connected with the right team.
This OB-GYN offered water birth and even wrote a book on shared decision making! He was also a Black man, and this brought comfort to Veronica.
She never looked back following her decision to switch care providers at 26 weeks!
Listen in as Veronica shares her story during episode 129 of the Plus Mommy Podcast.
Recording & Show Notes: Plus Mommy Podcast Episode 129
Resources Mentioned On The Show:
---
Thank You To Our Sponsor:
This episode is also brought to you by Plus Size Birth! Use coupon code PlusMommy to receive 20% off the My Plus Size Pregnancy Guide that covers everything you could want to know about having a plus size pregnancy.